Russian Security Services Working in Ukraine Blame Kiev for Rebel Leader's Death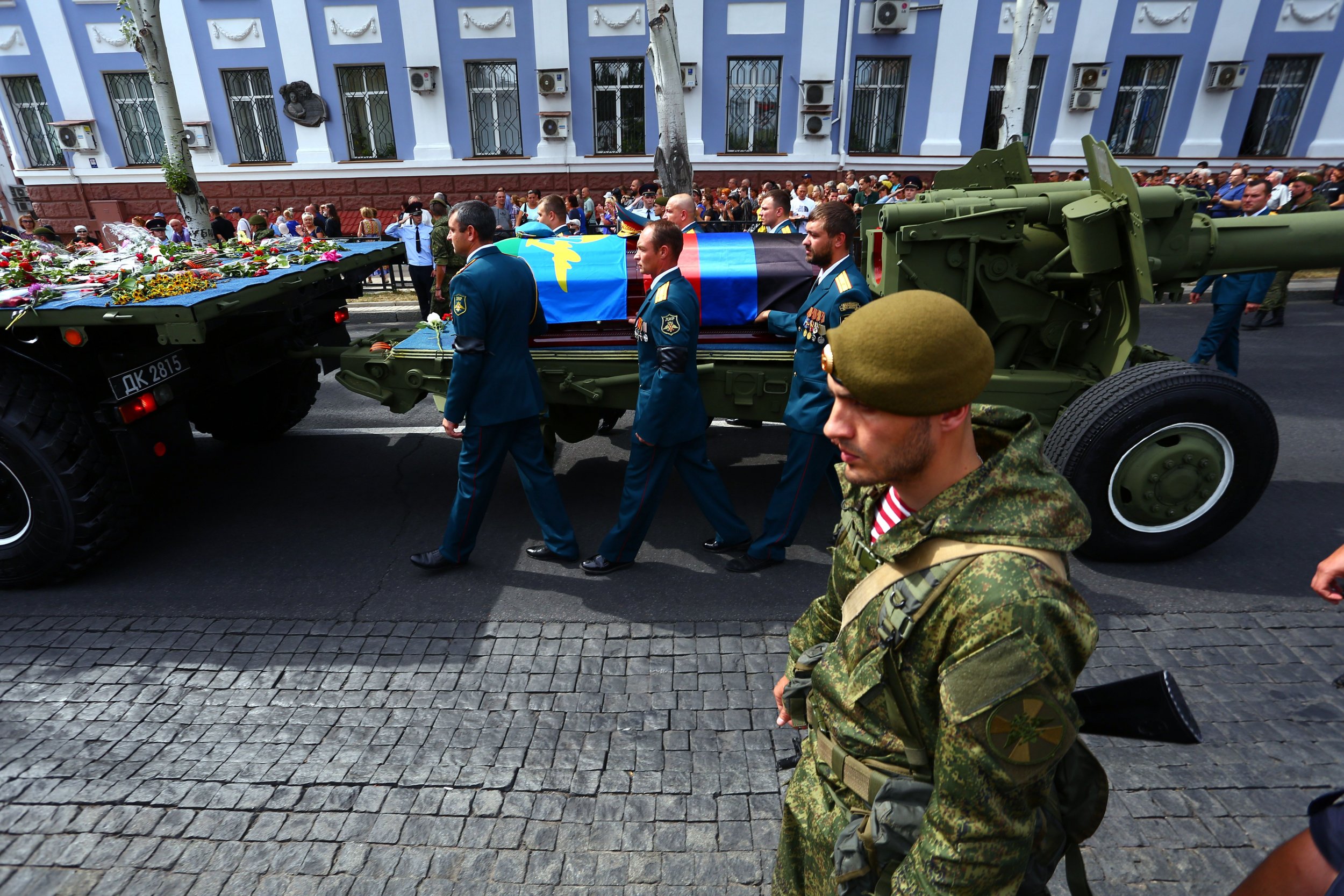 Russia's security services say they already have agents deployed in eastern Ukraine and blamed Kiev for the death of Alexander Zakharchenko, a Moscow-backed militant leader in the region.
The conflict in Ukraine's eastern Donbass region has raged for four years, since the mass protests in the country toppled a pro-Russian government that abandoned a historic deal with Europe, due to Kremlin pressure. The Kremlin has repeatedly denied sending troops to shore up the insurgency across its border with Ukraine, despite a long stream of evidence and admissions at a lower level that Russia is crucial to the militants' efforts.
The foreign relations director of Russia's federal security services (FSB) has now confirmed that agency officials are on the ground in Donbass, following Zakharchenko's assassination.
"Specialists are already working there," FSB department director Sergey Beseda said, when asked if the agency was considering deploying staff to rebel-held territory in Ukraine. Speaking at a conference in Moscow, Beseda said Russian officials "are of course, always ready to help," state news agency Itar-Tass reported.
"We think the culpability of the Ukrainian intelligence services in this is definitely there," he added, according to the Interfax news agency.
Zakharchenko, a coal mine electrician in Ukraine's Donetsk before the conflict, replaced the man who fomented the insurgency, Russian-born Igor "Strelkov" Girkin, who had led the separatists during the formative stage of the fighting in 2014. Zakharchenko and his militants have repeatedly been more candid about the level of Russia's backing for their fighting, stating shortly after his appointment that he has "never denied" he had Russian troops fighting alongside him, estimating up to 4,000 were there.
Zakharchenko died in an explosion at a cafe he was visiting in Donetsk on August 31. Ukraine's own security forces (SBU), denied orchestrating the attack, which was carried out deep behind enemy lines.
"We have no data on who… truly conducted this act of murder," Vassily Gritsak, director of the SBU said last week, RBC Ukraine reported. Despite accusations from Russia, Gritsak said that in Kiev "nobody sent" a dispatch squad to kill Zakharchenko.
"This is a result of the interpersonal disputes between the leaders of the terrorists," Elena Gitlyanskaya, spokeswoman of the SBU, told the BBC. Zakharchenko is the most senior rebel casualty of the conflict so far, though he is not the first to be targeted with explosives away from the frontline. Arsen "Motorolla" Pavlov died in 2016 when someone hurled an explosive in his elevator. In 2017, Oleg Anashschenko died in a car bomb attack and Mikhail 'Givi' Tolstykh died when a rocket was fired into his office.
Russian-backed rebels have blamed Ukraine for these killings but Ukrainian officials have often suggested the violence is the result of infighting.
Zakharchenko was previously been wounded twice in combat, sustaining a gunshot wound to his leg in 2015.