Russian Senator Says Mueller Report Gives Trump 'Full Hand of Trump Cards' and His Chance of Re-election Is Now 'Much Stronger'
Politicians in Moscow have reacted to the U.S. attorney general's summary of special counsel Robert Mueller's key findings, with one leading Russian senator suggesting the probe's conclusion will only bolster support for President Donald Trump.
"The outcome of the Mueller report has now dealt Trump's team a full hand of trump cards," said Senator Konstantin Kosachev, who heads the Federation Council's Foreign Affairs Committee, Russia's Tass news agency reported. The council is the upper house of parliament.
"His chances for re-election starting from yesterday seem to be much stronger," Kosachev continued. "The opponents of the incumbent president wanted the best, but you know the rest. Essentially, not a single politician has managed to build a bright future based on lies."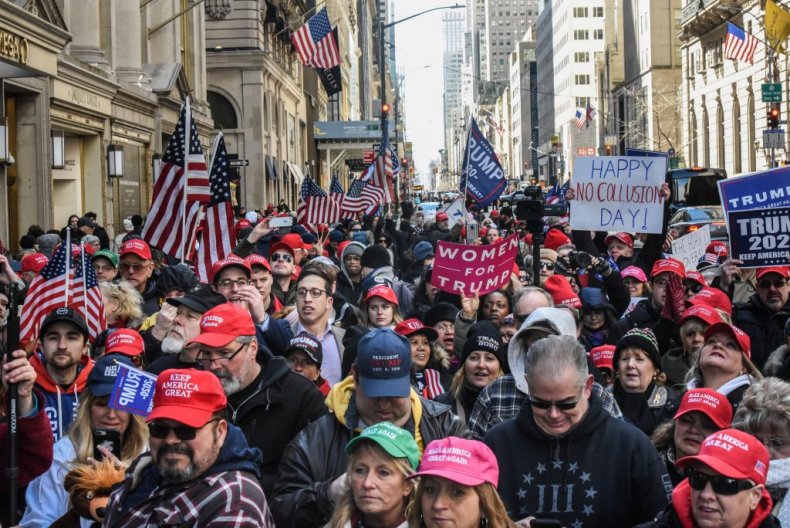 Kosachev also voiced optimism that the conclusion of Mueller's investigation would bode well for improving relations between Moscow and Washington. He pointed to the tough stance the Trump administration has taken toward Russia and suggested that talks about revamping historic nuclear agreements could now move forward.
On Sunday, Attorney General William Barr released a four-page summary letter detailing the key findings and conclusions of Mueller's probe. "The investigation did not establish that members of the Trump Campaign conspired or coordinated with the Russian government in its election interference activities," Barr quoted the special counsel's final report as saying in the letter, which was addressed to congressional leaders.
However, the Mueller report did not conclude whether or not Trump obstructed justice by interfering in the special counsel's probe into Russia's efforts to influence the 2016 election.
"We believe the accusations that continue to be made against Russia in terms of interference in the U.S. electoral processes are unfounded, because even the brief information that is listed in the summary [of the Muller report] has no basis," said Dmitry Peskov, Russian President Vladimir Putin's spokesperson, according to The Moscow Times. "It's hard to find a black cat in a dark room, especially if it's not there."
Other Russian politicians were more harsh in their criticism of Mueller's investigation.
"From the very start it, was biased, artificial, provocative, conspiratorial, designed to fuel hatred towards the Trump campaign," Russian Senator Alexei Pushkov said, according to the Times. "Its second goal was to demonize Russia and prevent any U.S. moves towards better relations with Moscow."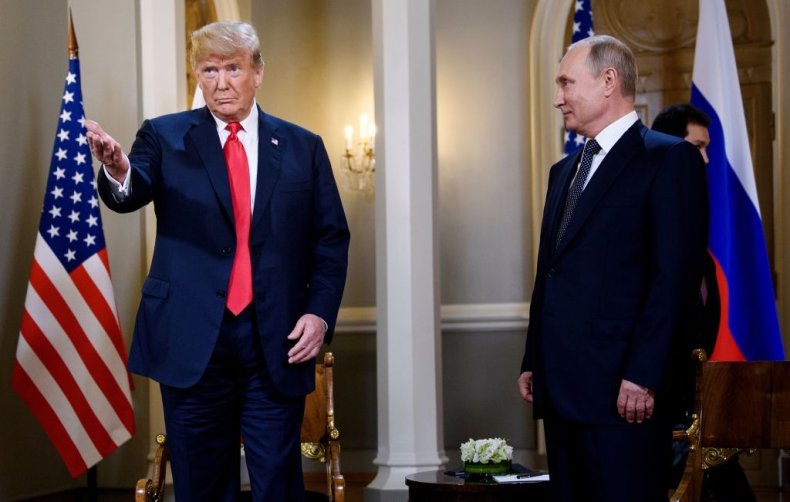 Senator Frants Klintsevich said, "There was not one piece of evidence—only two years of lies and provocations. On this 'foundation,' the investigation could only have fallen to pieces, which is what happened."
Despite Mueller's conclusions regarding Trump and collusion, Democratic and Republican leaders appear united in their criticism of Russia's efforts to interfere in U.S. elections.
"Russia's ongoing efforts to interfere with our democracy are dangerous and disturbing, and I welcome the special counsel's contributions to our efforts to understand better Russia's activities in this regard," Republican Senate Majority Leader Mitch McConnell said following the release of Barr's letter, NBC News reported.
"I look forward to the continuing work of the Senate Select Committee on Intelligence on the threats posed to our democratic institutions by foreign interference," he added.