Two Russian separatist leaders announced evacuations from eastern Ukraine on Friday and called for able-bodied men to take up arms to defend the land.
Tension between Russia and Ukraine appears to be mounting and President Joe Biden warned on Thursday that Russia might engage in a "false flag" event to justify retaliating against Ukraine. Russian separatists have pointed the finger at Ukrainian President Volodymyr Zelenskyy, accusing him of preparing for an invasion against the eastern regions.
On Friday, Denis Pushilin, who heads the self-proclaimed People's Republic of Donetsk, announced mass, centralized evacuations were underway. Women, children and the elderly would be moved to "temporary" evacuation centers in the Rostov region, just across the Russian border. He called for those who could fight, to take up arms.
"I again appeal to all men able to hold a rifle in their hands, to come to the defense of their land," Pushilin said, according to ABC News.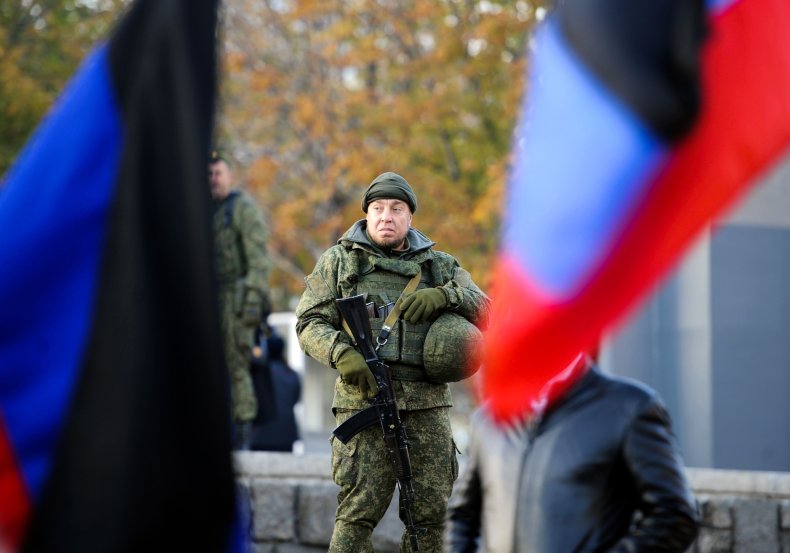 Leonid Pasechnik, the leader of the Luhansk People's Republic, also announced an evacuation of people from the Donbas region on Friday. He called for those who don't have mobilization notices and aren't involved in life-support social and civil infrastructure to leave for Russia to "prevent civilian casualties," according to TASS. Pasechnik also appealed to able-bodied men to take up arms to defend the area, according to Axios.
Both leaders back Russia in the conflict with Ukraine and have blamed Ukraine for stoking fears of war, not Russian President Vladimir Putin, as many western leaders have. Ukraine has denied claims that it intends to launch a full-scale investigation against the breakaway regions and accused separatists of unleashing a bombardment of attacks.
Zelenskyy called the open firing on a kindergarten a "big provocation" and the Ukrainian Joint Forces Operation said separatists shelled 22 settlements in the Donbas region of eastern Ukraine. Donbas has been a conflict zone for years, with tensions escalating in recent weeks.
While some saw Russia's partial pullback of its troops from the border as a positive turn in events, State Department spokesperson Ned Price warned the United States wasn't able to verify the claim. Secretary of State Antony Blinken warned U.S. intelligence indicated more than 150,000 Russian troops were on the border and the military was "preparing to launch an attack against Ukraine in the coming days."
Blinken predicted that Russia will "manufacture a pretext for its attack" and then engage in a campaign of bombings, cyberattacks and ground advancements. Russia's said that it has no plans to invade Ukraine but will respond to provocations as necessary.