Russian Separatists: Ukraine Shells Brewery, Ammonia Leak Imperils Donetsk
A Russian-backed separatist group said that shelling by Ukrainian forces triggered an ammonia leak at a brewery and is advising residents to seek shelter from the potentially dangerous chemical.
The headquarters of the self-proclaimed Donetsk People's Republic (DPR) on Wednesday reported the leak in Donetsk city in Ukraine's war-ravaged eastern region. The attack could not be independently confirmed by Newsweek and comes as Ukraine has touted recently successful strikes using U.S.-provided missile systems.
An unverified video posted to Twitter showing the aftermath depicts a man covering his face and describing how the air is painful to breathe.
The DPR's territorial defenses said in a Telegram post that the affected area is about 1 1/4 miles and is urging residents to avoid being out on the streets and to not open windows, adding that a woman was killed and another injured by the strike.
"People need to stay indoors. Take measures for additional sealing of your apartments (houses), premises," DPR officials said in a statement, obtained by The Moscow Times. Breathe through cotton-gauze bandages moistened with a 5% solution of citric or acetic acid."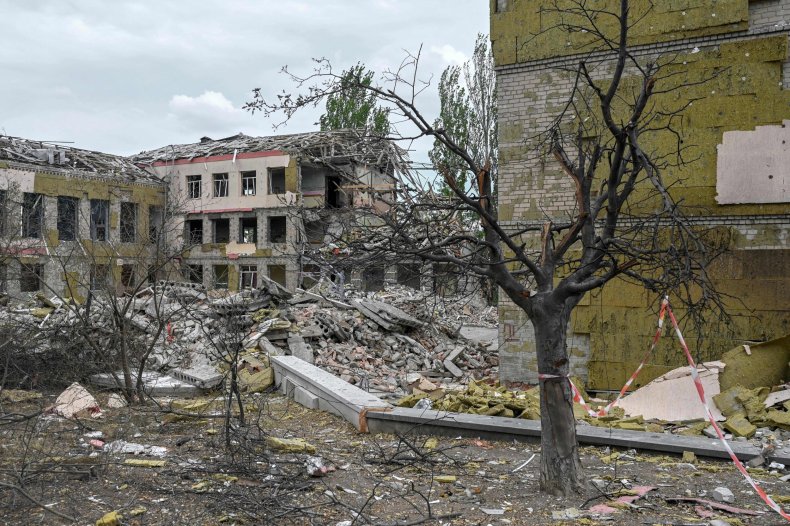 Michael MacKay, a Canadian political analyst who has focused on the war in Ukraine, posted a video of the strike's aftermath. He also expressed skepticism that it was a brewery that was struck.
"Beer doesn't burn like this," he said. "Ammunition does."
Residents of the Ukrainian town of Novoselytsia were exposed to ammonia earlier in the war after Russian troops reportedly shelled a nearby chemical plant.
Ammonia is often used for biological and industrial processes, including fertilizer as well as a coolant in fermenting. It's a colorless gas that is highly irritating and potentially fatal for humans that causes tissues to die when it comes in contact with humans. Additionally, ammonia can cause immediate burning of the nose, throat and airways. High concentrations can cause severe burns or injuries.
Exposure to ammonia can be treated with large amounts of water or humidified oxygen and bronchodilators.
Ukrainian General Staff said in a Facebook post last week that Russian forces began an advance on two cities in the Donetsk region.
"The enemy is conducting an offensive operation in the Donetsk direction, concentrating its main efforts on the Bakhmut and Avdiivka directions. Uses attack and army aviation," the post said.
After experiencing initial setbacks in its invasion of Ukraine, the Kremlin pivoted its war effort to the country's east, which is home to a large population of Russian speakers and separatist groups.
Russian President Vladimir Putin in February recognized the DPR as well as the Luhansk People's Republic, both of which have been in conflict with Ukraine's government.
Since shifting its focus to eastern Ukraine, Russian forces have made gains and captured key cities.
Newsweek has reached out to the Ukrainian government for comment.