Russian Soldier Nicknamed 'Cannibal' Complains He Needs More Men: Ukraine
A Russian soldier nicknamed "Cannibal" complained he does not have enough troops as losses continue to pile up in Ukraine.
Russian President Vladimir Putin launched the Ukraine "special military operation" on February 24, hoping for a quick victory, but his military has faced a number of weaknesses including difficulty recruiting and maintaining motivated, well-trained soldiers.
Putin announced last month a partial mobilization of troops in a bid to bring about 300,000 reservists to the frontlines of Ukraine. However, experts have raised doubts that these soldiers will significantly boost his military, and hundreds of thousands of Russians have fled the country to avoid being called to fight.
Amid troop shortages, "Cannibal" addressed mobilized troops in a plea to convince them to fight

. The soldier, whose actual name has not been publicized, addressed the mobilized troops in a video first posted to Telegram by Russian journalist Alexander Kots.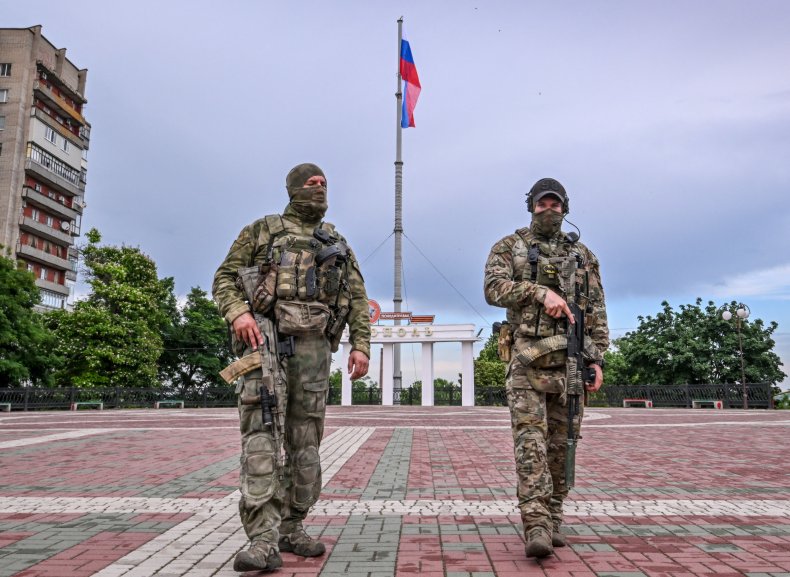 "Cannibal" said he previously worked in a cemetery before being called to the war three months ago. He once had 23 troops, but that number has dropped to only seven as Russian losses continue to pile up.
"We are retreating now and worrying about it, we need an offensive. We are waiting, come," the soldier said, according to the Russian newspaper Moskovskij Komsomolets.
He said that the first battle against Ukraine "must be survived morally" and that any recruits who joined him on the battlefield will be able to learn from more experienced troops in a plea to get more soldiers to join the frontlines.
The Ukrainian Ministry of Defense mocked Russia over the soldier's plea.
"Cannibal says that since September 19, out of 29 men, only 7 are left, so he needs more people," the ministry wrote on Twitter Tuesday. 'Now you understand why more than 60 thousand Russian invaders died?"
Ukrainian President Volodymyr Zelensky said on Monday that "more and more" Russians are trying to escape.
"But the perspective of these hostilities remains obvious. More and more occupiers are trying to escape, more and more losses are being inflicted on the enemy army, and there is a growing understanding that Russia made a mistake by starting a war against Ukraine," he said during his address to Ukraine.
More than 370,000 citizens have fled from Russia in the two weeks since Putin announced the mobilization, with 200,000 of them fleeing to Kazakhstan. Others fled to bordering countries such as Finland or Georgia.
Newsweek reached out to the Russian Ministry of Defense for comment.