Eight Russian Soldiers Shot Dead, Two Injured, by Fellow Serviceman on Military Base
A Russian conscript has shot eight servicemen dead at a military base in the town of Gorny near the city of Chita, the country's defense ministry has said.
Two soldiers were also injured when the serviceman opened fire on colleagues during a changing of the guard at around 6.20 p.m. local time, according to state-run news agency TASS.
"According to the preliminary data from the scene of the incident, the soldier could have acted due to a nervous breakdown caused by personal circumstances unrelated to his military service," the ministry said in the statement. It didn't not cite a source for this mental health claim.
The Telegram channel Life Shot, as cited by Meduza, named the shooter as 20-year-old Ramil Shamsutdinov, who had been serving at the remote base for just four months.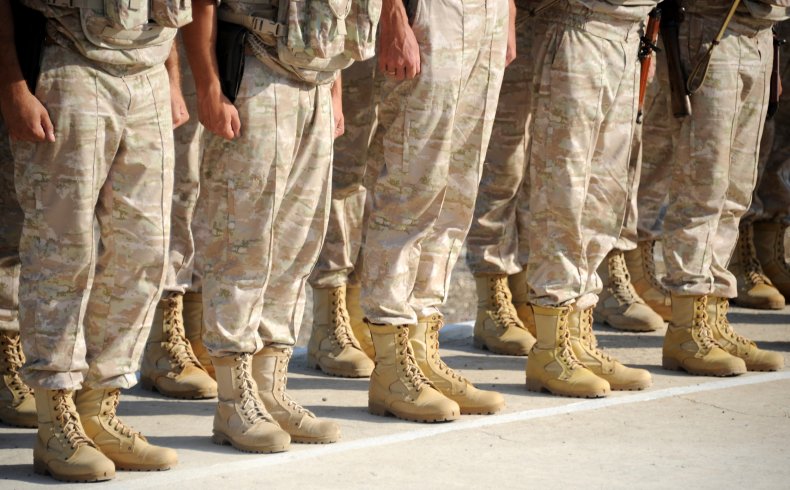 It described how he shot one officer and, when other military personnel came to his aid, began shooting at them as they tended to the victim on the ground.
Witnesses said he shot the captain first and then aimed for the heads of the other victims, who include one captain, one senior lieutenant and at least five privates.
The soldier then ran into a nearby neighbourhood, causing the closure of shops and a school before he was apprehended. The two wounded soldiers are in a critical condition.
TASS said that some of the victims were non-career soldiers who were completing compulsory short-term service like the shooter.
Military service is compulsory in Russia for all male citizens aged between 18 and 27, although exemptions are often granted and many parents and young men offer bribes to avoid getting conscripted.
They typically serve 12 months, and can then sign a professional contract to continue in the armed forces.
Russia's military has previously been criticized for its widespread violence and bullying, against new conscripts in the armed forces known as "dedovshchina", which means "rule of the elders."
The banned practice sees older officers inflict physical and psychological abuse on recruits. However, the Russian government says it has managed to modernize the military and root out bullying, according to the BBC.
The governor of the Chita region, Alexander Osipov, promised to provide the military with any necessary assistance. A defense ministry commission has also been sent to the scene to investigate.
The last incident of a Russian soldier killing his colleagues took place in September 2017 when Corporal Hasan Abdulakhadov shot an officer and two others at a training ground in the Amur Region, Meduza reported.
He was later killed by police forces. Over the past ten years, there have been three cases of military personnel killing their colleagues, the news outlet added.