Russian Soldier Down After Ukrainian Fire Hits Troop on Video
An unsuspecting Russian trooper was blown up when he was hit by an artillery strike from Ukrainian forces.
Aerial footage purports to show Russian troops marching across a field before an explosion is seen and a soldier is left motionless on the ground.
Newsflash obtained the video from the 53rd Separate Mechanised Brigade, a brigade of the Ukrainian ground forces, on Wednesday.
It opens with what is reported to be Russian troops marching across a field in an unspecified location in Ukraine.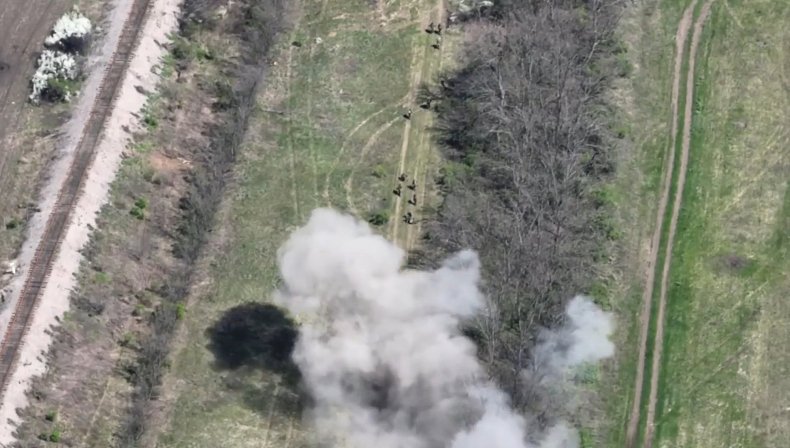 Suddenly, an explosion is seen, and, after the smoke clears, what appears to be a fallen Russian soldier. His colleagues rush to his aid as the shelling continues.
The 53rd Separate Mechanised Brigade said (in Ukrainian): "The horde of the Russian Federation marched on the Ukrainian field, enjoying the landscape.
"But the soldiers of the Separate Mechanised Brigade named after Prince Vladimir Monomakh made adjustments to this peaceful picture.
"Enjoy!
"Believe in the soldiers, believe in the Armed Forces of Ukraine!
"Together we win!"
The 53rd Separate Mechanised Brigade is subordinated to Operational Command East and is deployed in Sievierodonetsk and Lysychansk, in Luhansk Oblast.
Luhansk and Donetsk Oblasts comprise the Donbas region of Ukraine.
This is where Russia is now focusing its invasion after withdrawing its forces from around Kyiv and Chernihiv earlier this month.
The General Staff of the Armed Forces of Ukraine (AFU) reported earlier Thursday that Russia had lost around 22,800 troops over the course of the invasion thus far, but Russia has not confirmed any specific number of losses.
The AFU General Staff also said Russia had lost 970 tanks, 2,389 armored fighting vehicles, 431 artillery systems, 151 multiple launch rocket systems, 72, anti-aircraft systems, 187 warplanes, 155 helicopters, 1,688 motor vehicles, eight vessels, 76 fuel tankers, 215 unmanned aerial vehicles, 31 units of special equipment and four short-range ballistic missile systems.
Russian troops invaded Ukraine on February 24 in what the Kremlin is calling a "special military operation" to "protect Donbas." The invasion is in its 64th day.
The report comes as United Nations Secretary-General Antonio Guterres, who has been visiting occupied sites around Kyiv, calls war in the 21st century an "absurdity."
Guterres says he wants to help organize humanitarian evacuations in devastated Mariupol, days after meeting Russian President Vladimir Putin in Moscow.
Ukrainian President Volodymyr Zelenskyy claims Russia uses gas and trade as a weapon against Europe.
His comments came after Russian energy corporation Gazprom cut gas supplies to Poland and Bulgaria.
This story was provided to Newsweek by Zenger News.