Russian Soldier Accused of Raping Ukrainian Woman After Killing Her Husband
Ukraine has opened its first rape investigation against a Russian serviceman accused of repeated assaults on a Ukrainian woman after killing her unarmed husband near Kyiv, the country's prosecutor general said on Tuesday.
Allegations of rape have circulated since Russian troops invaded Ukraine on February 24, in a war that has left thousands dead and massive destruction, but this is the first time prosecutors have said there is enough evidence to start a legal process.
"Kyiv prosecutors have identified a Russian serviceman who killed an unarmed man and repeatedly raped his wife," Prosecutor General Iryna Venediktova said on Facebook.
There was no independent confirmation of the attack, which Venediktova wrote took place in a village near Brovary, a city 12 miles east of Kyiv.
"This villain broke into a private house and shot the owner," said Venediktova.
"After that, the drunken occupier and his colleague repeatedly raped the wife of the killed civilian, threatening her with violence and weapons. He even threatened her young child, who was with the victim."
Russian authorities did not immediately respond to a Newsweek request for comment on the accusation. They have previously accused Ukrainians of lying about attacks on civilians in what they say is a "special military operation" to de-Nazify Ukraine. Ukraine rejects the charge and the reasons given for the invasion.
"We receive operational information about sexual crimes of the Russian military in the occupied territories and in 'hot spots,'" Venediktova said.
The Russian serviceman had been informed that a request for an arrest warrant was made against him for violating the laws of war, Venediktova said. The serviceman was not identified and Venediktova did not say where he was now, how or when he had been informed and how he had responded. She did not detail the evidence against him.
Venediktova did not say whether action was being taken against the other soldier accused of the rape.
"We will find every villain and make him answer for all the severity of the law," concluded Venediktova's message.
The message on her Facebook page was inundated with outrage and anger from her Ukrainian followers.
"Where are the weapons to protect families, homes and villages?" write one user. "In the neighborhood people are alone with freaks."
"This is the only case we're talking about, but how many are actually happening?" wrote another.
Almost all called for justice against the culprit.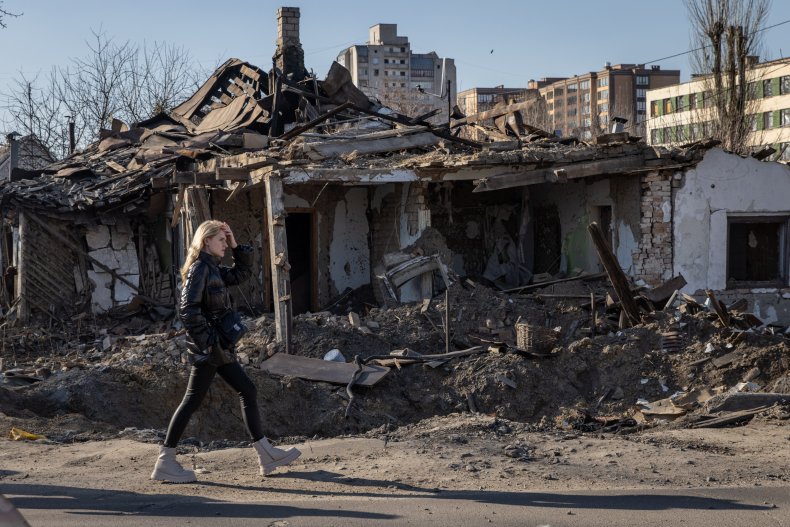 On March 4, Ukrainian Foreign Minister Dmytro Kuleba accused Russian forces of raping Ukrainian women in war-torn cities across the country, but no evidence was brought at the time for these claims.
Four Ukrainian MPs visiting the UK last week have also spoken out against several rapes committed against Ukrainian women by Russian troops and used as a weapon of war.
Talking to journalists in Westminster, Ukrainian MP Lesia Vasylenko said women and children were being raped in Ukraine and most of the victims were executed by Russian troops after the rape or had taken their own life after the attack. There was no independent confirmation of her accusations.
Ukrainian member of parliament Inna Sovsun confirmed the launch of an official investigation into the rape case on Tuesday, saying it was "the first time confirmed by the official complaint made by the surviving woman."
According to Venediktova, prosecutors are now collecting testimonies from witnesses and victims of war crimes committed by the Russian forces.
There are precedents of rapes committed by the Russian army in recent times. Human Rights Watch found that Russian troops had committed rape on several women during the war in ​​Chechnya.
Kuleba has supported calls made by academics and lawyers for the creation of a special tribunal to investigate war crimes committed by Russian troops in Ukraine.
"When bombs fall on your cities, when soldiers rape women in the occupied cities—and we have numerous cases of, unfortunately, when Russian soldiers rape women in Ukrainian cities—it's difficult, of course, to speak about the efficiency of international law," Kuleba said at a March 4 event at British think-tank Chatham House.
"But this is the only tool of civilization that is available to us to make sure that eventually all those who made this war possible will be brought to justice."