Russian Soldier Sentenced to Life in Prison Over Ukraine War Crime
A tank commander has become the first Russian soldier to be convicted of a war crime by a Ukrainian court since Moscow's invasion of the country began on February 24.
Sergeant Vadim Shishimarin, a 21-year-old tank commander from the Siberian region of Irkutsk, was sentenced to life in prison by a Kyiv court on Monday.
Shishimarin last week pleaded guilty to killing an unarmed 62-year-old man in the northeastern Ukrainian village of Chupakhivka on February 28. Shishimarin said he had been ordered to shoot at the man from a car in which he was traveling.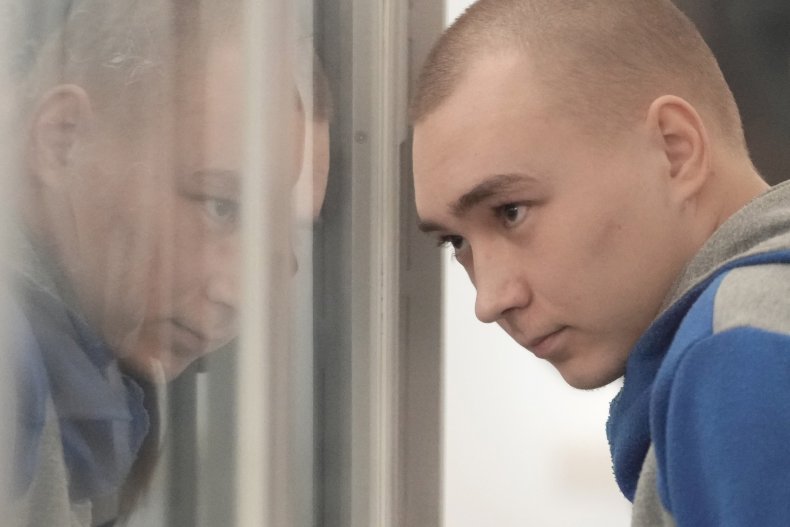 Shishimarin had apparently confessed to the killing in a video released earlier this month by the Security Service of Ukraine, also known as the SBU. "I was ordered to shoot," Shishimarin said in the video. "I shot one [round] at him. He falls. And we kept on going."
Last week, the defendant said he was "nervous" at the time of the shooting and "didn't want to kill" victim Oleksandr Shelipov when he was ordered to do so. Shelipov was on his bike and speaking on his phone when killed, the court heard. Shishimarin said he was ordered to kill him for fear that the civilian might reveal their position.
"I'm truly and sincerely sorry," Shishimarin told the court. "I didn't want that to happen, I didn't want to be there, but it happened. I would like to apologize once again. And I will accept all the measures of punishment that I will be offered."
Shishimarin's lawyer Viktor Ovsiannikov told the court that his client refused twice to carry out the kill order, but did so when ordered again fearing his own safety if he continued to resist. Only one of the three or four rounds fired struck Shelipov, Ovsiannikov said.
Ovsiannikov told The Guardian that his client had "an absence of intent here." He said: "It was an execution of an order [...] he didn't want to kill him, and this has certain legal meaning.
"I would single out those bastards that shot at the back of civilians' heads in Bucha during the occupation," Ovsiannikov said, referring to the apparent summary executions of unarmed civilians in Kyiv's suburbs during Russia's occupation of the area. "It's quite different from the circumstances my client was in."
"He was sitting at the window of a car...the car was moving at high speed with a punctured tire," Ovsiannikov said. "I conclude that Shishimarin fired aimless shots and did not intend to kill the civilian, and that he carried out the order not with the aim of killing the person, but formally, with the hope that [the rounds] would not hit."
"I personally think that it should not be this young man in the dock, but the senior leadership of the other country that I think is guilty of unleashing this war."
Prosecutor Andriy Siniuk disputed this account. "The person who gave an 'order' wasn't his commander," Siniuk said. "He was aware of that. The person who gave the instruction was aware of that. Before they got into the vehicle they didn't know each other."
The Kremlin said Monday it had no way of helping Shishimarin, and previously said it had not been informed that his case was going forward. Ovsiannikov has said that his client had no contact with any Russian officials.
"We have no way to protect his interests on the ground," Kremlin spokesperson Dmitry Peskov said, adding that Moscow would pursue "other channels."
It is possible that Shishimarin might eventually be included in a prisoner swap. The victim's wife, Kateryna Shelipova, told the court she would not oppose Shishimarin being swapped for Ukrainian fighters besieged in the devastated eastern city of Mariupol.