Three Russian soldiers blew themselves up in a grenade explosion after getting drunk during a resupply run in Russia's southwestern Voronezh region, according to local media reports.
The three servicemen died in a house in the city of Rossosh, and a further two were injured, according to the Telegram channel of independent Russian-language news outlet Astra, and the VChK-OGPU Telegram channel, which has close ties to Russian security forces.
The news comes nearly 19 months into Russian President Vladimir Putin's full-scale invasion of Ukraine. Publicly available data released by Kyiv's military indicates that more than 270,000 Russian troops have been "liquidated" so far in the conflict.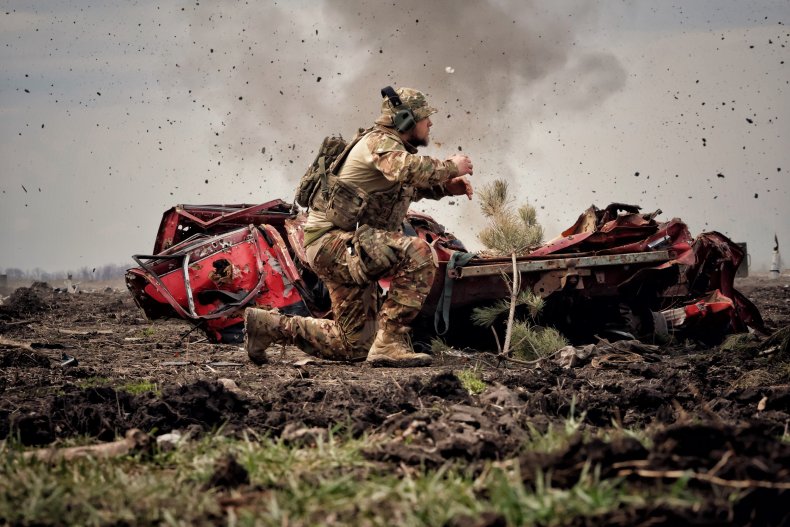 Russian state-run news agency Tass reported on September 16 that three people had died in Rossosh as a result of a grenade explosion, but it didn't specify whether they were military personnel.
Regional authorities haven't commented on the incident. Newsweek has contacted Russia's foreign ministry via email for comment.
Local news outlet Bloknot reported that the grenade exploded in a private house that was rented by five men. Eyewitnesses told the publication that the men were relaxing and having a barbecue on the evening of September 15, and a conflict broke out later that night.
"There was a drunken conversation between the men," local residents said.
The VChK-OGPU Telegram channel reported that the three servicemen were in Rossosh, tasked to buy military equipment, and were drinking at the time of the explosion. The men "belonged to the Central Military District and were in service," the channel said.
"In total, they were given three days for delivery," the channel reported, citing an unnamed source.
"At some point, three troops came out of the house (two remained inside and were not injured) and an explosion occurred in the yard. It was established that an F-1 grenade exploded," VChK-OGPU reported.
Astra reported that the three men who were killed in the grenade explosion were "professional sappers."
According to the U.S. Army, a sapper—also known as an elite combat engineer—carries out military engineering duties such as minefield placement or clearing, bridge-building, demolitions, field defenses, and road and airfield construction. Sappers are responsible for tasks facilitating the movement of forces and impeding those of their enemies.
The two other wounded soldiers were reported to be seriously injured.
Do you have a tip on a world news story that Newsweek should be covering? Do you have a question about the Russia-Ukraine war? Let us know via worldnews@newsweek.com.