Russian Soldiers Accidentally Blow Themselves Up Using Cooking Stove—Report
Six Russian soldiers in the Kursk region, near the border with Ukraine, were killed in an explosion that was accidentally set off while the men were using a cooking stove, according to local reports.
The blast occurred on Monday morning in one of the districts of the Kursk region, according to Russian Telegram channel Baza, which regularly posts information about security issues within the country.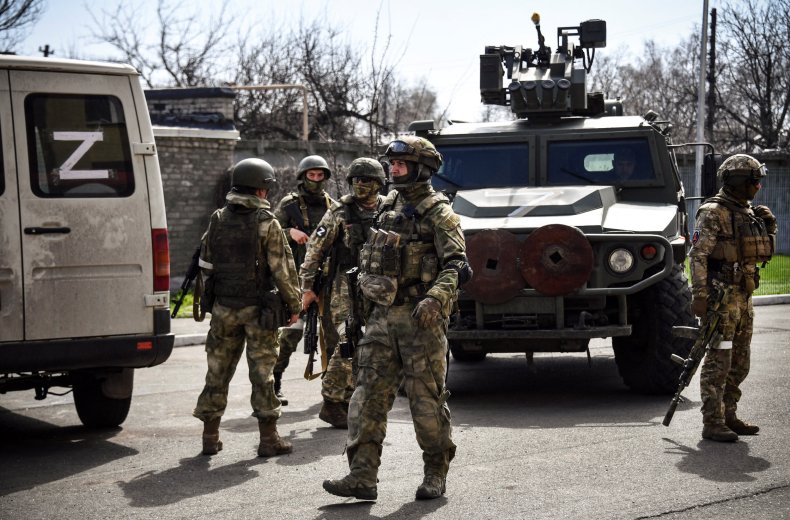 The Russian soldiers, who were in a trench at the time, poured gasoline onto an open stove causing an explosion and fire, the channel reported.
"Only two soldiers managed to run out into the street," Baza reported.
At least six Russian servicemen were killed as a result of the blast and fire, according to preliminary information.
Russia's Ministry of Defense told state-run news agency RIA Novosti that a fire broke out due to "a gross violation of safety requirements by the military of the Western Military District in the Kursk region."
The news agency reported that six soldiers were killed, and that an investigation is underway.
Russia's Kursk region borders Ukraine, where fierce fighting continues nearly a year since the Russian invasion. The British defence ministry said in December that Russia had started to expand its defenses along its border with Ukraine amid apparent fears of invasion and that elaborate trench systems were being dug by Russian troops in Belgorod, near the border.
Secretmag, a Russian business news outlet, reported that security forces extinguished the fire, but as a result, the trench was flooded with water.
The bodies of the six dead soldiers have yet to be recovered.
In an incident last month, Russia troops stationed in Belgorod were killed in an explosion caused by the "careless handling" of ammunition," state media reported.
Russian officials publicly revealed few details about the incident, but early investigations pointed to troops' mishandling of ammunition as the cause of the explosion. In addition to the soldiers killed, at least 15 others suffered injuries of an unknown extent.
"The preliminary cause of the explosion is careless handling of ammunition," an emergency services representative told TASS at the time.
Since Russian President Vladimir Putin launched the invasion of Ukraine on February 24, 2022, a number of regions close to the border, including Kursk, Bryansk and Belgorod, have been rocked by explosions. Fuel depots and ammunition have been targeted in some strikes. Kyiv hasn't claimed responsibility.
And in Moscow, Russia has reportedly installed air defense systems on top of several buildings. Ukraine hasn't signaled that it is prepared to strike the Russian capital.
Newsweek has contacted Russia's Foreign Ministry for comment.
Do you have a tip on a world news story that Newsweek should be covering? Do you have a question about the Russia-Ukraine war? Let us know via worldnews@newsweek.com.
Update, 2/20/23, 8:20 a.m. ET: This story was updated with additional background and information.