Russian Soldiers Suffering Frostbite as Ukraine Invasion Frozen: Pentagon
Russian troops in Ukraine have been suffering from frostbite because of a lack of cold-weather equipment, according to the U.S. Department of Defense.
A Pentagon official told reporters on Tuesday morning that the U.S. had received evidence of frostbite among the Russian servicemen, who lacked appropriate gear.
"Even in terms of personal equipment for some of their troops, they're having trouble and we've picked up indications that some troops have suffered and [have been] taken out of the fight because of frostbite," the senior official said.
Russian troops have faced unexpectedly cold temperatures in Ukraine, which on occasion have dipped below freezing point.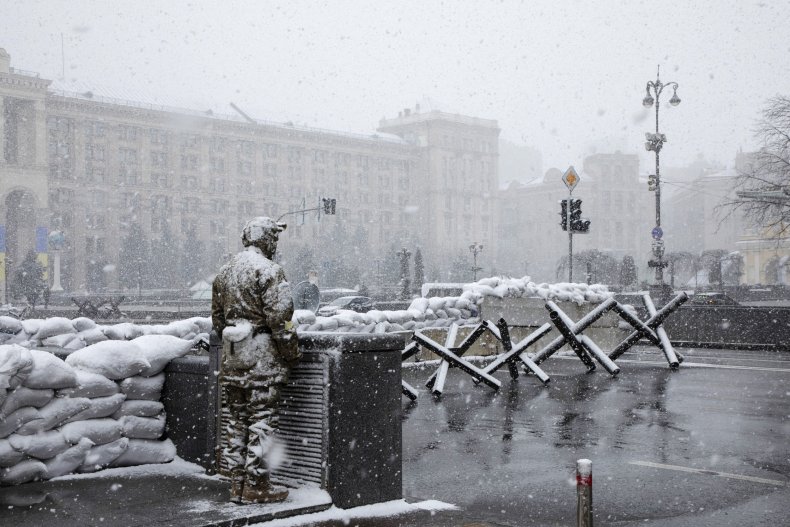 Russian troops, the Pentagon official added, are also suffering food shortages and logistics challenges, including a lack of guided munitions.
On Tuesday, the Pentagon assessed that Russia has lost ten percent of its military force in Ukraine, while U.S. estimates released last week stated that between 6,000 and 7,000 soldiers had been killed since the beginning of the invasion.
An even higher number of casualties was suggested on Monday when newspaper Komsomolskaya Pravda put Russia's death toll in Ukraine at almost 10,000. The information was later deleted from the newspaper's website.
The Russian Ministry of Defense has so far admitted to less than 500 service personnel dying in Ukraine since the beginning of the invasion.
That the invasion of Ukraine isn't going as smoothly and quickly as the Kremlin might have originally expected is clear from footage and reports emerging from the war zone, showing fallen soldiers and abandoned tanks.
At a briefing on Tuesday, Pentagon spokesperson John Kirby said there are indications that morale is a growing problem for Russia's military.
On March 18, the UK's Defense Ministry announced that the Russian invasion of Ukraine "has largely stalled on all fronts," while U.S. officials have declared that Ukrainian troops are now going on the offensive and regaining lost territories.
U.S. officials have warned that Russia might resort to using biological and chemical weapons to avoid a stalemate in Ukraine but a Pentagon official, talking on condition of anonymity, told reporters that no evidence that Russia is moving toward using such weapons had been found.
In an interview with CNN's Christiane Amanpour on Tuesday, Kremlin spokesperson Dmitry Peskov denied that Russia's campaign is stalling. He said that Russian President Vladimir Putin has not yet achieved his goals in Ukraine, but the "special military operation that is going on, it's going on according to plan."
He said the alleged low morale of the Russian forces is a creation of Western media.