Russian Solider Asks Ukrainian Widow to Forgive Him for Killing Her Husband
A Russian soldier accused of killing a Ukrainian man in Ukraine's first war crimes trial since Russia's invasion began in February has asked the man's widow for forgiveness.
Speaking at a court hearing in Kyiv on Thursday, the man's wife, Kateryna Shelipova, asked the soldier, 21-year-old Vadim Shishimarin: "What did you feel when you killed my husband?"
"Fear," Shishimarin responded, according to NPR, which first reported on the exchange."I understand you probably won't be able to forgive me. But I ask for your forgiveness."
While Shishimarin pleaded guilty on Wednesday, prosecutors, looking to introduce evidence, were allowed to call witnesses Thursday, NPR reported.
One Russian soldier, Ivan Maltisov, testified that after an armored vehicle broke down in Chupakhivka, Ukraine, soldiers stole a car. When they came upon Oleksandr Shelipov, the man Shishimarin was accused of killing, the Russians became concerned he was giving away their location and Shishimarin was told to kill him, Maltisov said.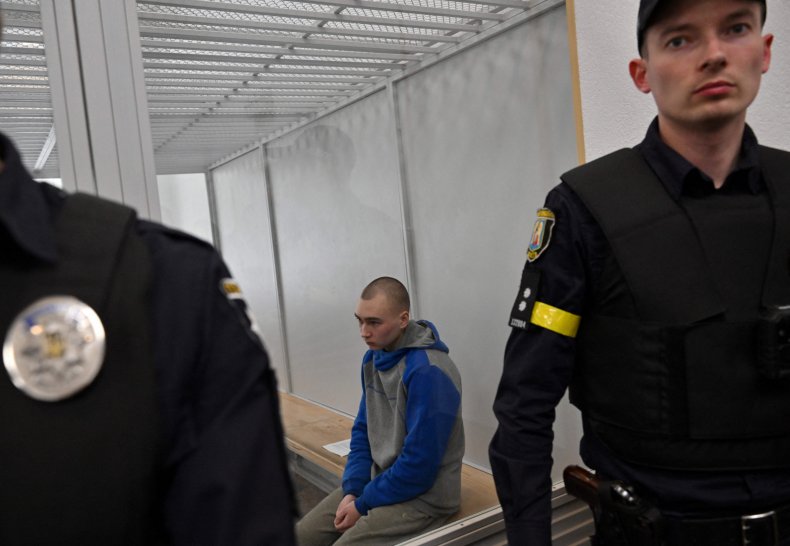 According to Ukraine's Prosecutor General Iryna Venediktova, Shishimarin shot the man in the head with a Kalashnikov rifle from the car's window.
"The man died on the spot just a few dozens of meters from his house," said Venediktova. Shishimarin faces up to life in prison for his alleged actions.
Newsweek has reached out to the Russian Defense Ministry and the Ukrainian Foreign Ministry for comment.
In April, Carla Del Ponte, who formerly served as prosecutor of United Nations war crimes tribunals, said that Russian President Vladimir Putin is a "war criminal," calling for an international arrest warrant.
"I hoped never to see mass graves again," Del Ponte told the newspaper Blick. "These dead people have loved ones who don't even know what's become of them. That is unacceptable."
The International Criminal Court (ICC) announced it had opened an investigation into alleged war crimes in Ukraine just days after Russia's invasion of the nation began.
In a report released earlier this month, Amnesty International said it documented unlawful airstrikes and extrajudicial killings committed by Russian forces.
The organization said that Russian military leaders and Putin himself should be held responsible for war crimes.
"It is vital that all those responsible, including up the chain of command, are brought to justice," Agnès Callamard, Amnesty International's secretary-general, said.
In late March, Secretary of State Antony Blinken formally accused Russia of committing war crimes in Ukraine.
"As with any alleged crime, a court of law with jurisdiction over the crime is ultimately responsible for determining criminal guilt in specific cases. The U.S. government will continue to track reports of war crimes and will share information we gather with allies, partners, and international institutions and organizations, as appropriate," Blinken wrote at the time.