Russian Space Agency Head Suggests Sanctions May Lead to ISS Plummeting
The head of Russia's space agency claimed the International Space Station could fall out of orbit and crash somewhere into Earth because of the sanctions against Russia.
Dmitry Rogozin, the head of Russia's Roscosmos space agency, warned on Twitter the sanctions imposed against Russia on Thursday could have serious implications in space.
"If you block cooperation with us, who will save the ISS from an uncontrolled deorbit and fall into the United States or Europe? There is also the option of dropping a 500-ton structure to India and China. Do you want to threaten them with such a prospect?" he said.
After Russia launched an attack against Ukraine on Thursday, world leaders, including U.S. President Joe Biden, have responded with new sanctions against Russia, some of which would affect its space program, Space.com reported.
"Putin is the aggressor. Putin chose this war, and now he and this country will bear the consequences. Today, I'm authorizing additional strong sanctions and new limitations on what can be exported to Russia," Biden said in his statement.
"We estimate that we'll cut off more than half of Russia's high-tech imports. That will strike a blow to their ability to continue to modernize their military. It'll degrade their aerospace industry, including their space program."
Rogozin responded to Biden's new sanctions and claimed the U.S. president was planning to "finally destroy" the world market of space competition by imposing the sanctions against Russia's space program, including its launch vehicles.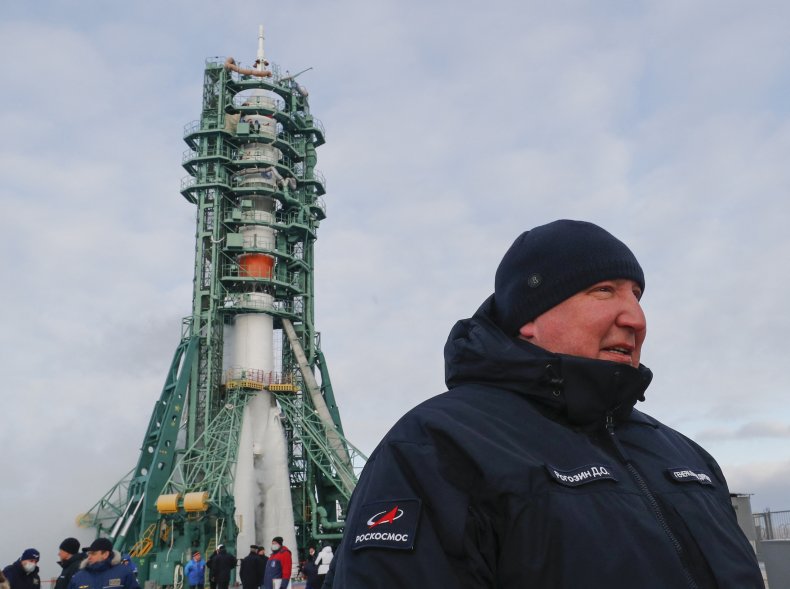 The head of Russia's space agency claimed the ISS, which weighs 500 tons and is 357 feet long, doesn't fly over Russia so it's not concerned about it hitting the country. However, he did hint it would be a concern for China, India, the U.S. or other parts of Europe.
"So all the risks are yours. Are you ready for them?" he wrote, adding, "do you want to threaten them with such a prospect?"
In an email statement to Newsweek, NASA said it is continuing to work with international partners, including Roscomos, for "the ongoing safe operations of the International Space Station."
"The new export control measures will continue to allow U.S.-Russia civil space cooperation. No changes are planned to the agency's support for ongoing in orbit and ground station operations," the agency said.
Russia's space program has had several new missions and technological developments in the works. One of the projects includes a new crew capsule planning to launch on Russia's new Angara rocket, which is currently being tested. The Angara and the capsule were supposed to launch from a new pad at the Russian space port Vostochny Cosmodrome, according to Space.com.
It is unclear how Biden's sanctions will impact the upcoming projects, but they could affect other countries working with Russia on upcoming launches.
Update 2/25/22, 9:38 a.m. ET: This article was updated with a statement from NASA.