Russian State TV Host Mocks U.S. Over China's 'Beautiful' Balloon Move
Margarita Simonyan, a Russian state TV host and editor-in-chief of the state-sponsored RT, mocked the U.S. over the Chinese high-altitude balloon that floated across the country last week before it was shot down over the Atlantic.
During a segment on Russia's Channel One, Simonyan described the balloon, first spotted over Billings, Montana, on February 1, as "beautiful."
The balloon was shot down on Saturday afternoon off the coast of South Carolina after the Pentagon said it was a surveillance balloon that violated U.S. airspace. It first entered U.S. territory on January 28 near Alaska's Aleutian Islands. It later moved into Canadian airspace, and re-entered U.S. territory on January 31.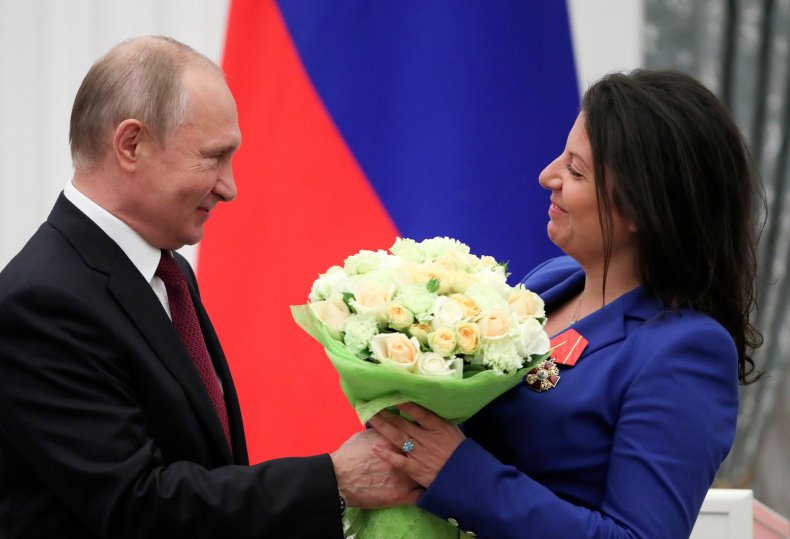 Beijing has claimed that Washington violated international law by shooting down the balloon.
Simonyan's remarks on the matter were posted on Twitter on Tuesday by Anton Gerashchenko, adviser to the minister of internal affairs of Ukraine. "Simonyan analyzes U.S.-China relations in her usual manner," he wrote.
Simonyan described the ordeal as an "amusing" and "brilliant confrontation between America and China."
"Once again, much respect to China for what it does beautifully," Simonyan began, describing the balloon as "marvellous."
"America could do nothing for days about this miserable balloon hanging over their armageddon, their Montana doomsday base, where their launchers are located," she said.
Simonyan added: "And it's just there beautifully...look, some sheet was just handing there...that's all. And there was nothing they could do. It was beautiful."
President Joe Biden ordered the 200-foot tall balloon to be shot down on Saturday as it hovered over the Atlantic.
Gen. Glen VanHerck, commander of North American Aerospace Defense Command and U.S. Northern Command (NORAD), said in a briefing on Monday that its superstructure and hardware weighed "in excess of a couple thousand pounds."
Beijing has maintained that the balloon was a civilian airship collecting meteorological data, but VanHerck said NORAD was confident that it had surveillance purposes.
Biden faced backlash from some Republicans for not downing the balloon sooner, although U.S. officials have cited concerns about damage to people on the ground.
"Once it came over to the United States, from Canada, I told the Defense Department I wanted to shoot it down as soon as it was appropriate," Biden said on Monday. The military concluded "we should not shoot it down over land, it was not a serious threat."
Senate Majority Leader Chuck Schumer's office has said a classified briefing is planned on Thursday for all senators to discuss the issue.
Newsweek has contacted the Biden administration for comment.
Do you have a tip on a world news story that Newsweek should be covering? Do you have a question about the Russia-Ukraine war? Let us know via worldnews@newsweek.com.