Russian State TV Banned in 27 Countries Amid Nuclear Attack Backlash
Three state Russian stated-owned TV stations would no longer be shown in the 27 countries, European Commission President Ursula von der Leyen said during a speech on Wednesday.
"We are banning three big Russian state-owned broadcasters from our airwaves. They will not be allowed to distribute their content anymore in the EU, in whatever shape or form, be it on cable, via satellite, on the internet or via smartphone apps," von der Leyen told the European Parliament in Strasbourg, France.
The move comes after a Russian state-owned TV broadcaster recently displayed a graphic that showed Ireland and Great Britain being completely destroyed by a nuclear weapons attack. The images of the simulated attack appeared on Russia's Channel One.
Fighting continues in Ukraine more than two months after Russia's invasion. Earlier this week, a British intelligence report said that many of Russia's elite military units have been significantly weakened, during the offensive, and will be so for years to come. However, there are fears that Russian President Vladimir Putin might soon officially declare war on the European country, possibly as early as next week.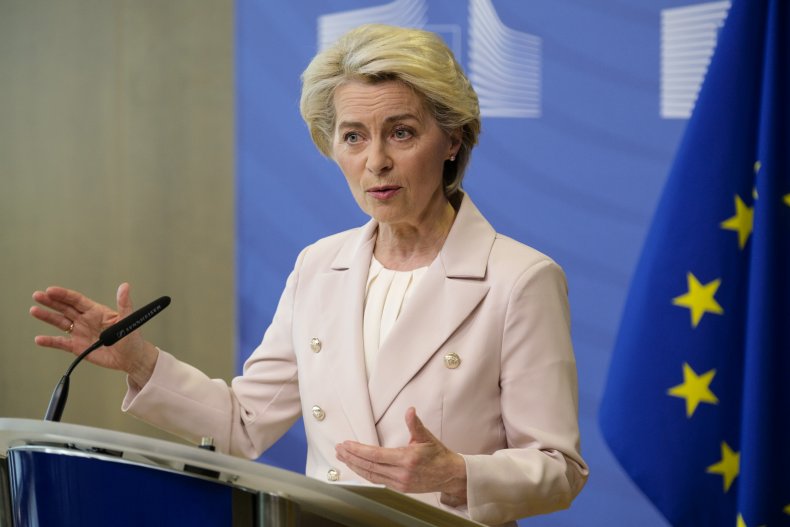 The announcement of the ban on the Russian broadcasters in the EU was a part of the union's sixth package of sanctions against Russia, which also included moves against "military officers and other individuals who committed war crimes in Bucha and who are responsible for the inhuman siege of the city of Mariupol" as well as on three Russian banks.
In her remarks about the ban on the Russian broadcasters, von der Leyen went on to criticize the broadcasters as being nothing more than outlets for propaganda and lies.
"We have identified these TV channels as mouthpieces that amplify Putin's lies and propaganda aggressively. We should not give them a stage anymore to spread these lies," she said.
It's unclear if Channel One is one of the three Russian broadcasters included in the ban. However, in March, Russian broadcaster RT had its license revoked in the United Kingdom and is no longer on the air in the country.
U.K. communications regulator Ofcom said it made the move after looking into 29 instances of the channel's coverage of Russia's invasion of Ukraine.
Also in late March, panelists on a Russian state television channel appeared to be discussing a possible nuclear strike in Europe.
One man on the panel, in a clip posted to Twitter, reportedly said, in a warning to Europe: "You will get a nuclear strike if you gather some kind of a peacekeeping contingent by NATO or decide to relocate it somewhere, and so on and so on. This is going to be a nuclear war!"
During Wednesday's address, von der Leyen also talked about the need for Europe to move away from its dependency on Russian oil, saying the organization will work to completely phase it out within the next six months.
Newsweek reached out to the European Commission, which pointed to the comments made by von der Leyen in her address, and the Russian ForeignMinistry.