Russian State TV Can't Decide What Ukraine Victory Would Look Like
As Russia's invasion of Ukraine draws closer to the one-year mark, Russian media pundits are still debating exactly what a victory for Moscow would look like.
In a video shared Friday on Twitter by Anton Gerashchenko, adviser to the Minister of Internal Affairs of Ukraine, Chechen general Apti Alaudinov—who in March led troops of what Russia called volunteers from Chechnya to Ukraine—joined the host of Russia-1's "60 Minutes" to talk about the situation on the battleground in Ukraine.
Alaudinov, who was awarded with the title of commander of the special Akhmat forces and "Hero of Russia" last August, joined the show after appearing in a self-shot video from a snowy Ukraine.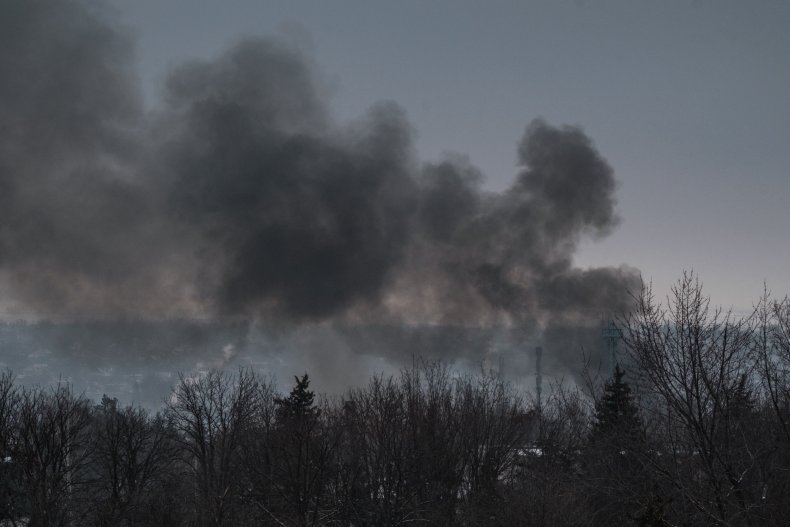 He speaks of the war in Ukraine as one that can only end "with Russia ceasing to exist or with the NATO bloc ceasing to exist in the format it has up until now."
Alaudinov adds that he doesn't believe the Russian leadership will agree to a peace that doesn't include the end of NATO as we know it.
"If we won't do that, we have to understand that after a certain time we will have to go back to talking with guns in our hands," he said.
"This, I believe, is not the way to do it. We should destroy the enemy in his own lair, put flags, as they should, on all the Reichstags [parliaments] of these countries that are trying to bring us to our knees. Then we will be the victors and our children will not be forced to fight with weapons in their hands."
Gerashchenko shared another extract from a Russian television show where a panel of guests argued about the goal of the Russian invasion of Ukraine.
After one guest asked "What is the goal? Occupation of territory?," two other guests contradicted each other, with one agreeing as the other disagreed.
"The question is the definition of what victory is. If victory means regime change in Kyiv, it means taking Kyiv, and other Ukrainian cities," panelist Viktor Olevich, a well-known 'Americanist' within Russia, said.
"Not a single regional [center] has been taken except Kherson, which was taken without a fight at the beginning and then surrendered. How can this be changed?" he continued.
Olevich was then quizzed by the television host about how his definition of victory could work when he often talks "about how there is no success at the front."
"We are asking you how effective it will be, without undoing everything [...] how effective will it be to act in this non-frontline way? That's what we're asking you," the host said.
"It will not be effective without substantial, large-scale success at the front," Olevich replied.
Last October, Olevich—who often appears as a pundit on Russia's state media but is known for not always following the party line—said Moscow had "miscalculated its strength" and could not win for eight months in Ukraine.
The Russian leadership has stated that the country's main goal in Ukraine was "the liberation of Donbas," the two eastern regions of Luhansk and Donetsk.