In the latest escalation of threats made by Russian state television hosts and commentators since their country invaded Ukraine, anchor Vladimir Solovyov and lawmaker Andrey Viktorovich Gurulyov discussed on air the "ideal" location for a nuclear strike on Ukraine.
A clip shared on X, formerly known as Twitter, by Anton Gerashchenko, an adviser to Ukraine's Ministry of Internal Affairs, shows the discussion between the two, who suggest one specific location in Ukraine as the "perfect" site to test tactical nuclear weapons while at the same time dealing a crushing blow to Ukraine's counteroffensive.
"Robotyne is now an ideal, just an ideal place to use tactical nuclear weapons," Solovyov—a well-known Kremlin propagandist who has supported both the Crimean annexation and the invasion of Ukraine—can be heard saying in the clip, as per Gerashchenko's translation.
"Just perfect," agreed Gurulyov, who's a former deputy commander of the Southern Military District of the Russian military.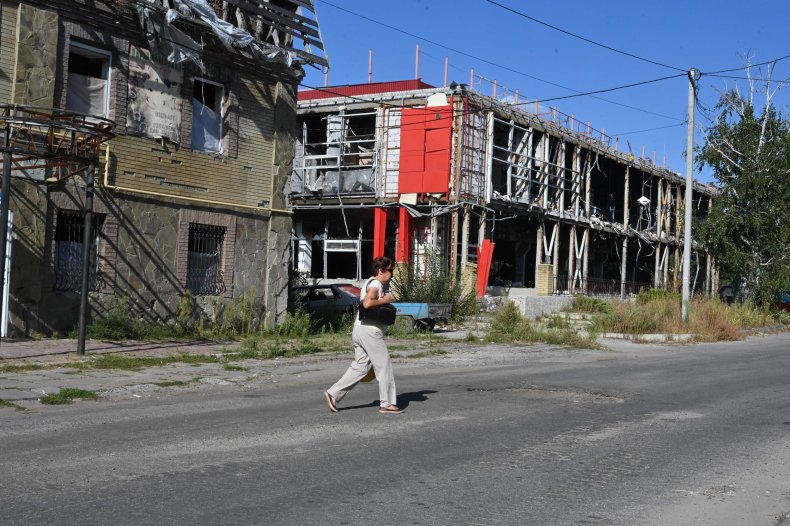 "They're all gathered there, it's perfect. And that's where the offensive grouping may bite the dust. Moreover, [this] is a perfect situation, because in this situation there's a complete absence of enemy reserves, and even with the forces we have we are quite able to advance very well, liberating the Zaporizhzhia [nuclear plant]," he continued.
"And maybe even the Dnipropetrovsk region and create a complete threat to the group that is fighting in the Donetsk [direction], encircle and defeat it," he added. "And if we seize it together with Kupiansk, it is practically a block."
Robotyne, a village in the Zaporizhzhia region, has been a key focus of Ukrainian forces' recent advances in the southern sector of the front.
More than a week after Ukrainian troops declared they had recaptured Robotyne on August 28, a Russian-appointed official confirmed that Moscow's troops had abandoned the village, as reported by news outlet RBC. On the same day that Ukraine said it had reconquered the village, a daily update from the Russian Defense Ministry said its forces had pushed back two Ukrainian attacks near Robotyne.
Last weekend, according to the Institute for the Study of War (ISW), Ukrainian troops continued to make small advances in their counteroffensive, launched around June 4. On Sunday, the think tank said Kyiv's forces had advanced east of Novoprokopivka, a village four miles south of Robotyne.
Solovyov and Gurulyov's comments represent the latest escalation in the Kremlin's threats of nuclear strikes against Ukraine, which have extended in the past year to some Western countries like the U.K. and the U.S. too.
Ahead of the 9/11 anniversary, Dmitry Medvedev, deputy chairman of Russia's security council and Putin's close ally, suggested that the U.S. could soon be subjected to a similar attack, but with nuclear strikes.