Russian State TV Host Says Kherson Retreat May Be Trap To Lure NATO Troops
A Russian state TV pundit appeared to suggest that his country's retreat from Kherson could be part of a "secret plan" to lure NATO troops into Ukraine to "destroy them."
Russian troops abandoned Kherson earlier this week, allowing Ukrainian forces to march into the city unopposed.
The retreat represents a significant setback for Russian President Vladimir Putin after he formally annexed four Ukranian provinces into the country, including Kherson oblast, earlier this year.
TV host Tigran Keosayan appeared on a panel discussion show on Saturday, where he said he hopes the Russian withdrawal was to lull Western troops into a false sense of security.
In a November 12 clip shared on Twitter by the Russian Media Monitor, Keosayan said: "I hope that perhaps this is a secret plan to lure them. Remember, we discussed this one week ago. You said that most likely, this is a trap but now I'm talking about more of a global trap.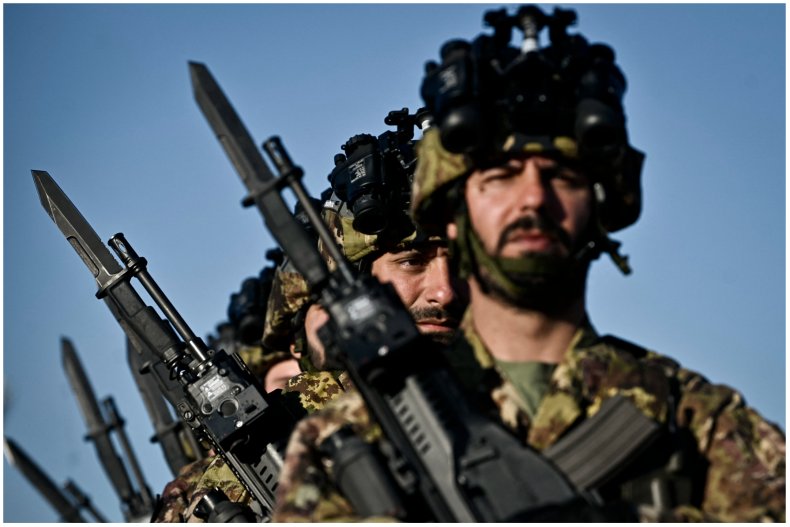 "Right now, we are demonstrating that we can't defend ourselves from NATO's troops. Having lost all limitations, the NATO troops cross the borders of Poland, Slovakia, Czechia - they fill all of Ukraine then we destroy all of them.
"With FAB [unguided heavy explosive bombs and napalm. Terrified, they run away. I don't have any other plan. It's sad honestly. Sad because it doesn't correspond with the rhetoric that is being maintained within society, as opposed to the actual state of affairs."
World leaders have repeatedly ruled out sending NATO troops into Ukraine and have instead donated billions in military aid. The U.S. alone has committed at least $19.3 billion since the start of the war.
Michael Clarke, professor of war studies at King's College London told Newsweek: "The question is what the Kremlin thinks it gets out of having these wild statements made on state-controlled national TV. Maybe as a safety valve for the growing realization across Russia that this is a war, losses are mounting, mistakes have been made etc. That makes it more logical to put the blame on NATO (and particularly on Britain, in a sort of perverse compliment) as the explanation for these failures."
"The Kremlin rhetoric has gone through 4 stages of war objectives: 1. It's a special military operation (SMO) to get rid of the Kyiv government which is betraying the citizens etc 2. It's an SMO to protect the Russian speakers in the Donbas from the Kyiv criminals that we can't actually dislodge, Clarke said.
He added: "3. It's now a war against NATO using Ukraine as its front line to attack Russia. 4. It's now a war for Russia's own survival against a deep western plot to a) undermine Slavic culture through gay rights, imported degeneracy etc, and b) by outright military aggression to put Russia in a position of permanent weakness to US-led imperialism."
Clarke went on to describe how state TV hosts are being forced to confront news coming out of Ukraine.
He said: "These wild men - and some women - on state TV are reflecting some of this inflation of Kremlin war aims.
"But they also reflect, unwittingly, what I term the 'delayed reality' response. Sometime after the facts are undeniable - ie that this is now a war, that there are big losses, that the Ukrainians are doing well, that Russian commanders are very poor etc - they catch up with them on state TV and produce these crazy theories to try to explain why the facts are now as they are.
"It's a classic example on a societal scale of the individual psychological problem of handling 'cognitive dissonance' (bending the truth rather than facing it). Only mid-20th century Russian Marxists and, for a short time, the Nazis, were this affected by cognitive dissonance on such a scale. It is becoming an interesting historical phenomenon in this case."
Despite not having support from NATO troops on the frontline, Ukraine claims more than 80,000 Russian troops have been killed since the start of the war. This figure has been disputed by Russia and military analysts.
Recent military losses and the retreat from Kherson have led to anger from some Putin allies.
Alexander Dugin, known as "Putin's Brain," hinted in a veiled warning that the Russian leader could see himself overthrown if he did not get a grip of the situation.
And Russian state TV presenter Vladimir Solovyov expressed his frustration that Russian forces had retreated.
In an animated appearance on his Saturday morning show 'Full Contact" on Vesti FM radio, Solovyov said: "I've been screaming out loud since February that we need to strike the bridges, destroy the infrastructure, delivery entryways. They [Russian military] said, 'You don't understand anything, they'll bring their equipment to the same area and we will smash it!'
"So did you smash it? 'You don't understand, it's a brotherly nation, we'll have to restore these bridges, we'll enter through them'."
He went on to question reports that Russian troops had blown up bridges as they fled across the Dnipro river.
Solovyov added: "Where? Where will we enter? When they were leaving [Kherson], they blew up the bridges. Where are we going to enter?"
Newsweek has contacted the Kremlin for comment.