Russian State TV Mocks U.S. Bank Failures: 'Take That, Americans'
Russian state TV host Vladimir Solovyov mocked America following the closure of Silicon Valley Bank (SVB) and warned of future problems befalling the U.S.
Solovyov questioned whether other U.S. banks would collapse in the coming weeks and months.
SVB had been the 16th-largest bank in the U.S. but officially collapsed last Friday, forcing the federal government to step in. At the time it failed, the bank had assets estimated at more than $200 billion. Its collapse is the biggest since the 2008 global financial crisis.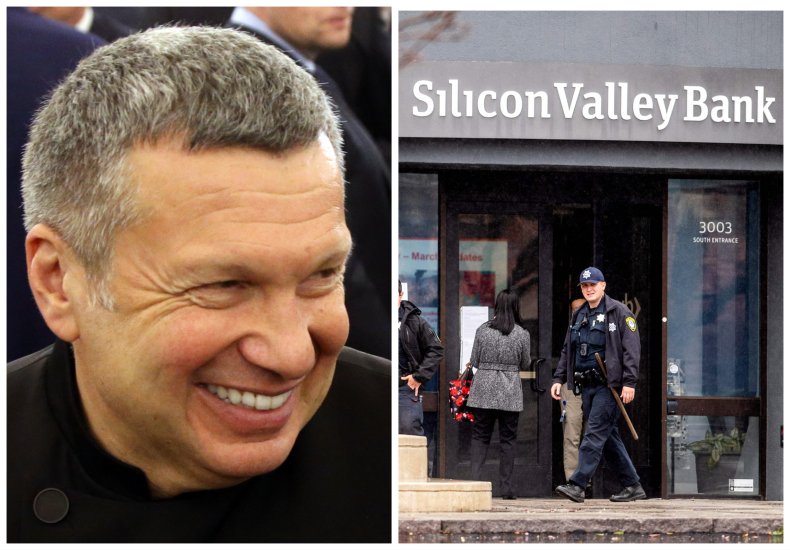 Russian state TV hosts and guests regularly mock the United States and the West for their difficulties, often exaggerating the impact or extent of the issues.
Solovyov also argued that Americans would begin to question how much money is being sent to Ukraine rather than protecting U.S. banks.
Speaking on state TV, he said: "American banks are shutting down, one after another.
"What's surprising is they're telling us stupid stuff and expect us to believe it.
"In the last few days, 3 of them have kicked the bucket. According to analysts, at least 10 more are contenders for bankruptcy.
"Meanwhile, when you ask 'Guys how much money are we talking about?'
"They name laughable sums of money. The banks should not be failing so fast because of these discrepancies.
"This means either that they're brazenly lying or the system has been totally weakened."
The clip and translation were posted on YouTube by Russian Media Monitor, which monitors Russian state TV.
The Russian host then shared a Truth Social post by former President Donald Trump and said he was sparking fear of an economic crisis greater than the Great Depression.
On Monday, Trump posted: "With what is happening to our economy, and with the proposals being made on the LARGEST AND DUMBEST TAX INCREASE IN THE HISTORY OF THE USA, TIMES FIVE, JOE BIDEN WILL GO DOWN AS THE HERBERT HOOVER OF THE MODRRN AGE. WE WILL HAVE A GREAT DEPRESSION FAR BIGGER AND MORE POWERFUL THAN THAT OF 1929. AS PROOF, THE BANKS ARE ALREADY STARTING TO COLLAPSE!!!"
Solovyov continued: "Everyone believes that it is a safe harbor. That no matter what happens, money will always be there, no one will touch it.
"Aha. Take that, Americans! Enjoy."
"To make it clear, this entire sum is negligibly small compared to what they gave to Ukraine.
"The next step will be, they'll say 'Hold on a minute, you don't want to save an American financial business, you prefer to send the money to Ukrainians?'"
Despite fears of instability spreading to other banks, President Joe Biden gave a speech on Monday to reassure the American public that the U.S. banking system is "safe".
He also noted that no losses will be borne by the taxpayers. Biden also attempted to comfort the customers of Signature Bank, who was closed on Sunday by authorities.
He told customers who had deposits with the two banks that they would have access to their money as early as Monday but warned investors that they would not be protected as they "knowingly took a risk."
He also said he would be taking actions to ensure stronger regulations, without going into details of how he would do this.
Crypto-focused bank Silvergate Capital also announced plans last week to wind down operations.
Total U.S. aid to Ukraine between January 24 and November 20 last year was around $48 billion, according to the Kiel Institute for the World Economy think tank.