Russian State TV Pundit Slams 'Chinese Interests' Ahead of Xi Jinping Visit
Russian journalist Mikhail Khodaryonok has hit out at "Chinese interests" ahead of President Xi Jinping's visit to Moscow next week—his first since the invasion of Ukraine began in February 2022.
Khodaryonok was speaking on the Russia 1 channel, and an excerpt of him speaking was shared by Twitter account Kremlin Yap, which tweets Russian propaganda.
Moscow and Beijing simultaneously announced Xi's three-day visit to Russia on Friday. Talks between the Chinese leader and Russian President Vladimir Putin from March 20 to 22 are expected to concentrate heavily on the ongoing conflict in Ukraine.
The U.S. has challenged Beijing's position that it is a neutral player in the conflict, with State Department spokesperson Ned Price telling reporters in February that China has "very clearly" taken a side in the war.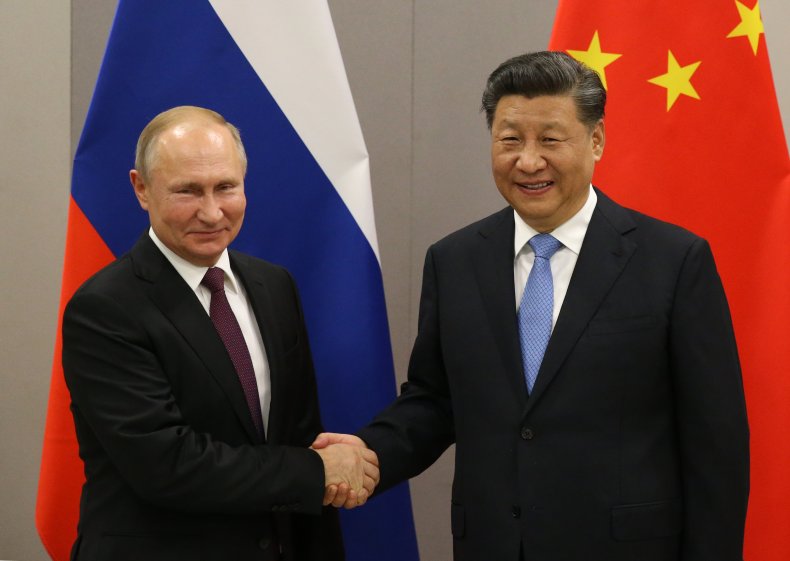 Chinese Ambassador to Moscow Zhang Hanhui told state-run news agency RIA Novosti on Friday that Beijing will stand "back to back" with Moscow.
Kremlin Yap provided an onscreen translation of Khodaryonok's comments on state TV Friday. According to the translation he said: "In light of Chairman Xi's upcoming visit to Moscow, there is, I would say, some over-excitement, even exaltation among those in the expert community, such as: 'We are with China, back to back against the collective West. We've got a combat shakedown, with guns blazing,' and so on.
"What do I want like to say in this regard? First, China can only have one ally—China itself," he went on.
"Secondly, China can only have pro-Chinese interests. Third, China has no altruism in its foreign policy. It is impossible to imagine Chinese friends intervening in any way as we did for the Bulgarians in 1877," Khodaryonok said, referring to the Russo-Turkish war of 1877-1878.
Khodaryonok added: "Finally, we should also remember that China is a nation that keeps a list of historical grievances.
"It remembers well the 19th century, the century of China's humiliation. And Russia does not take the best place on this list either. It is not necessary to focus on this, but it is always necessary to remember it."
In 2021, Xi described the period after the Opium War of 1839-42 as a time when China was "gradually reduced by foreign powers to a semi-colonial, semi-feudal society that suffered greater ravages than ever before," bringing "intense humiliation for the country" and "great pain for its people."
The Kremlin on Friday said Xi would arrive "at the invitation" of Putin to discuss "issues of further development of comprehensive partnership and strategic interaction between Russia and China."
In February, Beijing published a 12-point solution on the war in Ukraine, which was almost immediately dismissed in the U.S.
Do you have a tip on a world news story that Newsweek should be covering? Do you have a question about the Russia-Ukraine war? Let us know via worldnews@newsweek.com.