Russian State TV Says U.S. Has Declared War After Crimea Comments
A Russian propagandist has claimed on state TV that the U.S. has declared war on the country following reports of the White House's approval of targeted strikes on Crimea.
In a video uploaded to Twitter by the account TheKremlinYap on Saturday, Russian journalist Igor Korotchenko claimed the U.S. had crossed a red line by supporting the strikes.
Korotchenko's comments follow on from a previous statement made by the U.S. Under Secretary of State Victoria Nuland.
According to Reuters, Nuland said Washington supports Ukrainian attacks on military targets on the peninsula and has called for it to be demilitarized. Crimea was illegally annexed by Russia from Ukraine in 2014.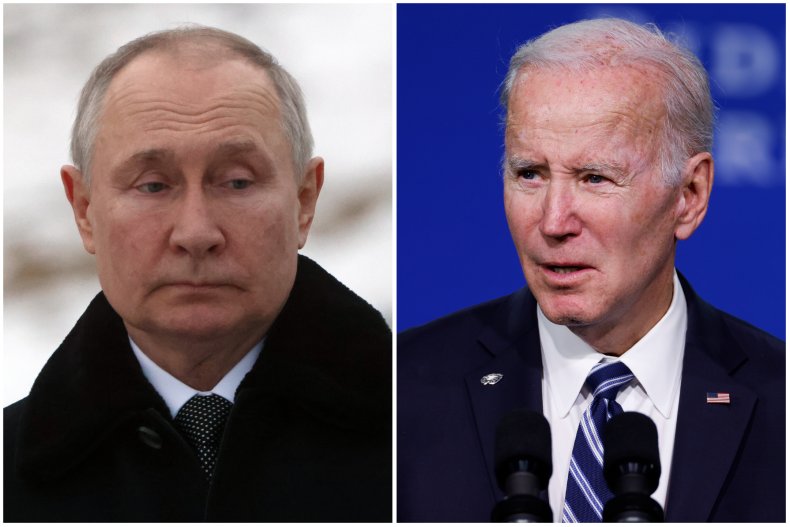 In the video translated by TheKremlinYap, an account that tracks Kremlin propaganda, Korotchenko hit out at the U.S.
He said: "After the U.S. crossed every imaginable and unimaginable red line, today the U.S. State Department actually announced that it was going to war with Russia.
"I assume that this is how we should interpret Nuland's statement. There is no need for halftones. The U.S. is an enemy of Russia, a military adversary."
He added: "If it expects massive missile strikes on Russian territory to be carried out with their help, but as if by someone else's hands, then perhaps we can regard this as a casus belli (cause for war) and react accordingly."
Korotchenko said he wanted Russian officials to "give adequate, conceptual, doctrinal, and military responses to this audacious statement of the United States, and appropriate measures should be taken. What kind of measures? We shall see."
Michael Clarke, professor in the War Studies department at King's College London, described Korotchenko's comments as "bluster."
He told Newsweek: "This is just more bluster and repeats things being said on the channel at regular intervals.
"In order to justify the fact that Russians are now well aware that the SMO (special military operation) is, in reality, a nasty little war that is getting worse, the sacrifices the Russian public will now have to make can only be justified if the Russian homeland itself is under threat. Hence the steady ramping up of Kremlin rhetoric to justify the sacrifices required."
Clarke did comment on circumstances that Russian officials could consider a red line to have been crossed.
He added: "A Ukrainian invasion into Crimea - legally 100 percent Ukrainian territory - would probably be a red line for (Vladimir) Putin himself though possibly not for others in the Russian leadership. Equally, attacks into Russian territory - against like ammunition dumps or military assembly areas in places like Belgorod or Kursk - would be legitimate in self-defense for Ukraine as far as international law is concerned, BUT if carried out by NATO-supplied weapons, would cross a perceptual red line for the Kremlin as it could then use that as clear evidence that this really IS a war of NATO against the Russian homeland.
"That is why I am totally relaxed about NATO giving Ukraine long-range weapons alongside their promise not to use them against targets inside Russia. Because if they did, they would immediately lose Western support and hence the war. It would be so suicidal for Kyiv that I am totally confident we can take the assurances they offer as watertight."
Despite Korotchenko's comments, U.S. President Joe Biden has not called for the country to become embroiled in a war with Russia. However, the country is spending billions of dollars on military equipment for Ukraine.
NATO allies have also continually supported Ukraine following Russia's invasion nearly a year ago.
The alliance's Secretary General Jens Stoltenberg said on Saturday, February 18, that should Russia win, it would signal to other authoritarian leaders that they could use force to achieve their goals.
He said at the Munich Security Conference: "Some worry that our support to Ukraine risks triggering escalation. Let me be clear. There are no risk-free options. But, the biggest risk of all is if Putin wins."
Ukrainian President Volodymyr Zelensky has previously ruled out any peace deal with his Russian counterpart, Vladimir Putin, that cedes territory to Moscow.
The Ukrainian leader has vowed that the country will return Crimea, which is majority Russian speaking, to its territorial border.
Update 02/19/23, 10:43 a.m. ET: This article was updated to include comment from Michael Clarke, professor in the War Studies department at King's College London.