Russian Strikes Wipe Out Equipment, Ammo Dumps and Troops
Footage released by the Russian military reportedly shows a Russian vessel launching a salvo of missiles into the night sky and plumes of smoke rising from a field after enemy targets are hit.
The video also shows a missile being fired into the sky from a vehicle daubed with a "Z" and another rocket being propelled at a target, which is then seen exploding.
The missiles fired from the Black Sea vessel reportedly wiped out weapons and military equipment received from abroad, in addition to killing enemy troops.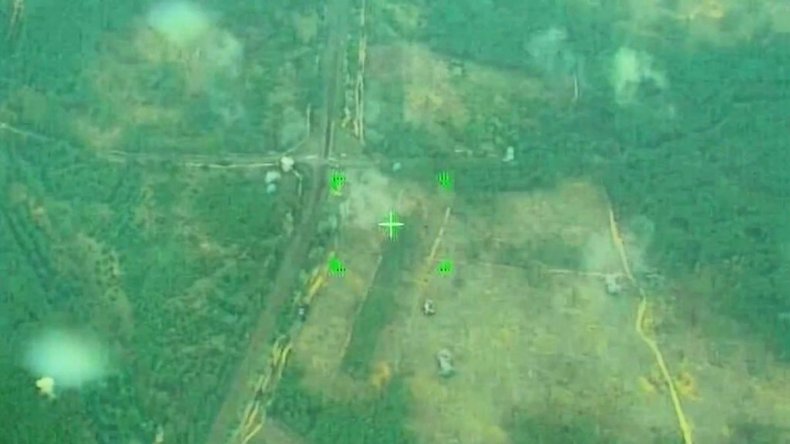 Ukrainian command posts and ammo dumps were also among the targets reportedly destroyed in the latest wave of Russian strikes.
Zenger News obtained the footage from the Ministry of Defense (MoD) of the Russian Federation on Tuesday.
The Russian MoD said (in English): "The Armed Forces of the Russian Federation continue the special military operation in Ukraine.
"The surrender of fighters from the Azov nationalist unit and Ukrainian servicemen blocked at the Azovstal plant in Mariupol began yesterday.
"Over the past 24 hours, 265 militants have laid down arms and surrendered, including 51 seriously wounded. All those in need of medical assistance were sent for treatment to a hospital in Novoazovsk, Donetsk People's Republic.
"High-precision long-range sea-based Kalibr missiles near Starichi railway station in Lvov Region have destroyed the personnel of Ukrainian reserve formations, as well as shipments of foreign weapons and military equipment from the United States and European countries, prepared for shipment to Donbass.
"High-precision air- and ground-based long-range missiles have destroyed enemy reserves that were completing their combat coordination at the training centers near Akhtyrka, Sumy Region, and Desna, Chernigov Region.
"High-precision air-based missiles of the Russian Aerospace Forces have hit 2 command posts and 1 communications centre, including those of the 30th Mechanized Brigade near Bakhmut, 28 areas of AFU manpower and military equipment concentration, and 2 missile-artillery weapons and ammunition depots near Ugledar and Konstantinovka in Donetsk People's Republic.
"The attacks have resulted in the elimination of more than 470 nationalists and up to 68 armored and motor vehicles.
"In addition, 1 traction power substation have been destroyed near Merefa railway station in Kharkov region, which was delivering weapons and military equipment from the United States and Western countries to Donbass.
"Operational-tactical and army aviation have hit 9 command posts, 93 areas of AFU manpower and military equipment concentration, as well as 3 ammunition depots near Luparevo and Shevchenkovo in Nikolaev region.
"Missile troops and artillery have hit 6 command posts, 224 areas of AFU manpower and military equipment concentration, 12 artillery and mortar batteries at firing positions, 4 BM-21 Grad MLRS batteries and 2 air target detection radar stations.
"Russian air defence means have shot down 23 Ukrainian unmanned aerial vehicles over Pitomnik, Izyum, Snezhkovka, Olkhovatka, Dementievka, Russkaya Lozovaya, Bolshie Prokhody and Petrovskoe in Kharkov Region, Staromikhailovka, Novotamarovka, Novotroitskoe, Nevelskoe, Sverdlovo, Avdeevka and Vladimirovka in Donetsk People's Republic.
"8 Smerch rockets have been intercepted near Chernobaevka, Kherson Region.
"Yesterday (Monday) between 10:00 and 11:00 a.m. Ukrainian nationalists used Smerch multiple rocket launchers to hit residential areas of Kherson. Russian air defense means have intercepted all 10 Ukrainian rockets.
"I would like to stress that there are no units of Russian troops in Kherson. The Kiev regime is well informed about this. The strike was deliberately targeted at civilians in Kherson in retaliation for supporting the Russian Federation.
"In total, 168 Ukrainian aircraft and 125 helicopters, 912 unmanned aerial vehicles, 309 anti-aircraft missile systems, 3,134 tanks and other armored combat vehicles, 385 multiple launch rocket systems, 1,542 field artillery and mortars, as well as 2,983 units of special military vehicles were destroyed during the operation."
The claims made by the Russian MoD have not been independently verified.
The invasion is now in its 83rd day.
This story was provided to Newsweek by Zenger News.