Su-35 fighter jets took to the sky and bombed Ukrainian targets before returning to base, according to Russian military officials.
The Russian Ministry of Defense (MoD) said crews of the Su-35S fighter jets from the Western Military District of the Russian Armed Forces destroyed viral "military infrastructure of the Armed Forces of Ukraine during the special military operation."
The MoD said Russian units continue to batter Ukrainian military infrastructure facilities with precision-guided weapons, adding that tactical operations are carried out from their temporary airfields.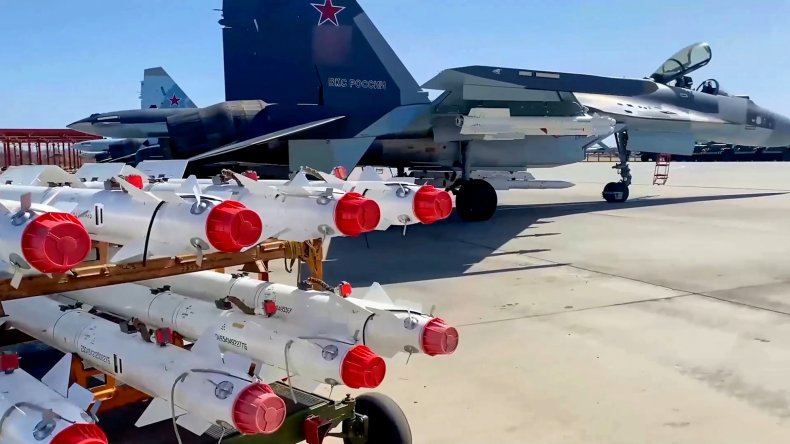 According to the Russian military, Su-35S pilots cooperate with their counterparts in Su-34 bombers to inflict maximum damage on the enemy's strongholds.
Russian crews, flying day and night in all weather, look to destroy Ukrainian radar stations and air defense systems with guided high-precision missiles.
The Russian MoD also said they shot down two Ukrainian Su-25 jets in the regions of Donetsk Oblast and Kherson Oblast in a single day.
The Su-35S is designed to gain air supremacy by destroying manned and unmanned aerial vehicles with guided missiles at long, medium and short ranges, while conducting long-range and short-range combat maneuvers.
The Ministry of Defense said that Ka-52 Alligator reconnaissance and attack helicopters are used to escort military columns, and eliminate enemy weapons and strategic facilities. In addition, they are used to deliver troops and military cargo as well as provide air support to ground units.
Russian troops invaded Ukraine on February 24 in what the Kremlin is still calling a "special military operation." Monday marks the 89th day of the campaign.
Since the start of the invasion, Russian forces claim to have destroyed 174 Ukrainian aircraft, 125 helicopters, 977 drones, 317 anti-aircraft missile systems, 3,198 tanks and other armored combat vehicles, 408 multiple rocket launchers, 1,622 field artillery and mortars, and 3,077 units of special military vehicles.
Meanwhile, the Ukrainian military claims that Russia has lost 1,293 tanks, 3,166 armored fighting vehicles, 604 artillery systems, 201 multiple launch rocket systems, 93 anti-aircraft systems, 204 warplanes, 170 helicopters, 2,206 motor vehicles and fuel tankers, 13 vessels, 476 unmanned aerial vehicles, 43 units of special equipment, and 110 cruise missiles.
The total combat losses of Russian troops stand at around 29,200 personnel, according to the General Staff of the Armed Forces of Ukraine.
This story was provided to Newsweek by Zenger News.