Russia's navy has sent two of its Pacific Fleet submarines to practice fighting one another, while also navigating through mined waters.
Russian submarine activity in the Atlantic Ocean has already peaked to a post-Cold War high according to NATO, but over the past year, the Russian navy has noticeably ramped up its deployments in the Pacific as well. According to official records, the deployment time for warships in the Pacific exceeded the planned schedule by four times, as tensions in the region around North Korea's nuclear programme mounted.
The Pacific Fleet has now launched a drill simulating a submarine showdown, during which one crew was tasked with attacking the other and was met with evasive maneuvers and torpedo fire. The diesel-powered L-2 submarines also underwent a series of other drills, as part of their combat readiness training, the Ministry of Defense said in a statement on Wednesday.
Related: As Putin celebrates victory, ballot-stuffing videos are going viral in Russia
"The crews of the submarines also trained to overcome naval minefields," Nikolay Voskresensky, spokesman of the fleet, told state news agency Itar-Tass.
The drill from the fleet based in the Primorye region follows a series of maneuvers by the navy, army, air force and elite units such as Russia's paratroopers and marines that have practiced combat in the region over the past 12 months.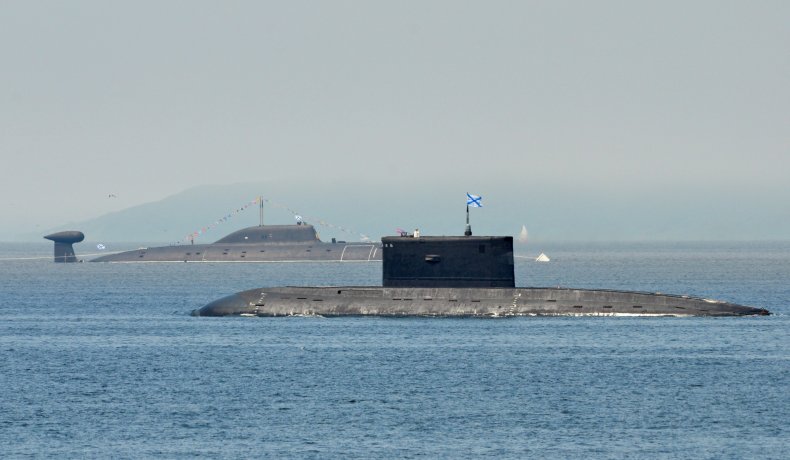 The drills have not been limited to sea warfare. They have also been practicing for amphibious landing in the region that borders North Korea, carrying out sniper and grenade launcher fire on land, parachuting in reinforcements, fighting enemy jets and bombing ground targets from the air.
The Kremlin has not explicitly linked any of these drills in Primorye to North Korea tensions but Russia's top security adviser Nikolay Patrushev has assured that Russian troops will not be caught unprepared should conflict erupt around Russia's rogue neighbor.
Russia is one of North Korea's three territorial neighbors and has been involved in brokering peace talks with the South in the past. Moscow officials have put the Russian government forward as a possible facilitator of talks between the North Korean regime and South Korea's main ally, the United States.
However, unconfirmed reports in the lead-up to a proposed high-level meeting suggest the heads of the U.S., North Korea and South Korea could hold a three-way meeting in Finland.