Russian Tanks and Fighters Enter Eastern Ukraine, Says Kiev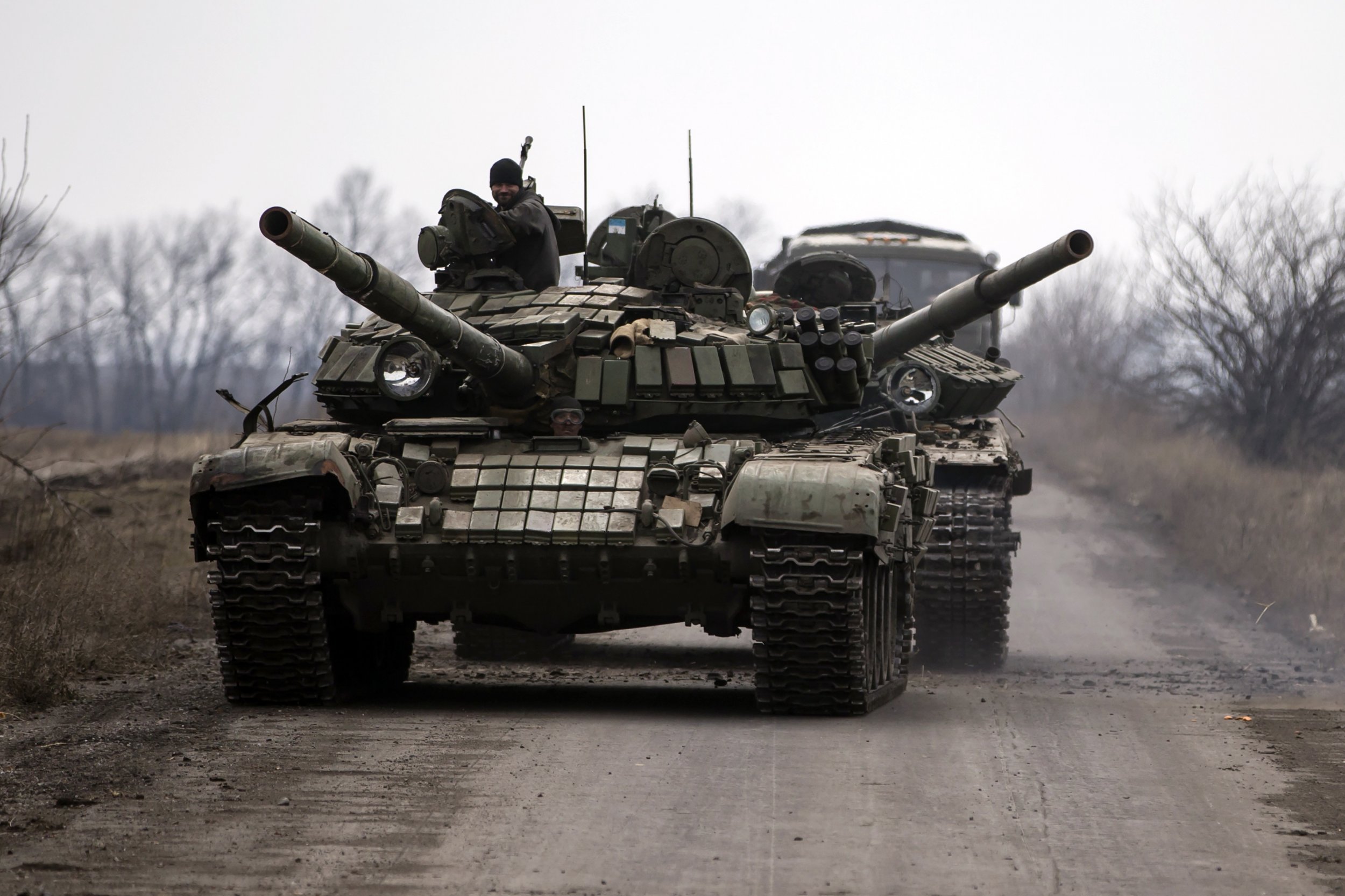 22 Russian tanks crossed into Ukraine's separatist-held eastern territories over the weekend, as pro-Moscow forces continue to seep into Ukraine's war-stricken Donetsk and Luhansk regions, Donetsk's local pro-government officials reported yesterday.
In a statement published on Donetsk's regional government website, the deputy head of Ukraine's anti-separatist military operations in Donetsk and Luhansk Valentin Fechev, condemned the "cynical lies" of pro-Russian fighters who have accused Ukraine of violating the ceasefire between the two sides, and instead gave a recent recap of Russian violations.
Fechev told the regional government website that 22 tanks had crossed from Russia via the border town of Gukovo, into Ukraine's Luhansk region, heading toward the city of Sverdlovsk for maintenance.
On Sunday night 15 separatist Grad missiles were fired at the Ukrainian city of Horlivka. The Donetsk administration explains that pro-Russian fighters had received 122mm Grad missiles as part of one of Russia's so called "humanitarian convoys", which continue to arrive in the rebel-held regions.
According to the local administration the pro-Russian rebels underwent military exercises several days prior in the town of Yenakiieve, using heavy artillery and guns with the aim of eventually stationing them in the town of Horlivka.
Fechev said that fighters as well as equipment crossed the border from Russia to Ukraine last weekend, claiming that more than 800 Russian mercenary fighters had entered Ukraine to fight over the last few days. He went on to say that these fighters are there for "the gain of personal wealth", rather than being motivated by the idea of resurrecting a 'New Russia' (Novorossiya) in Ukraine.
He estimates that of those 800 Russian fighters, 200 were Russian Cossacks who had entered Ukraine with small arms "to die for Russian money" last week, and 600 were "mercenaries" who appeared to be from Russia's Siberian Buryat region.
A group of Russian Chechen fighters has also been tracked in the region by Ukrainian authorities, who claim the group looted nearby scrap storage facilities last week.
Fechev pointed out that they do not represent the "liberty-loving Chechen people" but were rather Kadyrovtsi - a word used to describe the fighters of Chechen president Ramzan Kadyrov, who is a close ally of Russian president Vladimir Putin.
Fechev also added that these new arrivals from Russia were necessary as locals to Donetsk and Luhansk had largely not opted to join the separatist cause, estimating that rebel mobilisation efforts were only 10-15% successful.
A survey published by Ukrainian agency Interfax today which surveyed over 2,000 citizens of Donetsk and Luhansk found that 45% of residents admitted they did not have enough to eat, while 63% said life was "difficult but [they] would make do".
Russia is frequently forced to deny that it is sending military equipment or personnel to Ukraine, despite evidence that they are. Rebel leader Alexander Zaharchenko estimated in August that there are as many as 4,000 Russian soldiers fighting under him in Donetsk, however added that they were there on a voluntary basis, out of personal solidarity for the pro-Russian cause.
"We also have Russian soldiers here who would rather spend their holidays not on the beach but fighting for the freedom of their brothers," he added.