Russian Tanks Enter Eastern Ukraine as Rebel Leader Linked to MH17 Disaster Is Reported Dead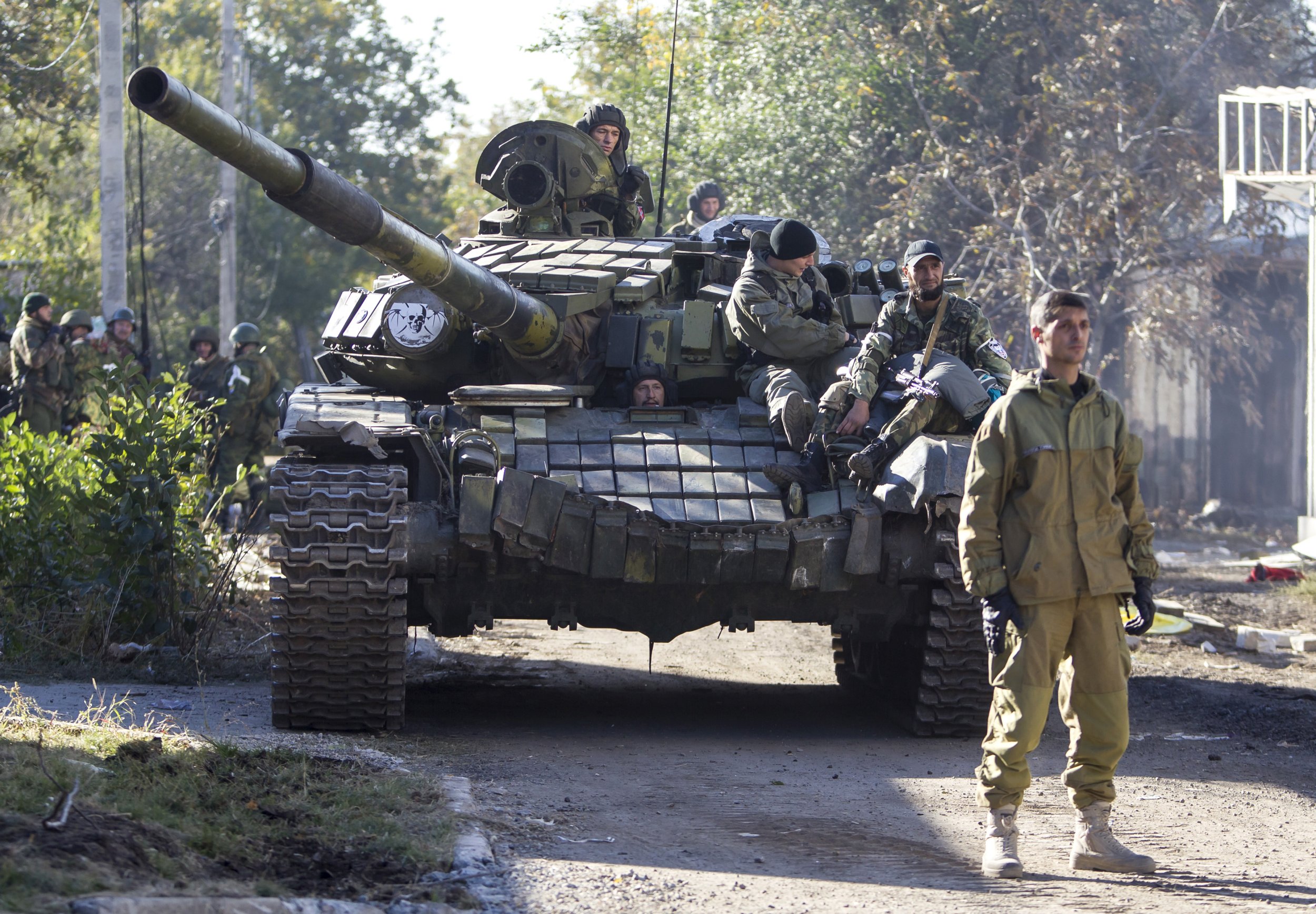 A convoy of 32 Russian tanks, 16 Howitzer artillery guns and 30 lorries full of "arms and reinforcements" has crossed into the Luhansk region of Ukraine, according to Ukrainian authorities.
A separate column of three Russian army armoured personnel carriers (APCs) crossed into Ukrainian territory through a rebel held border crossing, Ukraine's Security Service (SSU) confirmed. The vehicles crossed into the separatist region of Luhansk through the checkpoint of Izvarino carrying three portable radar stations, Andriy Lysenko, spokesperson for the SSU said on Friday morning.
"The deployment of military equipment and armed forces from Russian territory has not ceased," Lysenko said.
Ukrainian NGO Information Resistance has already confirmed spotting tracking the smaller armoured column outside the city of Luhansk, in the east Ukrainian town of Shastya.
A shaky ceasefire has been in place in eastern Ukraine since since an agreement was reached in September between Ukrainian president Petro Poroshenko and Russian president Vladimir Putin in Belarus.
Fighting has continued across eastern Ukraine with both pro-Kiev and pro-Russian forces accusing the other side of violating the ceasefire first.
However, there is speculation that the latest incursion by Russian forces may be the result of internal conflicts within the separatist camp as Lysenko refused to call the heightened activity "an open invasion" due to the small number of units crossing the border.
According to Dmitry Tymchuk from Information Resistance, a Russian army battalion has crossed into Luhansk with the APC column, sent to terminate a small separatist group under the command of former Soviet lieutenant Igor Besler.
Amidst previous reports that pro-Russian rebels in Ukraine's Luhansk and Donetsk regions are forming a joint military command, both Tymchuk and former advisor to Ukraine's Ministry of Defence Oleksandr Danylyuk reported on Friday that Besler has been targeted and assassinated by the Russian Secret Service for hindering the process.
"Besler's deputies and personal guard have practically disappeared too," Danylyuk said in a post on Facebook on Friday, while Tymchuk later added that out of the rebels formerly under Besler's command "some of the fighters have joined the united military command of Donetsk, the rest have disappeared."
Ukraine's SSU said it did not have sufficient information to confirm accounts of Besler's death at present, but added: "We can confirm that according to our reports the confrontation between rebels is intensifying."
Besler has been one of the most high profile pro-Russian commanders in Crimea and east Ukraine since last spring.
An audio recording released by Ukrainian intelligence after the shooting down of Malaysian Airlines flight MH17 purportedly revealed a phone call in which Besler admitted responsibility for the disaster. Video recordings have also allegedly shown him taking charge of a Ukrainian police station and ordering the execution of pro-Kiev soldiers by firing squad.
Unofficially a woman claiming to be Besler's press secretary has denied these reports on social media, insisting that Besler is "alive and well". Ukrainian authorities are still investigating the claims.
In the last week the whereabouts of Igor Besler have become a subject of speculation as Russian Radio RSN broke the news he had been removed from his position of command on Saturday, though Donetsk rebels told Russian press Besler was still affiliated with them, though currently on vacation in Crimea.
Kiev considers Besler to have joined Russian GRU military intelligence in February and assisted separatists in Crimean, as well as in eastern Ukraine.
Should reports of Besler's disappearance prove true, he would be the second high-ranking Russian military intelligence officer to be forcibly removed from a leadership position among east Ukrainian rebels after internal turmoil.
Igor Ghirkin AKA "Strelkov", former Donetsk military leader and Russian GRU commander, was removed from his post earlier in the year after evidence emerged he had also ordered the execution of pro-Kiev prisoners and, according to his successor, implemented ruthless tactics against the local Ukrainian population.
Ghirkin was initially reported dead, then wounded, until he returned to Russia and fellow rebel Alexander Zaharchenko took over from him as minister of defence in Donetsk.
Zaharechenko has since been elected prime minister of the self-declared Donetsk People's Republic in elections which were recognised by Russia, but Kiev, the EU or US.