Russian Teen Issues Public Apology After Shouting 'Putin Is the Devil'
A Russian teenager and her mother have apologized to Vladimir Putin for speaking out against the war in Ukraine, videos shared on the pro-Kremlin Telegram channel of Dagestanskiye Izvestia show.
The story was picked up by Prague-based Russian-language TV channel Current Time, who says the girl is from the city of Izberbash in the Russian republic of Dagestan. She had reportedly taken over the school's microphone one day, shouting "No to war! Freedom to Ukraine! "Putin is the devil!" during the "Last Bell" ceremony—an event celebrating high school seniors leaving. Her anti-war slogans were followed by applause, according to Current Time.
The girl was then charged with discrediting the Russian army and her parents accused of not fulfilling their duties in raising their child correctly.
In a series of public apologies, the teenage girl can be seen saying she is very sorry for what she had done, justifying her act as a cry for attention. Clips of the apologies were shared by Dagestanskiye Izvestia, revealing the identity of the student as Zukhra Albekova.
"Recently, I was worried about exams and, against the background of all this, I had a fight with my mother. I admit my mistake and apologize for ruining the holiday for everyone," the girl says in a video.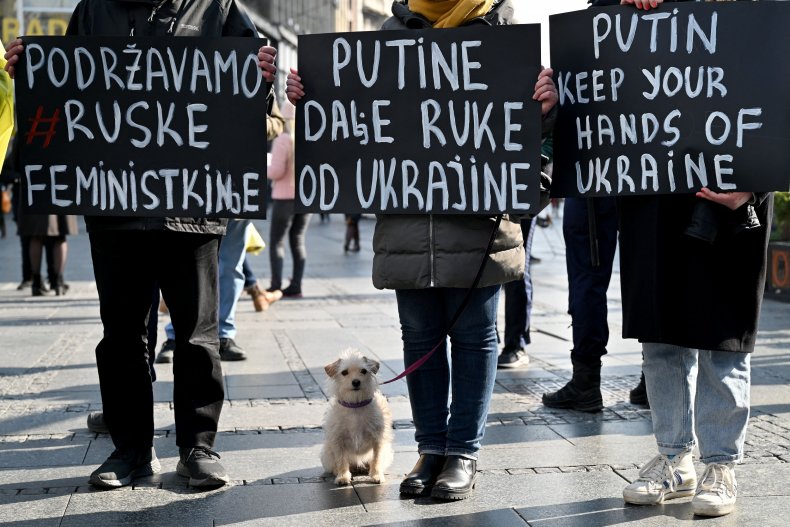 Her mother also formally apologizes in a second video, saying she regrets the "emotional, thoughtless act committed by her daughter." She also said the anti-war slogans Zukhra came up with were caused by the stress of exams.
The mother then reiterated her support for the Kremlin in its war against Ukraine.
"I fully support the course of President Vladimir Vladimirovich Putin. I am a patriot of my country and therefore I support the ongoing special operation on the territory of Ukraine. I sincerely regret that I overlooked, missed something important in raising my daughter," the woman says.
According to OVD Info, an independent Russian human rights media project fighting political persecution, nearly 2,000 administrative reports have been filed under "discrediting the Armed Forces of the Russian Federation" since the beginning of the war in Ukraine.
The crime can be punished with a fine of 30,000 to 50,000 rubles ($500 to $860).
In March, Moscow stepped up its censorship surrounding information about the conflict in Ukraine, passing a law that allows it to impose a jail term of up to 15 years to anyone spreading "false information" about the Russian army.
More than 15,400 people have been detained in connection to anti-war actions since February 24, according to OVD Info. Many of these were anti-war activists who took part in early protests against the invasion and were arrested en masse.