Russian Territory Officials Demand Putin Officially End His Mobilization
Russian President Vladimir Putin is facing calls from some territory officials to formally end his mobilization of troops amid the Ukraine invasion.
Putin is facing growing political pressure over the faltering invasion nearly nine months after he ordered the "special military operation" on February 24. Ukraine met Moscow with a stronger-than-anticipated defense effort, bolstered by Western military aid, successfully blunting military gains among Putin's troops.
In September, he announced a partial mobilization of troops in an effort to expand his ranks. The mobilization was seen as a major escalation of the war amid setbacks, and Ukraine this week accused Russia of starting a new mobilization in Crimea.
In the latest indication of mounting discontent, territory officials from the Republic of Karelia, a northwestern region of Russia bordering Finland, sent Putin a letter urging him to issue a decree that would prohibit the military from continuing the ongoing mobilization due to its negative effects on Russian society.
Emilia Salbunova, who serves as a member of the Karelia Legislative Assembly, announced the letter, which was signed by her and other regional leaders, in a Telegram post on Tuesday.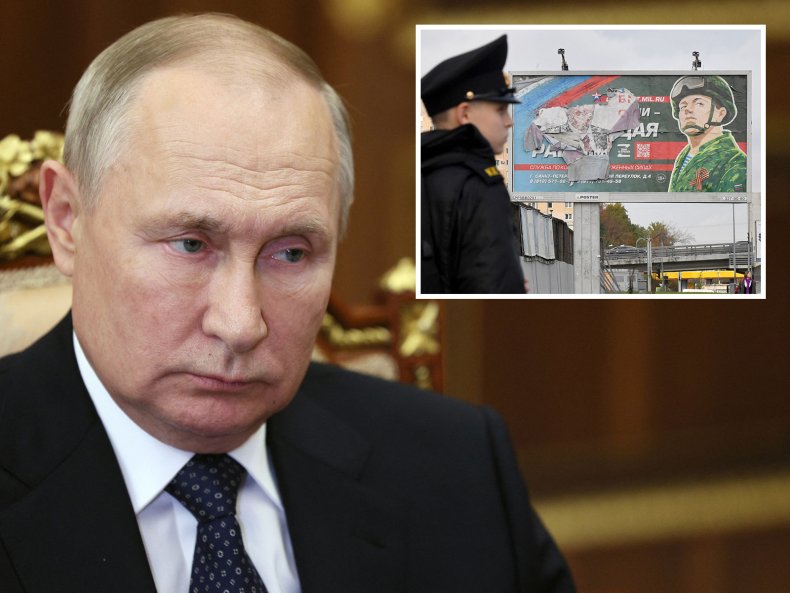 "This fact affects the psychological state of society, is a source of anxiety and increased anxiety in Russian families and work collectives, and many people have health problems. Applications must be supported by a decree," she wrote in the translated post.
She wrote that statements and public speeches from military authorities, who have said the mobilization is complete, "are not normative acts and therefore have no legal force."
Putin spokesman Dmitry Peskov told Russian state media RIA Novosti on Tuesday that his office has not yet seen the letter.
Russian authorities said in late October the partial mobilization, which sought to add 300,000 additional troops to the military, had ended. Putin ordered the mobilization in September after Ukrainian counteroffensives reclaimed thousands of square miles of formerly occupied territory and amid reports that Russia had suffered significant losses.
The letter comes after Ukraine accused Russia of beginning a "covert mobilization" to enlist more Russian citizens in Crimea, the region Russia annexed from Ukraine in 2014.
The General Staff of the Armed Forces of Ukraine on Monday said "measures of covert mobilization to the ranks of the [R]ussian occupying forces are ongoing" on the Crimea. Peskov told reporters that there are "no discussions about" a second mobilization in the Kremlin.
Putin Under Pressure as Ukraine War Struggles
While the letter did not offer outright opposition to the war or Putin's goals in Ukraine, it illustrates the continued political pressure Putin is facing to turn the tide of the invasion in favor of Russia. Despite the partial mobilization, Russia has still struggled to make gains against Ukraine, and the military has still seen significant issues.
Ukrainian troops earlier in November retook Kherson, a key city that serves as a gateway to Crimea, delivering a substantial blow to Russian efforts. Amid these setbacks, reports have emerged that some members of Putin's inner circle are frustrated with the handling of the conflict.
Former U.S. Ambassador to Russia Michael McFaul said last week that Putin's regime is "cracking" as Russian elites are "panicking" about the war.
Former state Duma member Zakhar Prilepin, who has been a fierce supporter of the Ukraine war, admitted during a recent appearance on Russian state TV that Moscow is "clearly" not ready to launch any new offensives.
Newsweek reached out to Russian Ministry of Defense for comment.