Turtle Goes Missing for a Week, is Found to Have Traveled 5 Miles Back to its Former Home: 'Wow This Really Happened'
In a twist which could have come straight from a fable by Aesop, a tortoise that disappeared for a week was reunited with its owner after it was found 5 miles away at the house where it had lived a decade previously.
Sara Coggeshall thought that she would never see her pet Sweety again after it had disappeared from her home in Roseville, greater Sacramento.
Distraught, she appealed for help on social media and posted flyers in the hope that someone would spot the Russian tortoise that had been passed on to her from her father and that she had looked after for 20 years.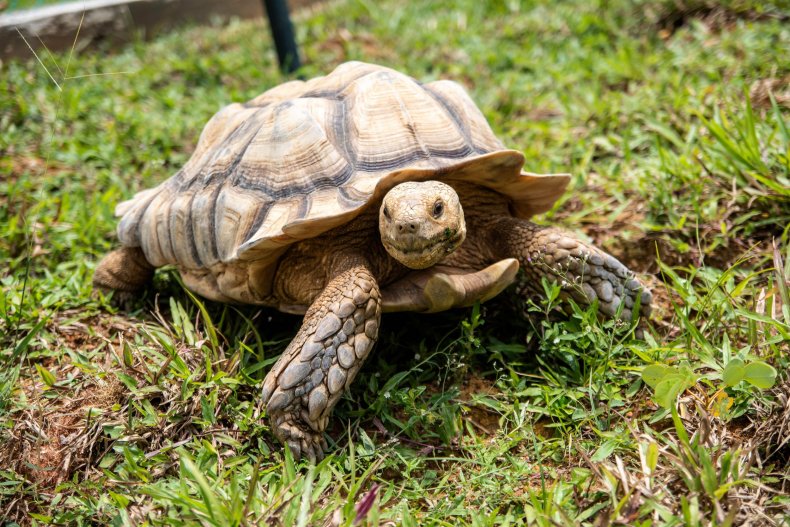 A woman driving home spotted the lone creature and presuming it was somebody's pet came to its rescue before posting her find on Facebook.
Coggeshall was elated to be reunited with her pet who may have walked so far because it was feeling nostalgic.
Coggeshall told CBS 13: "As soon as I saw the street address, I started crying. The fact that my Sweety, my Russian tortoise, walked from the house she lived in for 10 years, and went back to the house she used to live in 10 years ago, it's bizarre."
Coggeshall thought she may have been in search of an iguana who used to live at the property.
"The iguana would be in one spot [and] she would chase her, the iguana would move she would chase her again. So maybe she misses her. You're like, 'this can't be, this can't be', then you say, 'wow this really happened.' My biggest fear she was run over, or attacked, or just gone for good."
Martin said she was delighted to find the pet and return it to its owner, telling CBS: "It's incredible. I thought I was just helping someone find their pet, but to think this turtle traveled so far and I was able to reunite the family again, I feel really good."
The tortoise had only minor scrapes to her shell and nose.
The Russian tortoise is nothing if not resilient and you could say it has a taste for travel.
In 1968, before any human had witnessed the Earthrise, two members of the species became the first living things to travel within the vicinity of the Moon on the Soviet Zond 5 mission.
The unmanned craft returned to Earth and was recovered from the Indian Ocean. The tortoises were unharmed and analysed by Soviet scientists, according to The Atlantic.
Also known as the Afghan tortoise, or steppe tortoise, this member of the turtle family can live for 75 years if kept in a healthy environment and provided the right diet. When in the wild, it typically hibernates between October through to mid-March, according to Earthfriends.com.