Russian Traders File Knockoff Names After Brands Quit Russia: 'Nezpresso'
More than 50 applications have been filed to Rospatent, Russia's Federal Service for Intellectual Property, to claim some of the biggest international brands since mid-March, after Russian authorities effectively gave an all-clear for "patent theft" following the withdrawal of Western companies from the country.
According to a report by RBC, a Russian economics and finance-focused publication, among the brands Russian entrepreneurs are seeking to take control over are payment systems such as Mastercard and American Express, carmaker Audi, fashion brands such as Levi's and Christian Dior and big names in the beauty industry such as Shiseido and Clarins.
All of these companies have temporarily, partially or completely suspended operations in Russia since the beginning of the war in Ukraine.
According to a list of big corporate exits from Russia compiled by Jeffrey Sonnenfeld of the Yale Chief Executive Leadership Institute, over 450 companies have withdrawn from the country since the beginning of the Russian invasion of Ukraine.
Many left behind factories, production facilities and other assets. Moscow followed these exits with relative discontent, signaling that it was prepared to hand control of those assets to local businesses if the brands did not return.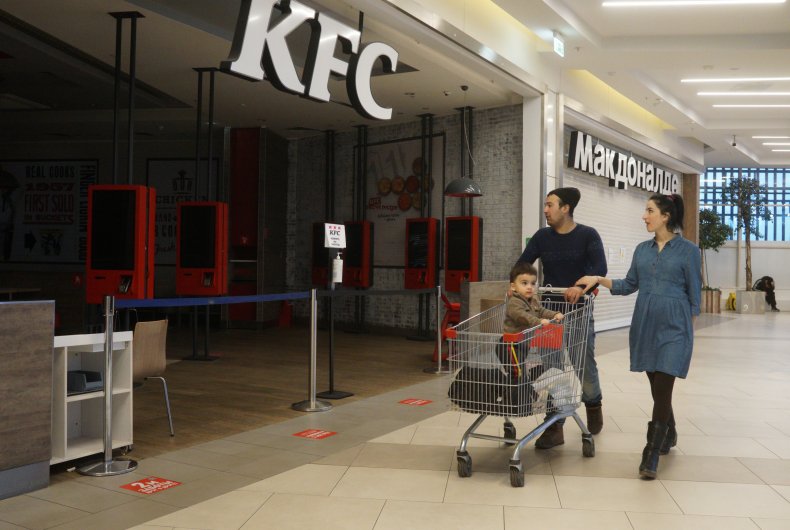 On March 6, the Russian government issued a decree stating the possibility of "lifting restrictions on the use of intellectual property [for] certain goods that are limited in Russia."
In particular, the state wouldn't prosecute entrepreneurs found liable of copyright infringement in connection with companies who have left Russia when the owners come from "unfriendly countries"—a list which now includes 48 countries across Europe, the U.S., Canada, Japan, South Korea, New Zealand and Australia.
The decree also states that no compensation would be offered to the brands whose copyright has been violated. According to Russian state-controlled media TASS, "this is a temporary measure for the period of supply restrictions."
The Kremlin has not yet issued any decree lifting protection on trademarks, but the impact of even suggesting the move has seen an unprecedented rise in the number of patent applications in Russia for the names and logos of Western brands.
RBC shared copies of a number of such applications currently under consideration of Rospatent. Most, the publication says, are made under the original name of the company. Others feature curious rebrandings.
Newsweek previously reported on one such case involving a McDonald's restaurant that appeared to be rebranded as "Uncle Vanya's," with the logo turned sideways.
Other patent applications feature brands eerily similar to existing companies, including "IDEA" and "Nezpresso"—an odd take on Swedish furniture giant IKEA and Nestle's Nespresso.
Meta's Instagram and Facebook are also being targeted by these unlawful trademark filings—the first under Instarus and Rosgram—after the two social media platforms were identified by the Russian government as "extremist."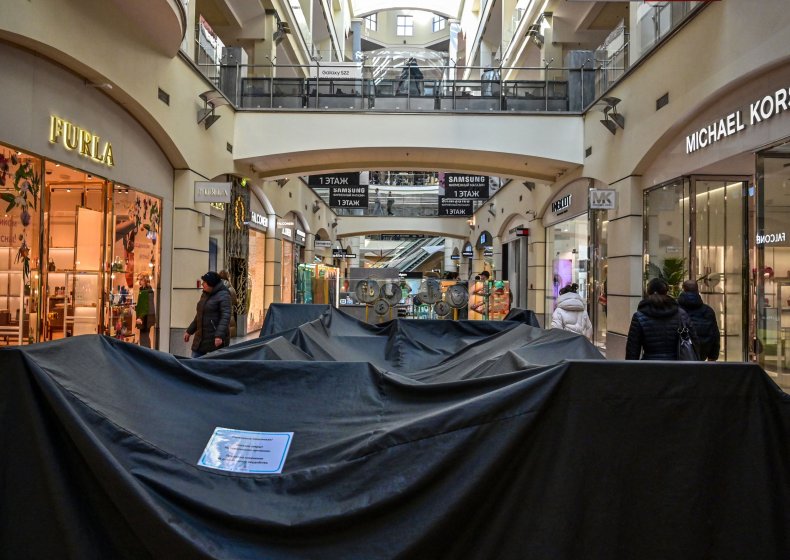 Appropriating the trademark of brands which have suspended operations in Russia violates the World Trade Organization regulation on international property rights, TRIPS, which Moscow has signed up to.
"It is very likely to contravene the TRIPS agreement, to which the Russian government is a signatory," reads a statement on the situation from J A Kemp, one of the largest patent and trademark attorney firms in Europe.
"Although we recognize that there is uncertainty as to the willingness of the current Russian government to respect international agreements," the company said.
Responding to the alleged plans of asset seizure by Russia, the Biden administration affirmed that any attempt to seize assets from American companies would result in "more economic pain" for Russia.
Follow our live blog for updates on the Russia-Ukraine conflict.
Newsweek has contacted Russia's Ministry of Foreign Affairs, Rospatent, Mastercard, American Express, Volkswagen Group, Levi Strauss, L'Oreal Group, Shiseido and Dior for comment.