Russian Trolls Promoted Anti-Vaccination Propaganda That May Have Caused Measles Outbreak, Researcher Claims
Russian propaganda may be responsible for the persistence of measles as conspiracy theories about vaccinations spread across the Internet, according to researchers.
The same Russian trolls who attempted to provoke racial tensions and influence the outcome of the 2016 presidential election were also responsible for spreading propaganda against vaccinations. Their efforts may have helped cause the measles outbreak that infected tens of thousands and killed dozens in Europe last year, researchers told Radio Free Europe.
A 2018 report by the American Public Health Association, titled "Weaponized Health Communication: Twitter Bots and Russian Trolls Amplify the Vaccine Debate," came to a similar conclusion.
"Whereas bots that spread malware and unsolicited content disseminated antivaccine messages, Russian trolls promoted discord. Accounts masquerading as legitimate users create false equivalency, eroding public consensus on vaccination," the report said.
"Health-related misconceptions, misinformation, and disinformation spread over social media, posing a threat to public health. Despite significant potential to enable dissemination of factual information, social media are frequently abused to spread harmful health content, including unverified and erroneous information about vaccines," it continued. "This potentially reduces vaccine uptake rates and increases the risks of global pandemics, especially among the most vulnerable."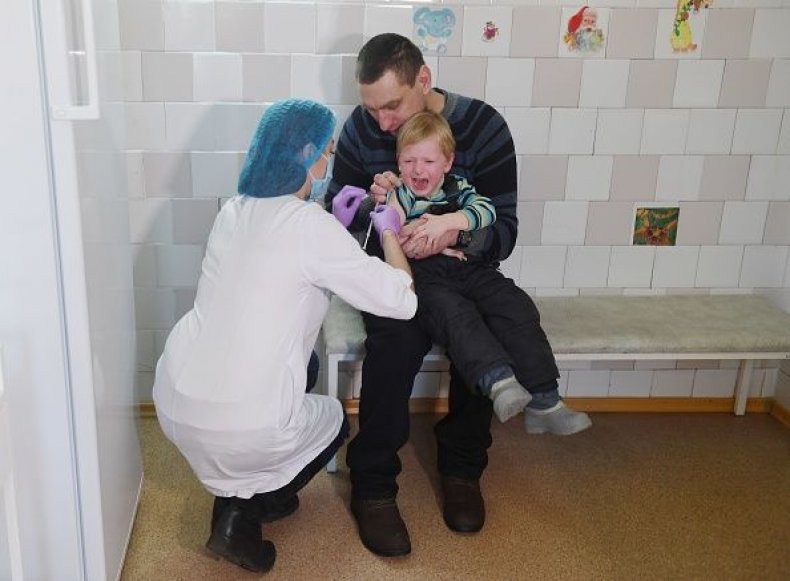 Facebook is now looking for ways to combat disinformation about vaccines being spread on its platform.
The measles virus has resurged in recent years as conspiracy theories about vaccinations have spread online. Most of the new measles cases were in Eastern European and Central Asian countries frequently targeted by Russian disinformation, including Ukraine, Georgia, Serbia, Romania, Moldova, Kazakhstan and Kyrgyzstan.
Measles was considered eliminated in the U.S. in 2000 because of vaccines against measles, mumps, and rubella. Nevertheless, cases have increased in the U.S. Public health professionals have called the disease a leading cause of death among children.
The World Health Organization has said that fear of vaccines has become one of the top threats to global health as previously eradicated diseases make a comeback.
"Vaccine hesitancy—the reluctance or refusal to vaccinate despite the availability of vaccines—threatens to reverse progress made in tackling vaccine-preventable diseases. Vaccination is one of the most cost-effective ways of avoiding disease—it currently prevents 2-3 million deaths a year, and a further 1.5 million could be avoided if global coverage of vaccinations improved," a World Health Organization report reads. "Measles, for example, has seen a 30% increase in cases globally."