Russian Troops in Belarus Could Reach 30K, Largest Since Cold War: NATO
Russia's largest deployment of military forces to Belarus since the Cold War has NATO officials concerned that an invasion of Ukraine is still possible.
NATO Secretary-General Jens Stoltenberg said Russian forces in Belarus could rise to 30,000 this month, with special forces, advanced fighter jets and short-range ballistic missiles, the Associated Press reported.
"Over the last days, we have seen a significant movement of Russian military forces into Belarus. This is the biggest Russian deployment there since the Cold War," Stoltenberg told reporters on Thursday at NATO headquarters in Brussels, according to AP.
"So, we speak about a wide range of modern military capabilities. All this will be combined with Russia's annual nuclear forces exercise, expected to take place this month."
Russia has stationed more than 100,000 troops near the northern and eastern borders of Ukraine.
Ukrainian Defense Minister Oleksii Reznikov estimated that there are 115,000 troops near Ukraine but said the threat and risk have existed since 2014 when Russia became "an aggressor." Reznikov said there is no reason to "panic, fear, flight or the packing of bags," according to AP.
President Joe Biden sent 2,000 U.S.-based troops to Poland and Germany on Wednesday, with an additional 1,000 troops based in Germany moving to Romania, AP added.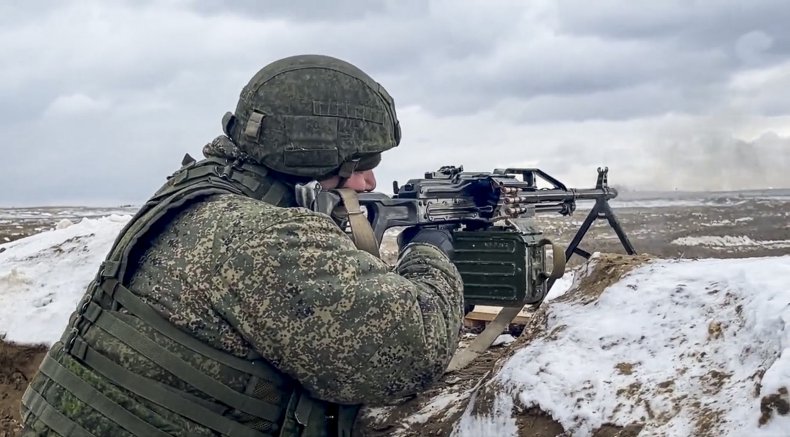 "It's totally consistent with what I told Putin in the beginning. As long as he's acting aggressively, we're going to make sure we reassure our NATO allies and Eastern Europe we're there and Article V is a sacred obligation," Biden said Wednesday, according to CNN.
Stoltenberg emphasized that NATO is "committed to finding a political solution to the crisis," but they are prepared for the worst-case scenario, AP reported.
Russia's willingness to engage in diplomatic talks in recent weeks is a "good sign," Stoltenberg said. It's possible Russian President Vladimir Putin hasn't made a decision whether or not to invade Ukraine, the Washington Examiner reported.
However, if Russia does invade Ukraine, Pentagon press secretary John Kirby said there would be consequences, CNN reported.
Stoltenberg said the West has given repeated warnings to Russia that further aggression "would have severe consequences and carry a heavy price," and that Russia needed to "de-escalate," according to AP.
Ukraine has downplayed the possibility of an invasion and said the probability of Russia following through is low. Russian officials have denied any plans to invade Ukraine, but the U.S. has emphasized it could happen "at any point," the Washington Examiner reported.