Russian Troops Destroy 2 Battalions of Ukrainian Tanks Mid-Preparation
Russian troops destroyed two battalions of Ukrainian armored vehicles preparing to launch an attack, Russian military officials say.
The Russian Ministry of Defense (MoD) said the attack took place near the village of Vishnevoe in the south-eastern Ukrainian region of Zaporizhzhia Oblast.
The Russian military said: "On May 14, 2022, Russian servicemen in the Zaporizhzhia region stopped an attempted counterattack by Ukrainian armed formations."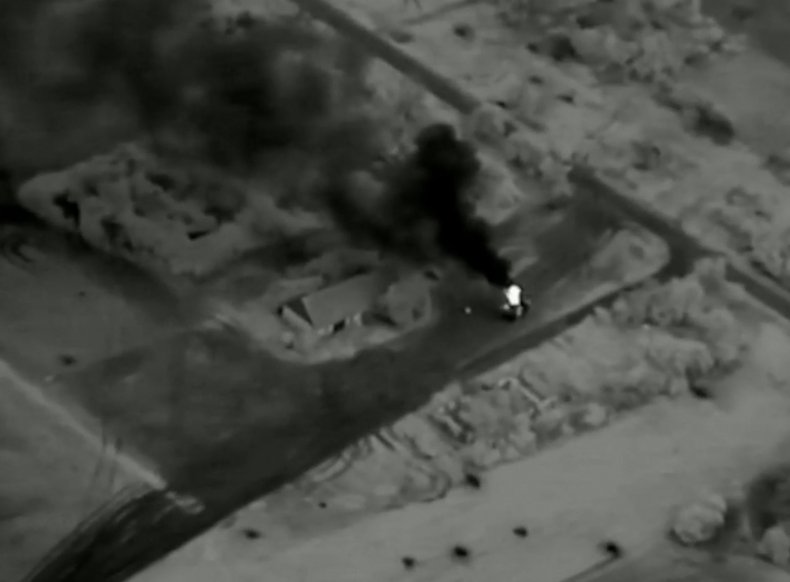 The MoD said Russian troops destroyed two mechanized battalions of tanks and infantry fighting vehicles with artillery fire and drones as well as incoming fire from tanks and armored vehicles.
The Russian MoD said as a result of the attack, they destroyed 26 Ukrainian tanks, 12 infantry fighting vehicles, and killed around 100 soldiers.
The Russian military also said that the attack was launched due to the work of reconnaissance troops using drones.
Russian troops invaded Ukraine on February 24 in what the Kremlin is still calling a "special military operation." May 19 marks the 84th day of the campaign.
From February 24 to May 18, the total combat losses of Russian troops stand at around 28,300 personnel, according to the General Staff of the Armed Forces of Ukraine.
Between February 24 and May 18, 2022, the enemy's total combat losses also included 1,235 tanks (+16 over the past day), 3,009 armored fighting vehicles (+34), 586 artillery systems (+8), 199 multiple launch rocket systems (+1), 91 anti-aircraft warfare systems (+1), 202 aircraft (+1), 167 helicopters (+0), 2,137 motor vehicles and fuel tanks (+28), 13 boats/cutters (+0), 441 unmanned aerial vehicles (+5), 43 special equipment units (+0). A total of 102 enemy cruise missiles (+5) were shot down.
In related news, the Russian MoD says 959 Ukrainian fighters from the Azovstal metallurgical plant have been taken to Russian-controlled territory since Monday, May 16.
Kyiv is calling for a prisoner swap for the evacuated soldiers. Moscow says they will be treated according to international norms.
The evacuation appears to mark the fall of the strategic port city of Mariupol, completing Russia's land bridge to Crimea and giving it control of the Sea of Azov.
Meanwhile, Turkish President Recep Tayyip Erdogan said Thursday he'll block Finland's and Sweden's applications to join NATO after he accused the Nordic nations of harboring Kurdish militants who he regards as "terrorists."
This story was provided to Newsweek by Zenger News.