Russian Troops 'Ready To Rebel' Against Commanders, Ukraine Says
Russian troops are "ready to rebel against their commanders," according to claims by Ukraine's Security Service (SBU).
The security service shared an audio clip on its official Twitter account, which it said was an extract from intercepted "telephone conversations of the invaders." It did not specify who the voices belonged to or when and where the phone call was intercepted. Newsweek could not independently verify the veracity of the audio recording. Russian authorities gave no immediate response.
In the audio, two men can be heard talking in Russian about the war in Ukraine, in a conversation that starts in a calm tone and escalates within a minute when one of the men starts yelling. The other responds again in a calm tone.
"Our colonel arrived, so we asked him—we haven't got no guns or nothing, and there are armored vehicles all around, what shall we do?" said one of the men, who Ukraine's Security Service claims is a Russian soldier.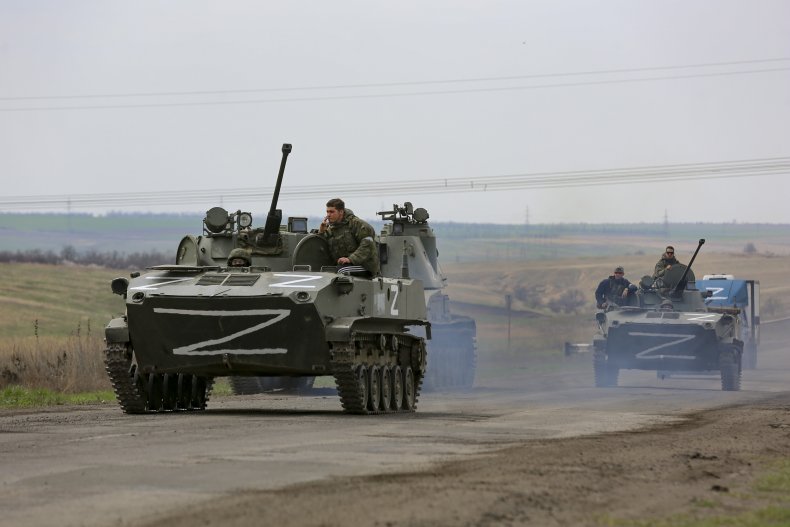 "And he responds: just f*** up the civilians! Whoever you see, just shoot them."
"Fu** me!," comments the other man on the phone.
Then the first man continues his story.
"And then he screamed at us: whoever leaves their post will be considered a deserter. They positioned us at the outposts and we barely made it out of there, there was so much shooting from everywhere.
"We sat out there with nothing [to defend ourselves with] for three days. Our army chiefs collected all the provisions that were sent to us, food, cigarettes and so on, and then they just ditched us and fu****ed off! We don't even know where they are," the man can be heard saying in the audio extract.
"Fu**** jackals. Just shoot them up!," comments the other man.
"They didn't leave us any escape options or routes, didn't bring the provisions, didn't give any guidance," the first man continues.
"Total bastards. Can't you just shoot the commander right there?," the other man asks, yelling.
"Well, when I get back I'm going to file a book-long report to the prosecutor's office," says the first man.
Reports that demoralized and fatigued Russian troops are turning on their commanders and generals have been rumored for weeks, with Ukrainian journalist Roman Tsymbaliuk writing on Facebook on March 23 that Russian soldiers had run over their colonel near Kyiv after terrible losses suffered by the brigade.
Western officials confirmed the claim, saying that the colonel had died as a result of the mutinous attack against him. Russian officials did not confirm either the death of the colonel nor the attack.
Invading troops are currently engaged in the south and east of Ukraine and Ukrainian officials fear it's only a matter of time before the strategic, long-besieged port city of Mariupol falls into Russian hands.
Newsweek has contacted the Security Service of Ukraine and Russia's Armed Forces for comment.