Freezing Russian Troops Giving Away Positions by Lighting Fires: Ukraine
Russian soldiers are giving away their positions on the front lines in Ukraine by lighting fires as colder weather draws in, a Ukrainian official has said.
Serhiy Cherevaty, a spokesman for Ukraine's armed forces, was cited by Ukrainian media outlets as saying that poorly equipped mobilized Russian troops in Ukraine's eastern Donbas region have been left with no choice but to light fires to keep themselves warm.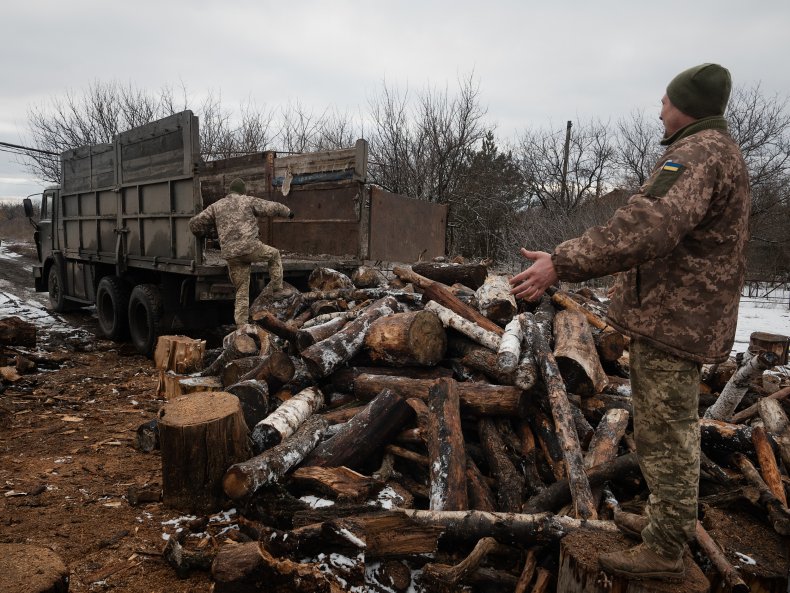 In doing so, the Russian soldiers are exposing their positions to Ukraine's armed forces, he said.
"The newly mobilized, who have not yet been taught how to properly disguise themselves and not unmask their position, and have poor ammunition—they lit fires, smoked in the trenches—unmasked positions for the artillery of the Armed Forces of Ukraine," Cherevaty said, Ukraine's Liga News reported.
Cherevaty also said that Russian soldiers are wearing low-quality clothing and boots that are unsuitable for the colder weather.
He said that as more mobilized men are being deployed in Ukraine, lower quality and older stocks of equipment are being used.
Russia's Defense Ministry claimed on October 31 to have completed its partial mobilization of 300,000 men. Russian President Vladimir Putin has said that about 80,000 mobilized citizens have been deployed in Ukraine so far, of which about 50,000 are taking part in hostilities.
Cherevaty said Russian forces have slowed down their attacks in the Donbas region amid worsening weather conditions.
The British Ministry of Defence said last week that challenges that will arise as winter weather draws in will hit the "already low" morale of Russian troops.
"Winter will bring a change in conflict conditions for both Russian and Ukrainian forces. Changes to daylight hours, temperature and weather will present unique challenges for fighting soldiers," the ministry said in an assessment of Russia's war against Ukraine.
The intelligence update noted that any decisions that the Russian General Staff make will be in part informed by the onset of winter.
Fewer offensives will also be carried out by both Ukraine and Russia, and there will be more static defensive frontlines as daylight will reduce to fewer than nine hours a day, compared to 15 to 16 at the height of summer.
And as the average high temperature will drop from 13 degrees Celsius (55 degrees Fahrenheit) through September to November, to zero degrees Celsius (32 degrees Fahrenheit) through December to February, troops will be more unwilling to fight, particularly at night, while those lacking in winter weather clothing and accommodation are highly likely to suffer from non-freezing cold injuries.
Ukrainian Defense Minister Oleksii Reznikov told Reuters on November 10 that Ukraine's winter conditions will have a huge impact on the war.
"It's [the] main obstacle for all the military campaign. If it's rainy, you have to stay, because you cannot use the wheeled armored vehicles or personnel carriers. You can use only [vehicles] with the tracks. If it's snowy, the same answer. If it's not snowy but you have frozen ... hard ground, you can use wheeled vehicles. So, it all depends on the weather conditions, the next stage of this campaign," Reznikov said.
Ukraine has had major success on the battlefield in recent months, taking back control of Kharkiv region and recapturing the key southern city of Kherson.
Newsweek has contacted the Russian Foreign Ministry for comment.