Russian TV Claims U.S. 'At War in Ukraine' After Pelosi-Led Trip
Russian state media aired a segment on one of its talk shows in which the host characterized a tweet from Democratic Congressman Jason Crow of Colorado as "confirmation that the United States is at war in Ukraine."
Crow, who traveled with Speaker of the House Nancy Pelosi to Kyiv over the weekend, tweeted that "The United States is not interested in stalemates. We are not interested in going back to the status quo. The United States is in this to win it and we will stand with Ukraine until victory is won."
After reading a translation of Crow's tweet on Channel One Russia's Time Will Tell talk show, host Olesya Loseva went on to characterize the message as a "confirmation" of America's participation in the war.
Newsweek reached out to Congressman Crow for his comments on the claims made on the Russian show.
"Vladimir Putin's propaganda machine will say whatever they want," Crow told Newsweek. "The United States is not at war with Russia. We have been very clear about our intent and our purpose, and we will continue to do exactly what we have been doing: helping Ukraine defend against this unprovoked Russian attack."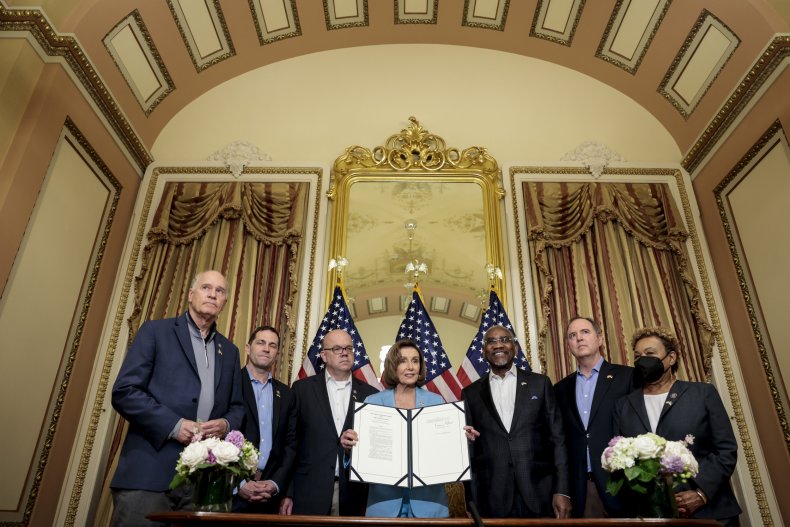 During the visit, Crow and other lawmakers met with Ukrainian President Volodymyr Zelensky, where they affirmed their support for the Ukrainian resistance. Crow said what struck him most about this visit was Zelensky's proficiency as a combat leader.
"He is focused, determined, calm, he knows his stuff," Crow told Newsweek. "He knows exactly what is going on the battlefield, what's going on with the commanders, the weapons."
Crow, who earned a Bronze Star for his service as an Army Ranger in Iraq, serves on the House Armed Services Committee, and came away deeply impressed with the Ukrainian president's command of the situation.
"We would pose a question and he would give a very long, in-depth answer," he said. "It just shows how much he has grown into this role as a wartime leader, and how calm and determined he is."
Crow said during a press conference hosted by Speaker Pelosi in Rzeszów, Poland on May 1 that he joined the trip to provide insights on the weapons Ukrainians need to sustain the fight.
Following this trip, Crow told Newsweek that he believes that Ukraine's biggest equipment needs to sustain the fight are multiple High Mobility Artillery Rocket System (HIMARS) and shore-to-ship anti-ship missiles.
Oleksiy Honcharenko, deputy of the Verkhovna Rada of Ukraine, the country's parliament, confirmed to Newsweek that HIMARS are a high priority. He also stressed that the country needs airplanes and air defense systems, specifically the Phased Array Tracking Intercept of Target (PATRIOT) systems.
But he emphasized that Ukraine is looking for more than weapons from the U.S.
"The U.S. needs to convince the other countries of the free world — I speak most of all of Europe — to institute an embargo on Russian oil and gas," Honcharenko said.
With Germany announcing its support of an EU embargo, it appears that this may happen. And following the Pelosi-led convoy, Honcharenko said that his country has something to feel positive about.
"The simple fact that the delegation came for a visit is a positive," Honcharenko told Newsweek. "Kyiv is the site where the fate of the free world over the next several decades is being decided, because dictators from around the world are watching to see how this war works out for Putin. This is the pivot point of contemporary history."
"They had the opportunity to speak directly with the Ukrainian leadership in order to understand how important their material aid and moral support is to us," he added. "I hope that will help generate support for Joseph Biden's initiative to provide Ukraine with an additional $33 billion in aid. And of course, by being on the ground, the delegation will come away with a better idea of what additional help Ukraine needs."
Crow said that after having made the trip he feels positive about the state of morale within Ukraine's forces, adding that as the momentum rises under Zelenksy's forces, Russian morale appears to be sinking.
"Morale is extremely high and getting higher as Ukrainians fight for their loved ones, their families, their neighborhoods, cities, and towns," Crow told Newsweek. "They've had some notable successes. And as Ukraine morale is surging, Russian morale is very bad and going down."