Russian TV Host Fumes 'Nobody Was Shot' for Losing Kharkiv to Ukraine
A pro-Kremlin Russian television host went on an angry rant on Thursday about his country's war in Ukraine and said that "no one was shot" after Russia lost the occupied region of Kharkiv to a Ukrainian counteroffensive.
Vladimir Solovyov, the Russian pundit and propagandist who presents his own television show on the Russia-1 channel, railed against his country's faltering offensive in Ukraine.
Russia invaded Ukraine on February 24 last year and took control of parts of Kharkiv Oblast, in the east of the country, from the outset. However, in September 2022, the region was recaptured by Ukraine.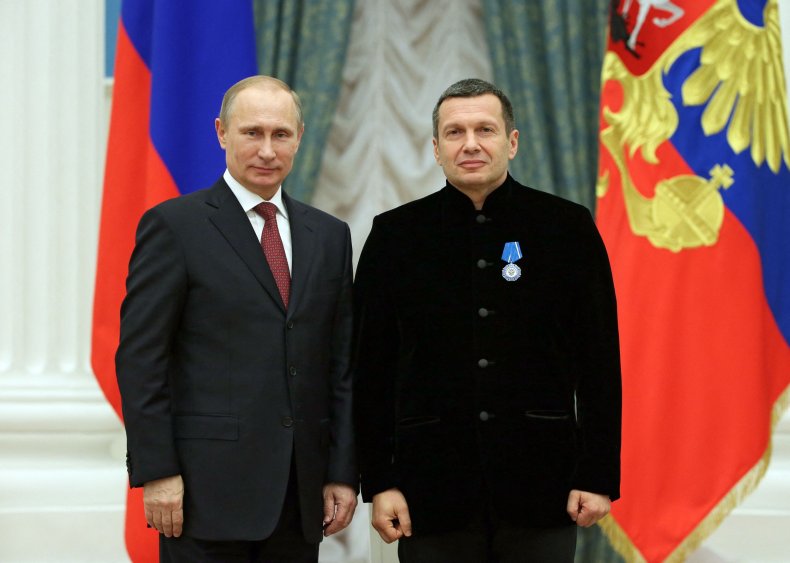 "None of the existing weapons that have been supplied have had the desired effect. But we are no longer standing near Kyiv. A goddamn gesture of goodwill? A goodwill gesture? And Kharkiv is a goodwill gesture?" he shouted, visibly incensed.
"Nobody was shot for Kharkiv. No one has been dismissed, at least not publicly. No answers have been given. Why? Have you brought the border closer to Belgorod? Have you not returned to these positions so far? Silence."
Newsweek has contacted the Ukrainian and Russian authorities for comment.
The pro-Putin TV personality said he was "tired of being kind" and he would happily join the Russian forces on the frontlines in Ukraine. He also took a shot at the United States.
"The U.S. does not recognize Crimea as Russia. And what about Kaliningrad, the Kuril Islands? When should we expect a strike there?"
Crimea is internationally recognized as Ukrainian territory. Russia annexed the eastern region in 2014 and claims it as its own.
"And why do we recognize California as American?" Solvyov continued. "Same for Alaska? Why do we recognize free Texas as American?"
"We don't do s*** at all. Are we just waiting for the Commander-in-Chief to do something? Is everyone else just going to sit on their asses?
"Where are the statements of the State Duma, the Federation Council? Where are the statements of the structures of the Ministry of Foreign Affairs? What is going on at all?"
"The Russian soldier will solve the problem, but the question is, at what cost? Where is the extensive preparation of the mobilization reserve? Where is the civil preparedness training?"
He also asked why Russia has not been creating a civilian military.
Solovyov has a track record of making threats to NATO countries and those supporting Ukraine. On multiple occasions, he has threatened the use of nuclear weapons on European countries such as the U.K., as well as the U.S.