Russian Pundit Breaks Guinness World Record for Most TV Time in a Week
Russian television journalist Vladimir Solovyov has been awarded a Guinness World Record for "most hours of live television presented by a host in one week," the Moscow Times reported.
In a marathon of programming in March, Solovyov was on the air for 25 hours, 53 minutes and 57 seconds. He pulled this off by doing a full work week of five-hour shows, during which he hosted multiple programs on state-owned Russia-1.
Solovyov has long been known as an enthusiastic supporter of Russian president Vladimir Putin, speaking at election rallies and having him on as a guest.
He has found himself a frequent target of the Anti-Corruption Foundation, a Russian watchdog group that investigates immoral and illegal activities by high-ranking government officials and their allies. In July, they revealed that Solovyov had obtained a long-term residence permit in Italy for himself and five of his eight children, and the next day ACF head Alexei Navalny was arrested, according to Novaya Gazeta.
In 2017, Solovyov made headlines by referring to anti-government protesters as "two percent shits."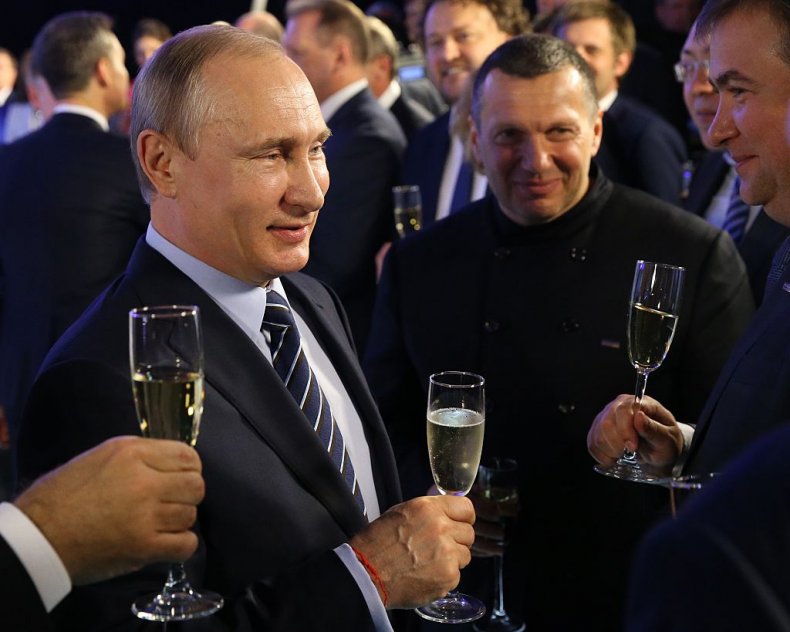 Feedback from Russians on the official Guinness World Records announcement page has been overwhelmingly critical, with one user writing "Bastard, piss on my face to such a propagandist. And kick out of the country, we don't need such assholes," and another writing "Well. Congratulations. I don't know what to say. I think that our hackers will hack this site soon. And they will remove all bad reviews."
A graduate of the Moscow Institute of Steel and Alloys, Solovyov began his broadcast career in 1997 with the nightly radio show Nightingale Warbling. He moved to TV a few years later, moving through a few networks before eventually setting at Russia-1, the state-owned channel founded in 1951. He hosts a pair of nightly shows there, Duel and Evening With Vladimir Solovyov.
The previous record of 22 hours and 15 seconds was held by Japanese host Monta Mino, who became known in his country as "Mr. Television" for his outrageous work ethic. According to the Japan Times, his day would begin at 3 a.m. to host a pre-breakfast show for one network before going over to their rival and hosting a daily afternoon show, Omoikkiri Ii!! Terebi, followed by a number of prime-time gigs in the evening. To keep that schedule going, Mino would sleep just three hours a night.