Russian TV Host Questions Kremlin Army's Ability: 'Are We Going to Fight?'
Top Russian brass continues to be ridiculed by war supporters on their own state TV channels.
Vladimir Solovyov, a longtime ally of Russian President Vladimir Putin, has been among native propagandists who have remained consistently vocal about the Russian army's ineptitude throughout the duration of the conflict in Ukraine. He blasted the cavalier response by Russian military officials to news that Germany and the United States are sending tanks to Ukrainian forces.
"Are we going to fight? If we are, using what or whom?" Solovyov said on his TV program, with video posted on Twitter by the BBC's Francis Scarr. "If we're waging the campaign seriously and we understand that the special military operation finished a long time ago and that we're now fighting NATO then maybe we now need to implement something."
"Germany is supplying tanks, god dammit!" he added. "The German fascist bastards are supplying tanks and training the Banderite scoundrels. And we're just saying, 'Oh well, so what?'"
Aside from Russian soldiers moving "100 meters forward and 100 meters back," he said the Russian army is experiencing diminished ammunition and "wearing down" the 300,000 conscripted soldiers who were brought in to fight in late summer as part of a partial country-wide mobilization.
"They're getting tired. They need to be rotated," he continued. "People fight, they get wounded and fall sick, they die. Yes, we're taking care of them. Yes, our losses are low, thank god. But the conflict objective will need to be solved."
It was part of a larger Solovyov rant, in which he also told his audience that Russia's "enemies will deliver everything, they'll give [Ukraine] everything, until we deal with them harshly and clearly."
By "them" he was referring to Western countries aiding Ukraine, and not Ukraine itself.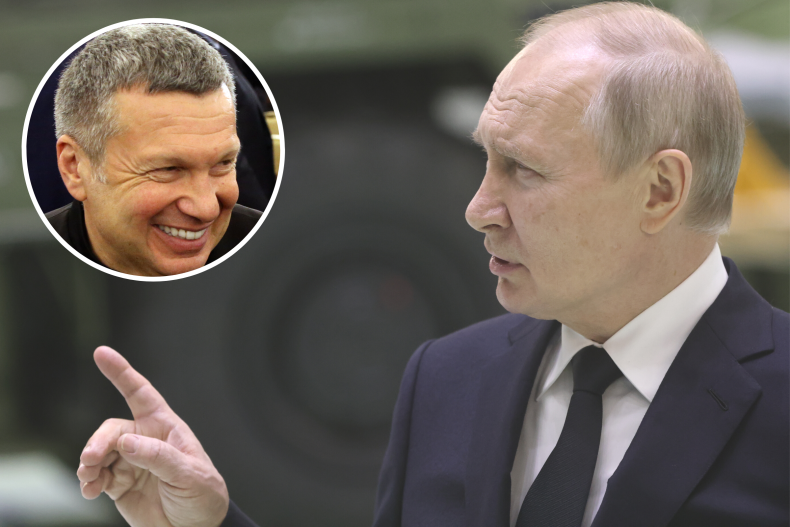 Dr. Dmitry Gorenburg, a senior research scientist at the Center for Naval Analysis, told Newsweek that there has been a long-running internal fight between Russian Defense Minister Sergei Shoigu and Valery Gerasimov, chief of the General Staff of the Russian Armed Forces, on one hand—and Wagner Group leader Yevgeny Prigozhin and some of his allies on the other.
"Some Western commentators have suggested that this is related to some kind of effort by Prigozhin to position himself as a successor to Putin, but this is ludicrous," Gorenburg said. "What is actually going on is an effort to increase influence among the topic leadership—in other words, by appearing more useful to Putin.
"Propagandists and [Russian military] bloggers play a role in this battle for influence."
He pointed to a victory on behalf of the Shoigu circle, due to having Gerasimov being placed above Sergey Surovikin as operational commander.
"Given that there were many calls for Gerasimov to be removed or retire, this was a very public signal that the Shoigu group is still highly influential," Gorenburg added. "I would venture that renewed criticism of how the war is being waged is, at least in part, an answering salvo against the General Staff [of Russia]."
The General Staff of the Armed Forces of Ukraine wrote on Wednesday that despite heavy losses within the Russian military, the enemy is still undertaking reconnaissance missions and making preparations to resume offensives.
They highlighted the potential battles in Lyman, Bakhmut, Avdiivka and Novopavlivka—all cities or villages located in Ukraine's eastern Donetsk region, which was one of four territories annexed by Russia months ago.
Meanwhile, Andrei Fedorov, a former deputy foreign minister of Russia and ex-adviser to both the prime minister and vice president of Russia, said this week on the Russian channel HTB that an attack on Moscow is inevitable.
He called it a strike that will be conducted by Ukraine or one of its allies to cross a "red line."
Newsweek reached out to the Kremlin for comment.