Russian TV Host Says Soldiers on Frontline Are Thanking Putin for War
Kremlin propagandist Vladimir Solovyov has said soldiers on the front line in Ukraine are thanking Russian President Vladimir Putin for starting the war a year ago.
A clip of Solovyov, a prominent state television host, was shared on Twitter by BBC journalist Francis Scarr. "Vladimir Solovyov claims he visited the front line again this weekend and met an officer who asked him to pass on a message to Putin," he tweeted.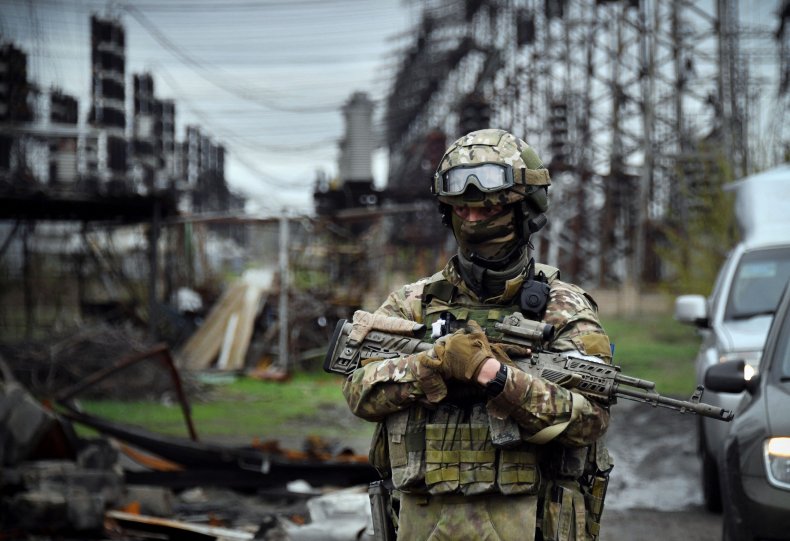 A video appeal circulated on social media in January showing mobilized Russian soldiers from the Yaroslavl region blaming Putin for putting them in harm's way. "We were deceived," they said. Others have fled from the front lines in Ukraine, and now face jail time.
Solovyov told his viewers during a broadcast on the Russia-1 channel that a Russian officer in Ukraine told him to tell Putin he was "right" to start the war on February 24, 2022.
"I heard a phrase from one of the officers. He says, 'You know, I've got lots of questions,'" said Solovyov.
"A year? Well, no war goes as it was planned," said Solovyov, an ally of the Russian leader. "Whether it's the Great Patriotic War [World War II] or any other. Wars always live their own lives. How we've readjusted and ramped things up in a year commands profound respect, and I offer my words of thanks to those responsible."
Solovyov said the officer asked him to tell Putin "one thing."
"But this is what he told me. He says, 'If you see the supreme commander-in-chief, you just tell him one thing!' And I say, 'What should I tell him?' 'Thank him for having the courage to start it!' 'It couldn't have been otherwise,' he said. 'We were right to start it!' 'Right'."
In January, Solovyov was seen in a segment that aired on state TV, giving a pep talk to troops, saying that Russia is fighting a "holy war" against "Satanism."
Solovyov replayed his own visit to Russian troops. The clip showed both him and a commander named Magomed Khitanaev speaking to a group of men fighting in Ukraine. Solovyov said 50 countries are against Russia, and that they're united by "Satanism."
"No matter what they say, no matter how they try to find beautiful words, this candy has a rotten filling. The destiny of this country depends on you. If we don't win, not [just] Russia but the whole world will disappear. Who needs the world if there is not Russia in it?" Solovyov said.
He ended that broadcast by saying: "We are fighting against Satanists. This is a holy war, and we have to win."
On Monday, Russian Foreign Minister Sergei Lavrov appeared to push similar rhetoric. He said during a high-level meeting that Russia foiled the West's plans to dismember and isolate his country.
A day earlier, Putin also said that the West seeks to "dismember" Russia.
Do you have a tip on a world news story that Newsweek should be covering? Do you have a question about the Russia-Ukraine war? Let us know via worldnews@newsweek.com.