Russian TV Says Mariupol Almost 'Normal,' Schools To Use Russian Textbooks
The southern port city of Mariupol has been the site of some of the fiercest fighting seen thus far in the Russia-Ukraine conflict. On March 16, Mariupol's deputy mayor, Serhiy Orlov, estimated that between 80%-90% of the city's buildings had been damaged. In the six weeks of continued fighting that followed, the situation has only gotten worse.
Russian domestic television, however, presented its audience with an alternative version of events. A four-minute news segment broadcast on Russia's First Channel on the evening of April 28 made the following claim:
"After explosions, firefights, pain, and blood, Mariupol is returning to normal life, and as a notable symbol of this, schools are already accumulating lists of students.
"The kids just can't wait to get back to work. They missed their classmates and their teachers so much that they are ready to study even in the summer.
"Right now, textbooks are being delivered to the schools. Importantly, they are Russian, meaning that they do not contain lies or falsifications of history."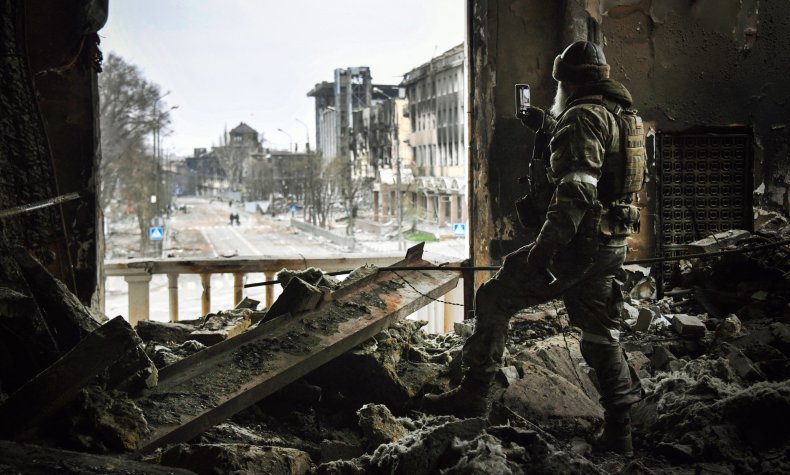 In most of the world outside Russia, Mariupol has become a symbol of the brutality of the conflict with the images of bombed-out residential buildings and of Russian airstrikes on a maternity hospital and humanitarian shelters.
Exact figures of civilian casualties are unavailable, as the Office of the United Nations High Commissioner for Human Rights reported on April 27 that "receipt of information from some locations where intense hostilities have been going on has been delayed, and many reports are still pending corroboration. This concerns, for example, Mariupol."
Nevertheless, the First Channel news segment only touched on the events of the past two months. It did not say that Russian artillery had caused most of the damage in the city.
In one interview, a woman identified as a volunteer explained that "we're signing up everyone. Even if they were studying in School No. 10 or No. 14, we sign them up. Those schools already do not exist, and so those students will finish their studies here."
The segment featured footage of students playing soccer on an artificial turf field, which, "like the school building itself, did not suffer damage."
"As there is no electricity and no water," the segment added, "the schedule has been limited to four lessons per day."
"You have to finish the working day," an unidentified teacher said, "and then go to the campfire to prepare food, because there is no electricity, no gas, and no water."
"After all of the explosions and unending cannon fire," the report concluded, "Mariupol is full of new sounds: school bells, children's laughter, and the thwack of kicked footballs."
Correction 04/29/2022 @ 1:40 p.m.: This article has been revised to limit description of damages to those that have been independently verified.