Russian Wagner Commander Killed in Ukraine's Donbas
A senior commander in Russia's Wagner Group, a private military contractor close to the Kremlin, has reportedly been killed in Ukraine by Kyiv's troops.
Alexei Nagin, 41, was killed near Bakhmut in Ukraine's Donetsk province on September 20, according to WhereisRussiaToday, a website that tracks the Russian military.
Wagner mercenaries have played an increasing role in Ukraine over the past few months, after regular Russian units suffered severe casualties.
Ukrainian news site obozrevatel.com reports Yevgeny Prigozhin, the Russian oligarch who controls Wagner Group, was present at Nagin's funeral in Volgograd. Prigozhin is known as "Putin's chef" because his catering firm prepared dinners attended by the Russian president.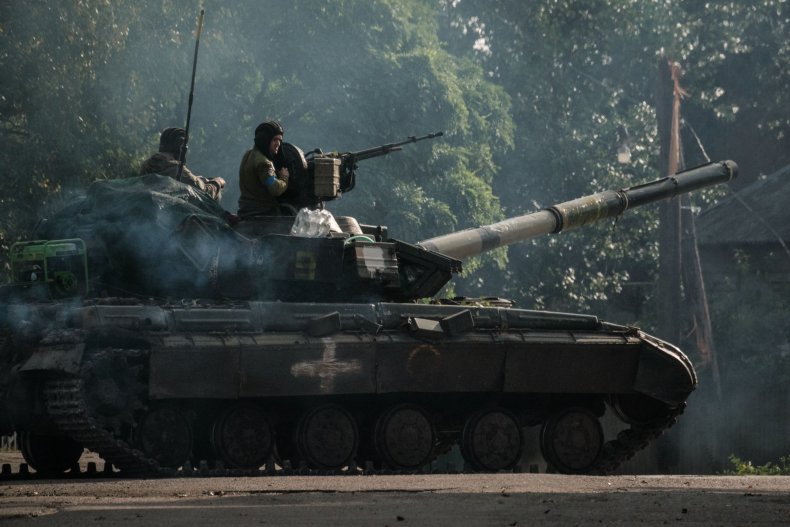 Nagin previously fought with Russian or Wagner forces in Chechnya, Georgia, Syria and Libya, according to WhereisRussiaToday. It added he had recently been taking part in a Russian documentary film about the Wagner Group, titled "The Best in Hell."
Wagner, which has provided mercenaries to back authoritarian regimes in Mali and the Central African Republic, is closely tied to the Russian state, according to Samuel Ramani, associate fellow at the Royal United Services Institute think tank in London.
Speaking to the BBC he said: "The Wagner Group played an active role in capturing cities like Popasna and Severodonetsk in Luhansk.
"Nowadays, it is an informal, unofficial unit of the Russian army, for which no casualties are reported."
In August, British intelligence estimated around 1,000 mercenaries, including members of the Wagner Group, are fighting on the Russian side in Ukraine.
The Wagner Group is reportedly recruiting from Russian prisons, to make up for battlefield losses in Ukraine.
Speaking to The Insider, human rights campaigner Olga Romanova said: "All kinds of criminals are accepted, but preference is given to murderers, robbers and looters.
"Those who went to prison for causing grievous bodily harm are also welcomed.
"And now they've started recruiting people who were convicted for rape, but they're to serve in a separate unit.
"We know two stories from the Saratov colonies, absolutely horrid places, there is a very special one among them.
"They recruited a maniac from there who had, so to speak, cannibalism in his portfolio. He also went to war."
These claims have not been independently verified by Newsweek.
On Friday President Vladimir Putin announced four Ukrainian provinces, which have been partially under Russian control since the February 24 invasion, have been officially annexed by Russia.
The order applies to Donetsk, Luhansk, Kherson and Zaporizhzhia, none of which are completely under the control of Russian troops.
The U.S. branded the annexations "illegal," and launched a fresh round of sanctions targeting Russia's "military industrial complex" in retaliation.
Treasury Secretary Janet Yellen said: "We will not stand by as Putin fraudulently attempts to annex parts of Ukraine."
On Thursday, Russian TV presenter Vladimir Solovyov, nicknamed 'Putin's Voice' because of his staunchly nationalist views, admitted "the whole West is starting to mock us" following Russian military defeats in Ukraine.
The Russian Foreign Ministry has been contacted for comment.