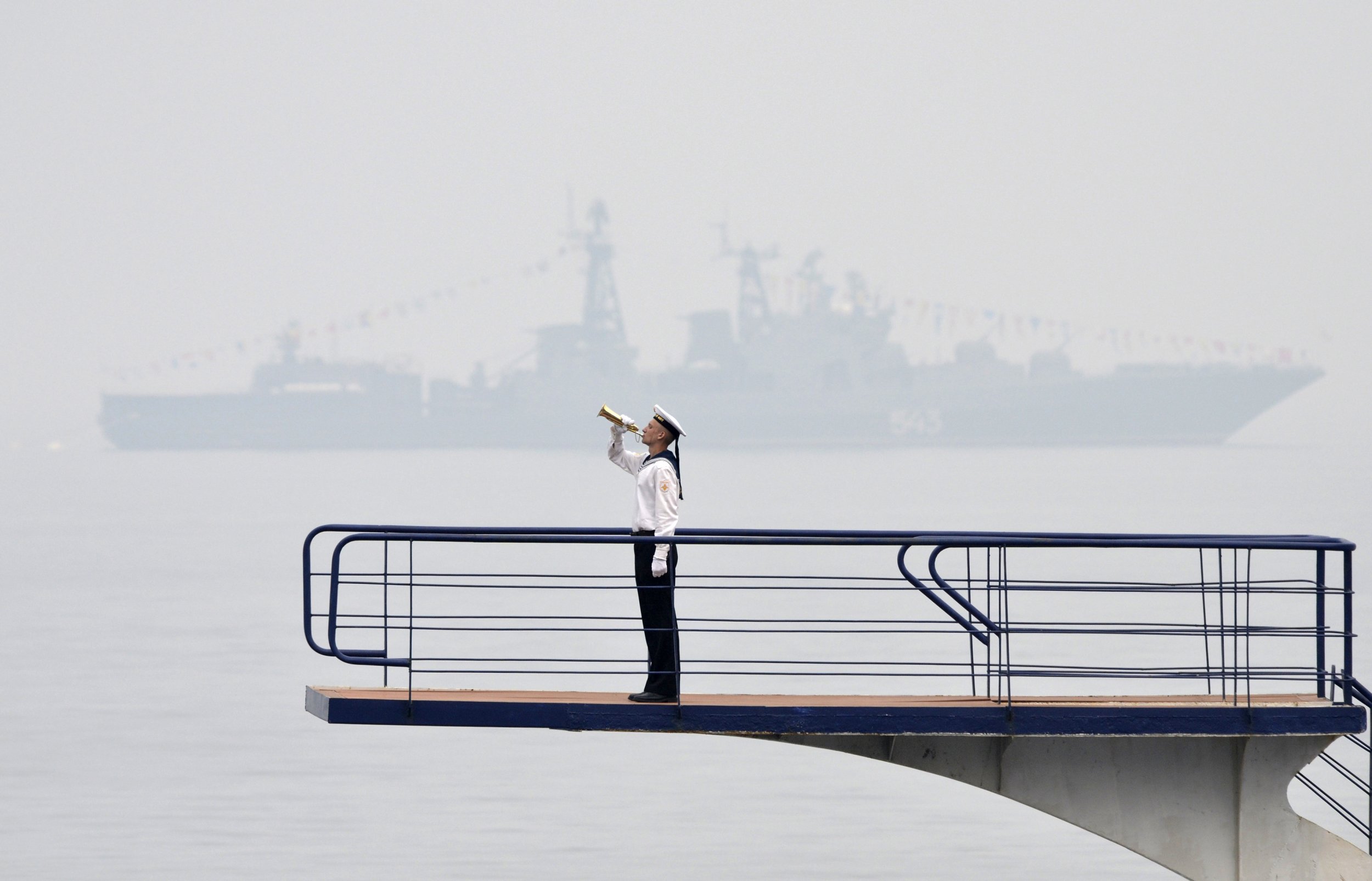 A fleet of Russian warships are heading towards Australia's coast just days before the G20 summit in Brisbane, Australia's defence ministry announced on Wednesday.
The Australian Defence Force (ADF) are monitoring four vessels, including a cruiser, a destroyer, a refuelling ship and one of the world's most powerful tug boats. The ships are currently believed to be in the Coral Sea near Papua New Guinea, heading towards Australia's east coast.
The presence of Russian naval ships in the region comes days before the G20 summit this weekend in which leaders from around the world, including Russian president Vladimir Putin, meet to discuss how to respond to the global financial crisis.
It also comes after weeks of tensions between the Australian prime minister Tony Abbott and Putin over the shooting down of the Malaysian Airlines passenger plane MH17 over eastern Ukraine, which killed all 298 people on board, including 38 Australians.
Last month, Abbott, who has accused pro-Russian rebels in Ukraine's Donetsk region of shooting down the plane, anticipated a confrontation with Putin at the G20 summit, saying he intended to "shirtfront" the Russian president over the issue, referring to an illegal technique in Australian football in which you manhandle an opposing player to the ground.
On the sidelines of the Asia-Pacific Economic Co-operation (APEC) summit held in Beijing yesterday, Abbott told Putin that Australia "was in possession of information suggesting that MH17 was destroyed by a missile from a launcher that had come out of Russia, was fired from inside eastern Ukraine and then returned to Russia", the prime minister's office said.
He said that, if this was true, it would be "a very serious matter''.
Putin's spokesman Dmitry Peskov said that Abbott did not try to 'shirtfront' Putin in the meeting.
The deployment of the warships has been interpreted as another flexing of Russia's military might, following increased naval and air incursions over and around Europe. Nigel West, an intelligence community historian, told Newsweek: "The deployment of the Russian task force to Australia is a classic 'projection of power', a well-known diplomatic maneuver. Putin is deliberately demonstrating a capability to send warships anywhere in the world."
In a statement, the ADF said that this was not the first international conference that Russia had attended with an accompanying convoy of military vessels - Russian ships were also present at the 2009 (APEC) summit in Singapore as well as the former Russian president Dmitry Medvedev's visit to San Francisco in 2010.
Nonetheless, the ADF have deployed P3 Orion planes and a naval warship known as frigate HMAS Stuart to keep an eye on the Russian fleet.
"The movement of these vessels is entirely consistent with the provisions under international law for military vessels to exercise freedom of navigation in international borders," the statement said.
The deployment comes just days after the release of a report detailing the dangers of increased naval and aerial confrontations between Russia and Western forces.
In one of the incidents documented in the report, a Russian military plane, flying without its transponder on and therefore undetected by air-traffic control, came within 90 metres of a Scandinavian airlines passenger plane taking off from Copenhagen.
According to Nigel West: "Putin's message is clear. He's saying, 'I have a global reach and Russia needs to be taken seriously again as a world power'.".
"His message is not a threat, but a political statement," said West.