Russian Woman Could Serve 15 Years After Antiwar Outburst on Live TV
An editor at a Russian television channel could face over a decade in prison after staging a protest against her country's invasion of Ukraine during a live broadcast.
Marina Ovsyannikova on Monday interrupted a live broadcast of Channel One network shouting over the presenter and holding a sign speaking out against Russia's war in Ukraine. The incident drew headlines and videos of it have gone viral. But now human rights groups are concerned about the fate of Ovsyannikova, who could face 15 years in prison under a new Russian law clamping down on dissent.
Russia's parliament earlier this month passed a pair of bills that outlaw information "discrediting" the Russian military, according to Human Rights Watch. The new laws also ban media from using the words "invasion" or "assault" to describe the conflict in Ukraine.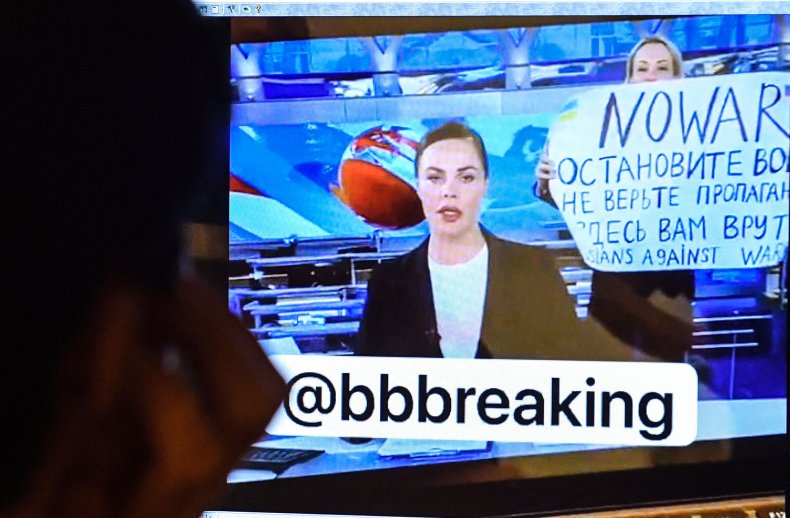 Ovsyannikova has been detained by authorities in Moscow, according to a post on the TASS news agency's Telegram channel. She faces possible charges for "public actions aimed at discrediting the use of the Armed Forces of the Russian Federation in order to protect the interests of the Russian Federation and its citizens, maintain international peace and security."
Russian lawyer and human rights activist Pavel Chikov said on Twitter that the new Russian media law contains a provision allowing people to only receive a fine for antiwar slogans, which he said has been used 164 times.
However, he also said Ovsyannikova needed immediate protection and police are keeping her from her lawyer.
Chikov in another tweet wondered who would be arrested next, suggesting Arkady Dvorkovich, a former Russian deputy prime minister who heads the International Chess Federation. Dvorkovich on Monday spoke out against the war in an interview with progressive news outlet Mother Jones.
"Wars are the worst things one might face in life...including this war," Dvorkovich told Mother Jones, adding that his "thoughts are with Ukrainian civilians."
Ukrainian President Volodymyr Zelensky thanked Ovsyannikova for her protest in an address Monday night. Zelensky used his address to speak directly to the Russian people, warning them their country risks "turning into a very big North Korea."
"I am thankful to those Russians that do not cease trying to get the truth out, who fight against disinformation and tell the truth, tell real facts to their friends, relatives," said Zelensky. He later added, "You need to fight, you shouldn't miss your own chance."
Russian authorities have continued to crack down on protests. On Sunday, police arrested a woman for holding a blank sign.
Newsweek has reached out to Human Rights Watch for comment.