Russian Women Told To Refuse Sex To Foreigners During World Cup
Russian women have been warned to refuse sex with foreigners during the World Cup so as to avoid becoming pregnant and raising the child alone.
The country has estimated it will attract 1.5 million tourists for one of the most widely watched sporting events that kicks off across 11 Russian cities on Thursday. Soccer teams from 32 countries will go head-to-head over a month, and visitors from across the world will attend the showcase Moscow hopes will help repair Russia's increasingly tainted image.
While Russia is pulling out all the stops to appear hospitable, including giving smiling lessons to transport staff, a top parliamentary official has asked local women to draw a line and avoid "intimate relations" with foreign men. The danger, according to parliament's families committee chairwoman Tamara Pletnyova, is that "the inappropriate behavior of Russian women" will lead to single-parent families, and "nothing good will come out of it."
Related: Russia's World Cup team is the worst in the tournament and in the country's history
"Even if they marry, they move her abroad, then she does not know how [to return] from there," Pletnyova, who is known for her conservative remarks, told the Govorit Moskva (Moscow Speaks) radio station on Wednesday. "Then they come to me in the committee, these crying girls, because the child has been shipped away, taken and so on."
The committee chair said the Soviet Union experienced a similar phenomenon during the 1980 Olympic Games hosted in Moscow. "These children then suffer and they suffered even in Soviet times," she said, suggesting the children of interracial couples had the worst experience. "We should be birthing our own children. I am no nationalist but nevertheless."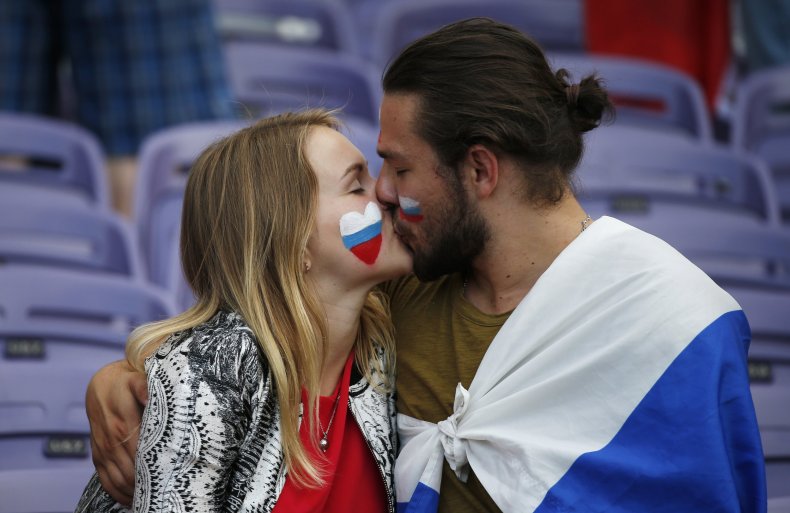 "I would like to see marriages in our country for love, regardless of the nationality, between those who are citizens of Russia, who will build a good family, live with togetherness, have children and raise them," she said.
Pletnyova, whose committee also handles women and children's rights, has voiced conservative views in the past. Most recently she responded to allegations from multiple female journalists who accused one of Pletnyova's male colleagues of sexually assaulting them by saying they should dress more conservatively, or quit their jobs if they feel unsafe.
"Those who get harassed are probably the ones who want it themselves and give the occasion for it," she said in March, claiming that introducing laws in Russia for the offense is "excessive."
Meanwhile the Argentinian soccer governing body caused a controversy in the leadup to the World Cup by encouraging men to try and seduce Russian women, including tips on how to do it in their official guide for visitors. The association has since distanced itself from the manual and announced an official investigation into how it came to be.