Russian Workers Fall Into Sewer, Are Swept Away by Heavy Rain
Intense rain and heavy flooding caused at least 12 Russian workers to fall into a sewer where they were swept away on Sunday, reports said.
According to several reports, workers in Moscow were cleaning the sewers, when water levels began to rise as heavy rain fell. At least 12 of the workers were swept away in the sewer.
"Unfortunately, three workers have died, rescue workers have brought their bodies to the surface," the Russian Civil Defense reportedly said to the Interfax news agency on Sunday.
Russian reports state that five of the workers managed to climb out of the sewer on their own, and four were rescued by emergency personnel and received medical attention. A video of one of the rescues was posted on Telegram by Mash, a Russian news outlet.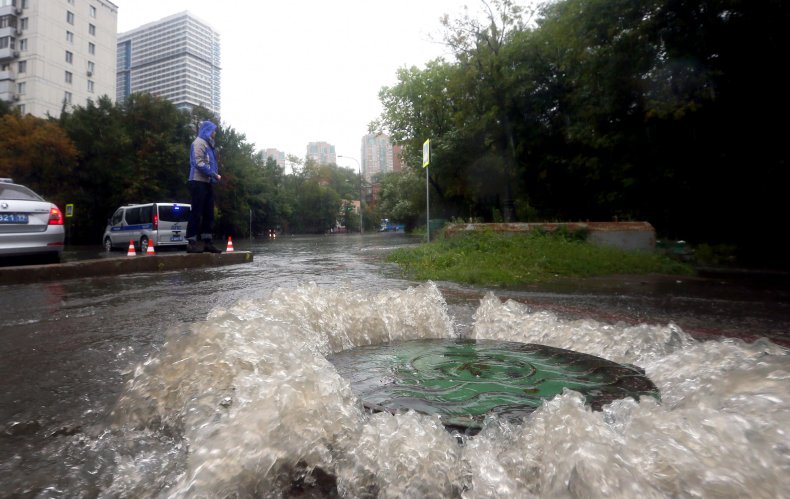 The bodies of the three missing workers were found later on Sunday. "First, the body of one victim was found, then two," Lyudmila Nefedova, head of the press service of the Moscow prosecutor's office, told RIA Novosti.
Law enforcement agencies of the RIA Novosti stated that two of the dead are citizens of Kyrgyzstan and one is from Tajikistan.
Authorities are allegedly investigating a potential violation of labor protection rules that would explain why the workers were out in such volatile weather conditions. Moscow saw heavy rain and hail showers on Sunday following an intense heat wave that also swept over most of Europe.
Intense rainfall and flash floods have been common across the globe this summer, as Jonathan Porter, a chief meteorologist for AccuWeather, told Newsweek in an earlier report that global warming has increased the chances of more flash floods.
"I think the better way to say it is that it's clear that the risk for extreme rainfall events, where you have historic amounts of rainfall falling in a short period of time, the risk for those kinds of situations is definitely increasing," Porter said. "Driven by climate change."
In the U.S., heavy rain caused severe flooding in Denver on Sunday as well, and many cars were stranded on the city's Interstate-70 freeway for several hours. According to 9 News, there were 29 total water rescues carried out in Denver and the surrounding areas on Sunday.
In California, almost a year's worth of rain fell in Death Valley in only three hours over the weekend, and the National Park Service deemed it a "historic event," happening only once in a thousand years.
Newsweek reached out to the Ministry of Civil Defense, Emergencies and Disaster Relief of the Russian Federation for comment.