Russians Put Anti-War Messages on Cash to Protest Putin's Ukraine Invasion
A new, anonymous form of protest has emerged for people in Russia who oppose Russian President Vladimir Putin and his invasion of Ukraine: Writing anti-war messages on Russian money.
The trend has been spotted recently on platforms such as Twitter, Telegram and Reddit. The anti-war messages appear on banknotes and rubles in either hand-written or stamped ink, and common phrases spotted include "no to war" and "Russians against war." But unlike the thousands of protesters who have been arrested for taking to the streets of Russian cities, these acts of defiance are made without the creator being identified.
One of the major instigators behind the trend is the Feminist Anti-War Resistance (FAS). This group of Russian feminists was formed in February during the lead-up to Putin's invasion of Ukraine. They call on all concerned citizens of the country to denounce the war through peaceful demonstrations. Recently, they also began sending messages on their Telegram channel for Russians to let their opposition to the invasion be known by marking up their money.
"The photos in our Telegram channel are real, we get them from our movement's participants, who write the messages on banknotes themselves," a member of the organization told Newsweek.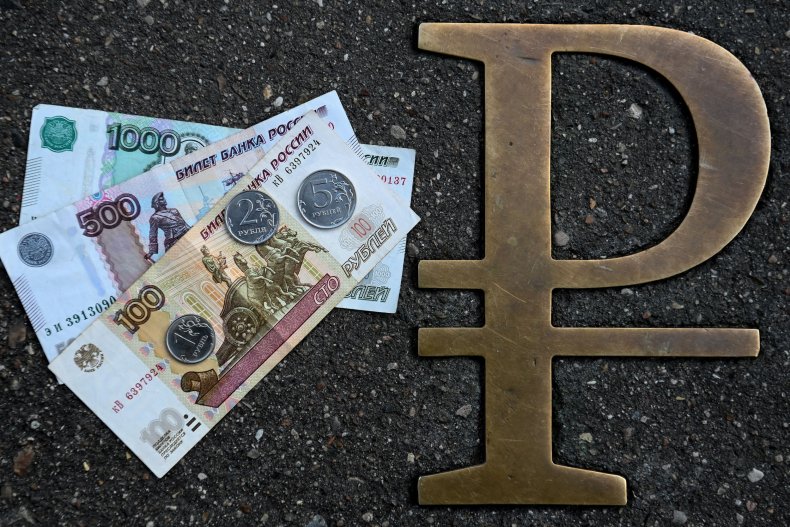 Kevin Rothrock, the managing editor of Meduza, a Russian- and English-language independent news website based in Latvia, wrote about the efforts of the Feminist Anti-War Resistance.
"An activist group in Russia is urging people to write antiwar messages on their rubles, hoping to spark a widespread movement that is difficult to police," Rothrock wrote on Twitter. He also added that the protest campaign is modeled on similar protests in Turkmenistan.
This tweet from FAS gave tips on how to paint an anti-war message on ruble coins.
Among the several photos of currency that people have sent to FAS, the group highlighted that one note came from someone who had come into possession of a bill with an anti-war message that she did not write herself.
The group has also noted that the marked-up currency is still considered legal tender and banks and businesses must honor it, no matter the message written on it.
Jonny Tickle, an English journalist located in Moscow, also documented the existence of the quiet protest.
Tickle translated one of the banknotes as reading, in the manner of a train announcement: "Stand clear of the closing doors. The next station is North Korea."
Ella Rossman, a member of the Feminist Anti-War Resistance, told Newsweek what inspired the group to spread anti-war messages on currency.
"Since the beginning of the war, almost all the independent media in Russia were blocked or closed. Street protests are impossible, people just immediately get arrested," Rossman said.
"All kinds of protests are very dangerous in today's Russia, and even just spreading information is dangerous," she said. Therefore, the FAS decided to find discreet means for protesting, such as spreading leaflets and making anti-war street art.
"The action with banknotes is just one of the ways to protest," Rossman said.
Newsweek reached out to the Russian Foreign Ministry for comment.
Follow our live blog for updates on the Russia-Ukraine conflict.
Update 03/30/22 1:50 p.m. ET: This story has been updated to include comments from Ella Rossman.