Republicans 'Have Flung Open Their Arms' for Russia to Undermine Democracy, MSNBC Host Warns
MSNBC's Morning Joe host Joe Scarborough slammed Republican lawmakers on Thursday morning, arguing that Russia is "celebrating" that GOP politicians are allowing American democracy to be undermined by foreign influence following former special counsel Robert Mueller's testimony to Congress.
Mueller testified before the House Judiciary and Intelligence Committees on Wednesday about his report on Russian meddling in the 2016 presidential election. He warned that he feared foreign interference in U.S. elections could become the "new normal," but Republicans pushed back against the special counsel, attempting to undermine the credibility of his findings. President Donald Trump and most GOP lawmakers have downplayed or outright dismissed the special counsel's report, despite it warning of "sweeping and systematic" Russian interference.
The Russians "have to be celebrating the fact that the entire Republican party are useful idiots for them now and have flung open their arms for the Russians to come and undermine American democracy," Scarborough, who previously served as a Republican congressman but now identifies as an independent, warned. He also pointed out that Senate Majority Leader Mitch McConnell, a Republican from Kentucky, "killed" two bills which aimed to protect the U.S. from Russian cyber invasion.
"So, Republicans, yes, please celebrate what a great day it was for you and [Russian President] Vladimir Putin," Scarborough said sarcastically, referring to the GOP's response to Mueller's congressional testimony. "I know you're happy about it. Good luck with that, comrades," he added.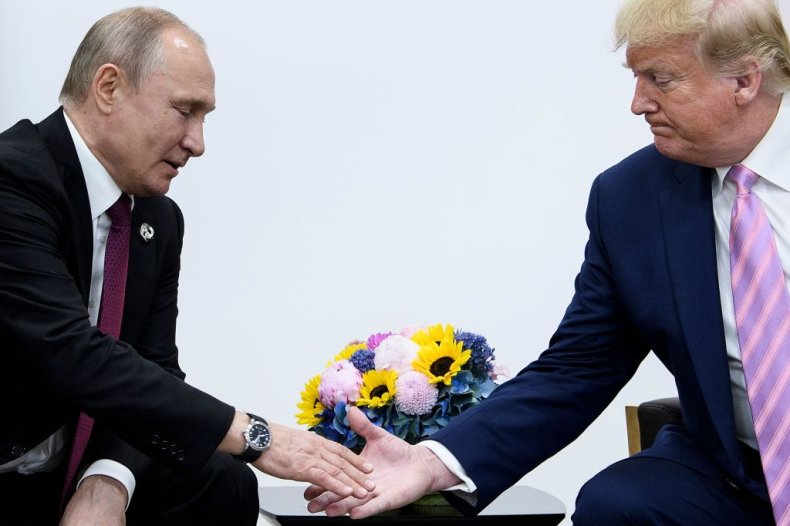 GOP lawmakers pushed back hard against Mueller and his report's findings during back-to-back Thursday hearings by the House Judiciary and Intelligence committees. Several Republican representatives attempted to discredit the special counsel's report, while also calling into question the credibility of Mueller and his team. During the hearings they did not demonstrate significant concern over Russia's efforts to influence the 2016 presidential election in favor of Trump, instead focusing on defending the president against accusations of obstruction of justice and other wrongdoing.
Mueller's 22-month long investigation, which concluded in March, found that Russia had interfered in the 2016 election to support Trump's candidacy and disparage his Democratic political opponent, former Secretary of State Hillary Clinton. It did not, however, establish that Trump or his campaign conspired with the Russians in that effort. At the same time, several members of the president's campaign were openly receptive to Russian offers of support and his campaign chairman Paul Manafort, who was criminally convicted and is now in prison due to Mueller's probe, shared confidential polling data with an associate linked to Russian intelligence.
No one from Trump's campaign contacted the FBI or any other authorities when they were approached by Russia offering assistance during the campaign. Representative Peter Welch, a Democrat from Vermont, asked Mueller on Thursday if this kind of interference was "a new normal" for U.S. elections.
"I hope this is not the new normal," Mueller replied. "But I fear it is."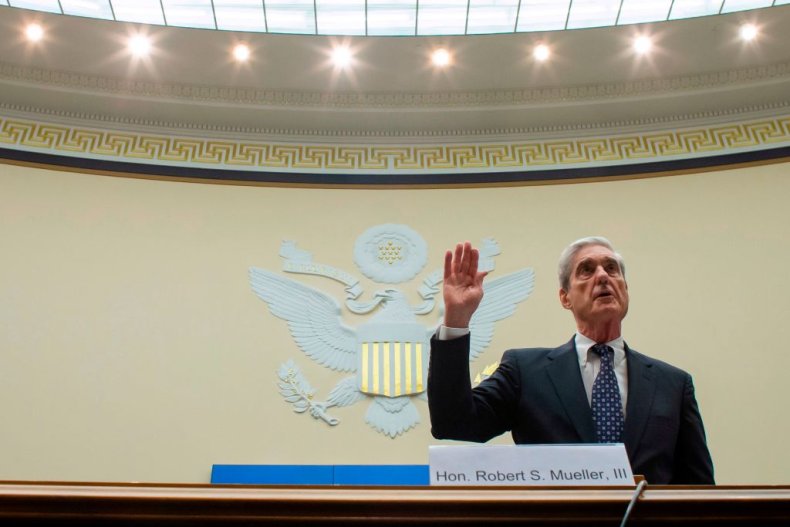 Trump has repeatedly downplayed Russian election interference, even making light of it during a face-to-face meeting with Putin on the sidelines of the G20 Summit in Japan last month. "Don't meddle in the election, President," Trump said with a grin on his face during that meeting. Putin smiled in response.
Previously, during a summit last summer, Trump suggested that he trusted Putin over U.S. intelligence agencies when the Russian leader told him that his country had not interfered in the election. Although the president later walked back those comments after significant bipartisan criticism, he has since continued to dismiss concerns about the Russian efforts.
"The Russian government favors no party," Chris Truax, legal advisor and spokesman for Republicans for the Rule of Law, a group that has been pushing Congress to hold Trump and Russia accountable based on the findings of Mueller's report, said in a statement emailed to Newsweek.
"Their only goal is to create political chaos and mistrust, to weaken us," Truax asserted "Special Counsel Mueller spent two years investigating these attacks and published a detailed report. Americans should listen to his testimony because our national security is at stake."