Russians Kill 14 Civilians, Injure Others in New Kharkiv Bombings: Governor
A Ukrainian regional governor says Russian troops advancing on the country's northeastern city of Kharkiv have killed over a dozen civilians and left more wounded in what he called "terrorism."
Oleg Synegubov, governor of the Kharkiv region, said in a Telegram post Tuesday that Russian forces killed 15 people and left 16 wounded in what he described as a targeted attack on the area. The report follows other allegations that Russian forces have deliberately selected civilian targets and comes as the Kremlin continues to shift its plan of attack in the four-month-old conflict.
"This is terrorism," Synegubov said in the post. "These are crimes against humanity that must be punished!"
According to Synegubov, the civilians were killed in Kharkiv, Ukraine's second-largest city, and other nearby smaller communities. Synegubov said an 8-year-old girl died in the attacks and her mother was injured.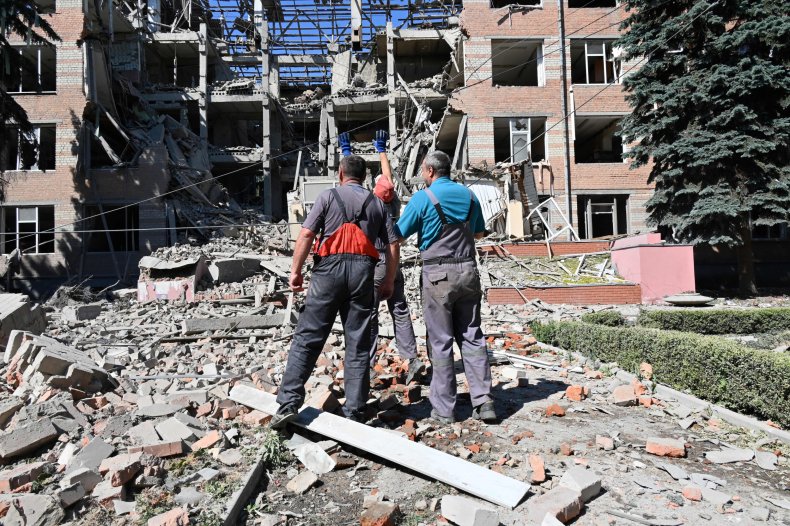 Synegubov in the post that 15 civilians died; however, the post accounts for 14 deaths. Citing preliminary data, he said that Russian forces fired on residential areas of Kharkiv that killed four civilians and left 11 injured.
The same day, three more civilians were killed in shelling of a smaller village in the Zolochiv community, he said. That evening, Russian forces fired on the Chuguiv community, killing six civilians and wounding four.
"What Russia is doing now in the Kharkiv region is a war crime," said Synegubov. "The occupiers are deliberately beating residential areas where there are no military facilities. This is real terrorism against civilians."
Despite the reported deaths, Synegubov called on residents to "not be intimidated," citing Russia's earlier setback in the region.
Earlier in the conflict, Ukrainian forces repelled the Russian military's attempt to take capital city Kyiv. Closer to Russia's eastern border, Ukrainian forces in May also secured Kharkiv.
However, Russia has now renewed its efforts to take Kharkiv and the area has seen heavy fighting in recent days.
"Russia is trying to make Kharkiv a frontline city," Vadym Denysenko, an adviser to Ukraine's interior minister, said Sunday on Ukrainian national television, reports Radio Free Europe.
While Synegubov's claims have yet to be independently confirmed, human rights groups, including Amnesty International, as well as the U.S. and other Western powers have accused Russia of committing war crimes by targeting civilians. The United Nations has also sounded the alarm over reports of alleged atrocities in Ukraine.
Russia has repeatedly denied deliberately attacking civilians.
Mikhail Mizintsev, the headquarters head and chief of Russia's National Defense Management Center, on Monday accused Ukrainian forces of organizing a "provocation against the local population" in the region, with the aim of blaming Russian forces, according to the Russian-owned TASS news agency.
Newsweek reached out to the Russian government for comment.